'Bringing back Virbhadra part of Cong game plan'
Shimla, August 29
Birender Singh, general secretary of the All-India Congress Committee, said today that handing over the reins of the party to Virbhadra Singh on the eve of Assembly poll was part of a well thought-out game plan to ensure victory in the electoral arena.
'Violation' of Environmental Norms


Congress seeks FIR against cement plant, stages walkout
Shimla, August 29
Reiterating its demand for registration of an FIR against Jay Prakash Associates Ltd for 'violating' environmental norms in setting up of a cement plant, the Congress staged a walkout in the Assembly for the third consecutive day today.
PK Dhumal, Chief Minister
UPA discriminating against state, says Dhumal
Shimla, August 29
Accusing the UPA regime of discriminating against non-Congress-ruled states, Chief Minister Prem Kumar Dhumal said this kind of prejudiced attitude would weaken the federal structure of democracy.
State to revoke HP apartment Act
Property transactions will come to halt
Shimla, August 29
All property transactions in the state will come to a complete halt as the state government has decided to repeal the HP Apartment and Property Regulation Act, 2005, so that a single comprehensive law for urban development and regional planning can be enacted to save people from the existing complex procedure.
Congress rewards the corrupt: BJP
Shimla, August 29
Accusing the Congress of rampant corruption, the BJP today said keeping up with its tradition of rewarding those who were facing serious corruption charges, the Congress had appointed Virbhadra Singh as the Congress chief in the state.
HLM leaders seek support for third front
Shimla, August 29
Seeking a repeat of the Shimla Municipal Corporation (MC) polls verdict in the assembly polls, the Himachal Lok Morcha (HLM) today gave a call for the formation of a non-Congress- non-BJP government in the state to keep the two main corrupt political players out of power.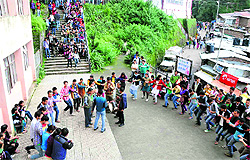 SFI activists celebrate their victory in the SCA elections at HPU in Shimla
on Wednesday. Photo: Amit Kanwar

Youth booked for rape
Bilaspur, August 29
The police has booked Deep Raj of Bagetu village near Ghumarwin for allegedly raping a mentally challenged 16-year-old girl of Hatwaad village. The accused who works as a tailor is absconding.
Now, PWD to maintain Theog-Hatkoti-Rohru road
Shimla, August 29
The government said today that though the contract for the Rs 228-crore World Bank-funded Theog-Hatkoti-Rohru road had been rescinded, the Public Works Department (PWD) would ensure that the road was maintained and people do not face any inconvenience on account of traffic jam and movement of apple trucks.
One killed, 2 injured in blast at industrial unit
Solan, August 29
One person was killed while two others were injured in a blast at Valley Iron, an industrial unit, while unloading scrap at Paonta Sahib today.
Dept told to conduct frequent inspections in govt schools
Hamirpur, August 29
Rajinder Singh Thakur, Deputy Commissioner (DC), Hamirpur, has asked the Education Department to conduct frequent inspections in government schools to check various irregularities there.
ECI launches electoral awareness drive
Shimla, August 29
The Election Commission of India (ECI) has launched the Systematic Voters' Education and Electoral Participation (SVEEP) campaign in the state to create electoral awareness among people for the forthcoming Assembly elections.
Forest guard assaulted
Chamba, August 29
The police has booked 10 persons for an alleged assault on forest guard Prem Raj of Vumwal forest beat in the remote Pangi tribal subdivision of the district last night. The accused have also been booked for obstructing the victim from discharging his duties.
HPU student body office-bearers take oath
Shimla, August 29
Office-bearers of the Students Central Association (SCA) of Himachal Pradesh University (HPU) took an oath of office today. The oath was administered amidst celebrations by the Students Federation of India (SFI), which swept the student polls in the university.
AWWA week celebrations conclude
Dalhousie, August 29
The Army Wives Welfare Association (AWWA) week organised by 323 Mountain Brigade at Balun Auditorium of the Dalhousie Cantonment concluded here yesterday.