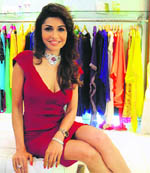 Sparkling all the way
Have you heard about the 'curious case of Queenie Singh'? It's kind of breaking news. Every time she comes here, she's fitter, sexier and sparkles more than the diamonds she gets in her collection. After all these years too, she can give models a run for their money. But fitness is not the only field she excels in; consider her parties or jewellery line for that matter, she is best at whatever she does. At Samsaara, Taj, in Chandigarh, once again, with her latest collection of jewellery, she talks about everything that defines her life.
Block by block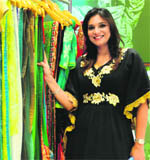 When the art of block-printing was going down the drain, the designer in question, Charu Parashar, got in touch with a few out-of-work karigars, educated them on how to make new designs of khakha-making blocks, used permanent colours and pushed the collection on the ramp of Wills India Lifestyle Fashion Week. The collection was well-received by the fashion fraternity. Replicas of the designs were then seen in the shops of Sarojini Nagar and Janpath in New Delhi, as it usually happens. And the art of block-printing was successfully revived! Despite coming up with various collections post it, this one remains the 'most special' for Charu.
Small is big
It was Reema Godhwani's mother who started the label Zooni some 21 years back at the boutique level. As for Reema, it's just been four years since she entered the business and changed it all. "I took it up to the corporate level, got into aggressive promotions and it has done a lot of good to the brand."
Without a trace
A perfect base make-up with a foundation that suits your skin tone, a good smudge-free eyeliner, kohl and a few coats of mascara and to add to the trove is a blush-on, eye-shadow, lip-liner, lip colour and a gloss! These are all you need to step out in style. But what happens when you get back? It requires you to remove every bit of make-up as properly as possible to save your skin from any harm.


green thumb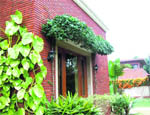 Green curtain
A thing of beauty is joy forever. Yes, you can say it for plants too. But besides beauty, they can add to the comfort level and attraction of the garden if used for utility purpose. See the accompanying picture. The climber has been used to cover the window and protect it from direct sun and heat. It has become an attractive garden feature besides providing comfort.
food wise
Too sweet to be true
The role of sugar in our diet has always been a major concern. Many have attributed the rise in problems like obesity, diabetes, hypertension, heart disease etc. to too much of sugar intake. It is precisely these effects that have propelled people to substitute the natural sugar with the 'artificial sweeteners' in their diet. They are nothing but the chemicals earlier developed for some other purpose when researches tasted them and found them sweet. But are they safe? Can they be taken in uncontrolled quantity? The discussion below is one of the attempts to answer such questions.
Go-getter
Painting the town bright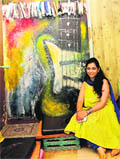 Someone once said that an artist never really finishes his work, he merely abandons it. In one sentence, that is how Shifa Mahajan's life is. A well-paying corporate job in one of the best metropolitans of India is perhaps an ordinary dream. But to let go of it in pursuit of your passion is rather rare. Unaware of the artist within her until recently, Shifa, 23, shares her newfound love for painting.
Motivational factor
Appreciation was probably what got Shifa going. "While I was in Class III, my teacher pushed me to take part in an art competition," she says. Her award was presented by Dara Singh. That was her introduction to the world of art. Taking the CAT and pursuing an MBA programme in Symbiosis, Pune did not look much of an achievement to her.
More than skin-deep!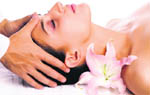 No one can say this about the beauty, but the beauty treatment is skin-deep! From the first acne in teenage years to the stretch marks post-pregnancy, once upon a time the beauty parlour around the street tried taking care of everything. But that was once upon a time…how many would now trust even a dermatologist employed in a beauty salon when it comes to skin problems?
Punjabi Tadka


Singer of the soil
He has taken the stories and culture of Punjab to the world. His bright folk dress is something many non-Punjabis have taken fancy to. Meet Pammi Bai, the folk singer of Punjab, who started his professional career in 1994 and delivered his hit album on boliyan in 1995. Pammi Bai has recently come up with a folk band, popularising Punjabi folk instruments. He likes to meet people and smile a lot, a mantra for his health as well. Here, he gets candid.
STAR TRACK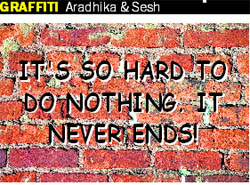 The report card
chatter box