area watch: fatehabad
Unapproved projects boom
Sushil Manav
Development projects have always been seen as catalysts of growth for the real estate market of an area as these bring in the people, infrastructure and the money — the three key factors that jack up land prices and lure developers and investors to an area. But just as there are exceptions to every rule, this simple realty arithmetic has become a bad calculation for Fatehabad.
This district in the Haryana about 42 km from Sirsa is basically an agricultural economy with not many big industries or businesses. Fatehabad came into limelight after the Nuclear Power Corporation of India Limited (NPCIL) selected a site near Gorakhpur village for its upcoming 2800-MW atomic power project three years back. This Rs 25,500 crore plant is being seen as the answer to power woes of the region and the state. The project is likely to bring at least 10,000 workers here during its construction period over the next 10-12 years and give a major boost to the economy of the area. Such projects have always been seen as an opportunity to make hefty profits lucrative opportunity and this has led to a virtual mad rush for setting up colonies in and around Fatehabad. While the government agencies and big builders are yet to launch major residential and commercial projects here, it is the small players who have taken the lead and launched as many as 10 new colonies on agricultural land on the outskirts of Fatehabad in the period between April and mid-August. A majority of these, however, have no approvals regarding the change of land use and from other departments, but buyers wanting to invest at the right time have invested their money in these colonies. Similar unapproved colonies have also been carved out in some other towns like Tohana, Ratia and Bhuna in the district.
The initial euphoria due to the acquisition of over 1,503 acres for the upcoming nuclear power plant at Gorakhpur in this district, in fact, did bring a surge in the property prices here, but the tough measures taken against the unapproved colonies by the authorities have made the investors more cautious leading to a lull in the market at present.
The real estate business saw an upward trend when the Nuclear Power Corporation of India Limited (NPCIL) deposited Rs 460 crore with the district authorities in mid-June for awarding compensation to 847 odd farmers, whose 1,503 acres, 4 kanal and 19 marla agriculture land had been acquired for project. Out of the total land acquired, the largest chunk of 1,313 acre, 5 kanal, 8 marla was acquired from Gorakhpur; 185 acre, 3 kanal, 7 marla from Badopal; and 4 acre, 3 kanal and 14 marla from Kajal Heri village of this district.
Price vs approvals
Surprisingly, while illegal colonies and shops constructed haphazardly in violation of the building bylaws have been attracting buyers, the business in the authorised sectors of the Haryana Urban Development Authority (HUDA) and other private authorised developers has remained slow, though it goes on throughout the year.
"Out of the total real estate deals in Fatehabad, over 60 per cent are in these illegal colonies, while the authorised sectors has just 40 per cent share," says Purshottam Goyal of Kuber Associates, Fatehabad.
It is the low prices of property that make buyers invest in these "risky" ventures, says Ashok Mittal of Mittal Properties, a leading property consultant of Fatehabad. "At present the prices in the Model Town area range between Rs 40,000 and Rs 60,000 per sq yd depending on the site, while in Sector 3, developed by HUDA, the prices are in the range of Rs 28,000-Rs 30,000 per sq yd on the 60-foot road and nearly Rs 24,000 per sq yd on the 30-foot road," adds Mittal.
Likewise, a 25'x45' SCF in Model Town is available for nearly Rs 2 crore, while an 18'x75' SCO in Sector 3 of HUDA is selling for Rs 1.25 crore or more, Mittal adds.
This is in sharp contrast to the Rs 15 lakh or more for which one can get a shop and Rs 6,000 to Rs 10,000 per sq yd for which residential plots are available in reasonably good unapproved colonies.
Real picture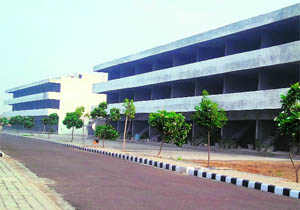 SCOs awaiting occupants for more than two years in Soma Township in Fatehabad.
While unapproved projects have the Damocles' sword of penal action hanging over them, the approved colonies, too, are not having a smooth run, claim many investors. Slow pace of development and frequent increase in prices due to enhanced government charges have been the sore points for investors here.
Alpha International City and Soma Township - the two HUDA approved colonies that have come up in Fatehabad — have witnessed slow pace of sale.
Though prices in Alpha International City have seen some appreciation of late, because of its well-maintained green parks, wide roads and state-of-the-art development, Soma Township on the other hand, has so far failed to set up its own sewerage treatment plant (STP), its parks are ill-maintained and a transmission power line passing from the middle of the colony makes people rethink before investing their hard earned money on plots in it.
"In Soma Township, the same rate of Rs 13,000 to Rs 14,000 per sq yd that existed a year back, still continues, but in Alpha International City, the prices have surged from Rs 14,000 per sq yd last year to Rs 20,000 today," says Goyal.
The shops-cum-offices (SCOs) constructed by Soma Township also have no takers for more than two years, though their prices have appreciated in this time period.
A looming fear of enhancement in prices by near Rs 2,500 per sq yd in these two colonies due to an increase in external development charges (EDC) by the state government is also worrying investors. "We will challenge the hike in the EDC in the courts at our company level and will not pass on the burden immediately on our customers," says S.K Sayal, Director and CEO of the Alpha G Corp, the developers of the Alpha International City, Fatehabad.
"We have sought information from the government under the RTI as to what external developments they have done for our township out of the nearly Rs 30 crore that we have already paid to them," Sayal adds.
The authorities here have taken steps against the unauthorised colonies and constructions in the past few months to stop the menace from growing more but until and unless HUDA and some big builders bring in some good residential and commercial projects in the area at competitive rates, it will be difficult to clear the unapproved colonies' mess in Fatehabad as well as in the state.
Spreading menace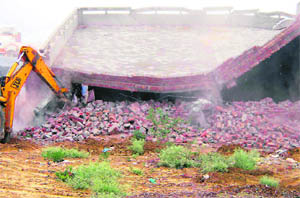 An unauthorised shop being razed during a demolition drive carried out by the authorities at Fatehabad
The menace of unapproved colonies has been plaguing the realty sector all over the state. The "dubious colonisers" lure the investors with low price bands and promises of lucrative returns in areas close to major industrial or other developmental projects. As a practice these private colonisers and property dealers purchase 4 to 8 acres of agricultural land for a price ranging between Rs 1 and Rs 2 crore per acre. Out of the 4,840 sq yd in an acre, the dealer carves out plots of different sizes on nearly 4,000 yards leaving the rest of about 840 yards for narrow streets. The plots are initially sold on rates ranging from Rs 4,000 to 6,000 per sq yd, thereby providing the dealers a handsome margin of 30 to 40 per cent.
Later, the rates start increasing in resale, as the dealers start showing people dreams of the colony getting approvals very soon and in some cases even the local councilors become hand in glove by starting construction of lanes or laying of sewer lines in such colonies making buyers believe that the area will be approved and developed soon. But in most cases the colonisers make a "cool" profit and vanish from the scene leaving the hapless buyers to deal with the consequences of having plots in unapproved areas. Authorities can resume the land or ask for hefty conversion charges from the buyers at a later date.
Another modus operandi of the property dealers and developers is to purchase a commercial or a residential building on a site where there is scope for developing a shopping mall. The dealers form a group and pool their resources to minimise the risk and construct shops in basement, ground floor, and the first floor.
Normally, the group keeps the roof with it, so that it can build more shops on the upper floors as and when the demand arises.