M A I N N E W S
Govt puts curbs on mobiles for foreigners
No connection for more than 3 months
New Delhi, September 2
To check the misuse of SIM cards, the government has asked telecom service providers not to provide mobile connection for more than three months to any foreign tourist visiting India.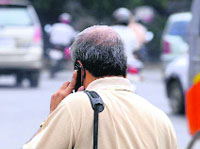 According to the fresh guidelines, which came into effect recently, the Department of Telecom (DoT) has told service providers that the proof for issuance of a mobile connection to any foreigner would be the passport having a valid visa.
"Any mobile connection issued to a foreigner should not have a validity beyond the validity of the visa. In case of a foreign tourist, the validity of the connection should not be beyond the visa period and also not exceed three months at a time even if the validity of the visa is beyond three months," said the fresh guidelines, which have been vetted by the Union Home Ministry.
The move comes in the wake of instances where mobile connections allotted to foreigners were misused by some people even after the departure of the foreign nationals from the country. For address proof of a foreigner, the address of the local reference (which may also be that of the tour operator) shall be taken and in case there is no local reference, the address of stay shall be taken, the guidelines say.
According to the revised guidelines issued on filling a consumer application form (CAF), the DoT has made it mandatory for the licensee to sign the form prior to activation of the SIM card, thereby certifying that the information provided on the form is correct.
"The date of sale of the SIM card and its activation is required to be established from the entries in the CAF. For this purpose, entry of date is to be made with the signature of subscriber at the time of filing of the CAF," it said.
The revised guidelines, which have come into effect, were a follow-up to the directions issued by the apex court after which a joint expert committee was constituted in DoT.
Security agencies had been expressing serious concern over the failure of telecom operators in providing details of mobile connections especially in prepaid SIM cards, official sources said.
According to the fresh guidelines, the connection issued to the personnel deployed on ships while at seashore shall have a validity only till the date they have the permit to stay at the port.
The list of connections issued to foreigners and such short-term SIM cards shall be provided every month to the DoT and Telecom Enforcement, Resource and Monitoring (TERM) authorities separately while submitting monthly database. — PTI