Divine force, spiritual voice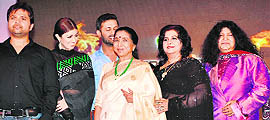 In person, the mystical singer Abida Parveen has her admirers gushing, "Listening to her is akin to meeting the Almighty." Across the telephone wire, her throaty laughter that comes as easily and naturally as her amazing singing prowess, is infectious.
strings attached: Team of Sur Kshetra
Small savings!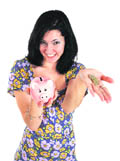 A penny saved is a penny earned! In fact, the most difficult task in the current times is to save money, pushing aside all your 'immediate' spending instincts. So do youngsters of today try to save their pocket money? And what about those who start working early; do they save from their hard-earned salaries? Although we don't have any concrete data as proof, youngsters do save for one purpose or the other. Says Akash Bansal, a young entrepreneur from Chandigarh, who is handling his family business and also running his own venture, "As a youngster I never saved, but as soon as I started working I developed this habit.
Web of style

This is the finest example of productive young blood. Coming from a family of businessmen, Gaurav Bhatia, Ashish Sobti and Dixit Sahni have ventured into the world of fashion and technology. At 18, the three set up a call centre. "Today, we are launching Digaaz.com, an online fashion portal," says Gaurav.



Dream Team: From left (Dixit Sahni, Gaurav Bhatia & Ashish Sobti)

vanity box
Eye for details
One of the trickiest parts of make-up is doing the eye make-up. In fact, applying eye-shadow requires blending of different colours together so that it brings out the natural beauty of the eyes. Along with this, you should also care about matching your eye-shadow not just with the other make-up, but also with the colour and the style of the clothes you are wearing. If the eye-shadow is too bright, you may end up looking like a disaster. Yet when applied too little, you may appear too pale or even sickly.
Music at your feet
We've always liked a twist in your music. Old songs remixed to suit the new styles, hip hop infused in our Bhangra beats and the latest addition is Desi Latinos, India's first salsa album,
It's happening
Colours of Madhya Pradesh
Mrignaynee by MP Government Emporium has brought Bagh Print Utsav at Lajpat Rai Bhawan- 15. The famed block printing craft is kept alive by few artisans. The award winning family of Ismail Sulemanji Khatri known for their craft excellence is being represented in the city by Umar Faruk who is at the exhibition with his ware.
Master Chef
Pouches of delight
For all food lovers, the food besides being yummy must look visually appealing. A clever chef rearranges ingredients to give endless variety of dishes. Lamb mince meat has always been a versatile ingredient and we all love kebabs in different forms. This Lebanese dish promises to be light and dressy too with an array of veggies and mince hidden in the pouches.
TRENDSETTER
Be a sport
A combination of 'brain and beauty' put young girls in the category of 'bold and beautiful'. They ooze a trendy style by just being smartly casual. A sales manager with Alila Diwa hotels in Goa, cool and confident Ritika Bhalla shares her sense of style.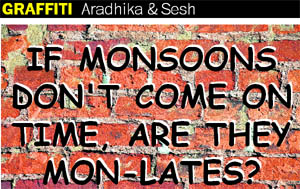 star track
The right note
Raveena warms up!
Great expectations
All 'kicked' up
Foot in the mouth
Brand new endorsement
Million dollar touch!
Blast from the past
Kangana has a ball…
By hook or by crook
chatter box
Jeannie out of the bottle
Get fit with Manish Goel
Britney gets toxic
Change in the syllabus...
It's reunion time