Friends, not foes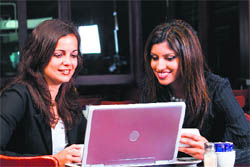 Fierce competition and stiff rivalry rules office cubicles, but right here in jealousy-prone pockets also blossom the seeds of budding friendships. While most of us have found our best buddies in schools and colleges, a recent research pegs that workplaces are the likely places to find your best friend forever. Going by the sheer amount of time we spend at work place, well chances are great. We get you some true stories… Well, cheers to the spirits of friendship!
Acting smart!
It doesn't stop with one or two hits like Carry On Jatta and Jatt & Juliet. Punjabi film industry is stepping up with every single production. This is working well for the entertainment industry and actors.
Simple strokes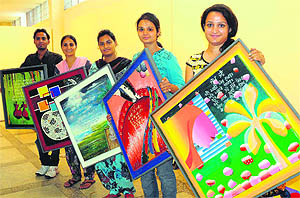 Caught in the deluge of works that boast of having complex themes; simpler works of art come as a welcome change. No hidden meanings, no abstract figures; whatever is on the canvas is self-explanatory. Innocence oozes out of each canvas. And sincere efforts made by 11 students of Punjabi University who together have put up the exhibition of their works at Punjab Kala Bhawan become apparent too in no time.

spiritual hues: Budding artists capture different themes in vibrant colours.

Par Excellence
Create top spin while puttig
The most important part of putting is to get the ball rolling as soon as possible on the intended line with the right amount of speed. The ball should not fly or be airborne soon after impact.
Rising star
Taranpreet Kaur, an eleven-year-old chubby girl who belongs to Chandigarh, has been part of the movie Joker where she danced to two tracks, namely Sing Raja and Jugnu Banke. Her twinkling eyes dream of making it big in Bollywood someday. We catch up with her.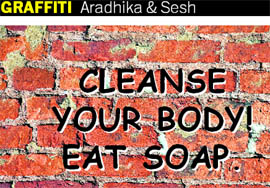 star track
Bold steps to B-town
Rosy glasses this time
Being a mother
Comedy on cards
Face to face with reality
Edited out
No hard feelings
Zac Efron, the official dating star?
chatter box
A tale of twists & turns
Waiting for Bebo
It's showtime
Filmi chakkar!
Ready to mingle
The year ahead