Guide to best colleges

Results of Punjab Assembly Polls 2012


THE TRIBUNE DEBATE: NCTC

Army Chief's Age Row

2011: THE YEAR OF UPRISINGS

Punjab Public Transport, an investigation

WORLD CUP 2011: CRICKET SPECIAL

Turbans

EARLIER FEATURES

Ready to face arrest for protest against graft, says Kejriwal
New Delhi, September 3
Voicing his protest against harassment of India Against Corruption (IAC)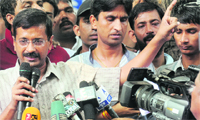 activists, Arvind Kejriwal Monday said they were ready to face punishment if the government felt that protesting against corruption was akin to breaking the law, and added that they would continue to do so in future.
Anti-corruption activist Arvind Kejriwal talks to the media in New Delhi on Monday. Tribune photo: Manas Ranjan Bhui
Man on shooting spree in Delhi; kills four, self
New Delhi, September 3
Infuriated over an argument, a 20-year-old today went on a shooting spree, killing four persons, including his sister-in-law and the girl he wanted to marry, in Bindapur area of North-West Delhi before killing himself in Ghaziabad.
Bangalore terror module
India again seeks Saudi help
New Delhi, September 3
For the fifth time in three months, India has looked at Saudi Arabia for help to nab members its own home-grown terror modules and gathering more information on them. In the latest development, India now believes the recently nabbed activists of a South-India terror module, including a doctor, a journalist and a defence scientist, had hatched the entire conspiracy to target nuclear and defence installations in the southern parts of India at the behest of their 'handler' based in Saudi Arabia.
BJP sets terms for ending logjam over coal blocks
September 3, 2012
Karnataka terror probe widens;
5 more arrested
September 2, 2012
PM rules out resignation, mid-term elections over coal allocation issue
September 1, 2012
Need step-by-step roadmap to take ties forward, India tells Pak
August 31, 2012
SC puts its stamp on Kasab's death penalty
August 30, 2012
PM will have to do a balancing act at NAM
August 29, 2012
CAG's coal observations disputable: PM
August 28, 2012
Virbhadra set to be HP Congress chief
August 27, 2012
Coal fire: BJP slams 'zero-loss' theory, Cong changes strategy
August 26, 2012
Kanda exploited Geetika, she was under pressure: Police
August 25, 2012
Expose BJP tactics: Sonia to party MPs
August 24, 2012