on record
'Can't there be a joke in art?'
Vandana Shukla talks to Manjunath Kamath Contemporary artist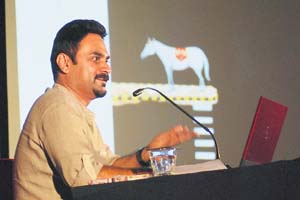 Forty-year-old Manjunath Kamath, one of the most relevant signatures in Indian contemporary art, has been to renowned art colleges, on foreign fellowships, triennials and biennales, and has exhibited works globally. But, the introduction to his art is not a seven-page CV. Nor does his 'visual vocabulary' rest on the crutches of a well-drafted catalogue written in clichéd art jargon. The semantics of his art is the smile that it brings on the viewer's face.
His art introduces a 'lightness of being', rich humour and welcomes the viewer to a visual world that is playful yet hard hitting.
Kamath has not only given a quintessential Indian identity to contemporary art that suffered from its European hangover for long, he has also liberated it from its staid seriousness.
How did your penchant for fantasy and the absurd survive despite our unimaginative education system?
They try to put you in a block even in art colleges. They produce a certain kind of product that can fit a certain demand. Fortunately, I grew up in Mangalore, and the temples were my art school. The mythical figures, frescos and their fantastic world fed my imagination. At the Mysore art college, though I was a student of sculpture, my teachers let me learn all forms of art. I did not limit myself to any form or medium.
You worked as art illustrator for The Economic Times. Many talents die for the security of a job, how could you take the plunge?
After five years with ET, I felt my life had become too secure, routine. I didn't work for three years. All artists think going to a foreign university makes them 'real' artists. So I got a Residency at the University of Wales Institute, Cardiff, followed by a Charles Wallace Scholarship. In the UK, I visited museums and saw Indian miniature art. I was struck by its perspective and scale. This was India's great contribution to art. It changed me.
Your paintings have titles like 'Cupid on Stupid', 'No Logic Please', 'Man who Referred to 100 Books in his Talks', 'Vomiting Philosopher', etc.
Titles are an inner element in my works. I think of the title first and then paint; they open the entry point for my paintings. They are very simple and they come from my day-to-day experiences. Once I was talking to an artist friend who kept quoting different authors on art, I wondered why he couldn't talk of his own experience of art. The artist creates a kind of art which needs to be explained by someone else, in 10 pages.
How did galleries take your works which are so full of humour?
I think the best compliment I receive for my art is seeing a smile on a face. People come to me and say how much they 'enjoyed' seeing art. Art is not supposed to be a cerebral teaser. Why can't there be a joke in art? At the end of the day, everybody wants humour. And, even galleries had to relent.
You are also a brilliant cartoonist. What do you think is the future of this art under the present circumstances?
We are drawing barriers everywhere, even in the minds of the children. If they don't grow with a sense of humour, how will they learn to laugh at themselves? We need to correct so many hypocrisies, it's time we stop telling lies about ourselves, and what better way to tell the truth except the humorous way? Fear is growing bigger than humour.
Can an artist articulate the contemporary without making use of the new technologies?
Technologies are new mediums; I use different mediums, so yes I take advantage of technology. I made the animated sketches using 'Flash', I create imaginary situations as in the fables and parables, through claymation models. They create one kind of narrative. I don't narrate tales as I used to, now I want the viewer to find his/her tale, I leave it open.
One is also struck by the brilliant colours you use.
Yes, using gold and florescent colours was looked down upon by our European art mindset; these colours were treated as decorative. I don't feel art becomes less sacrosanct by using decoration. Look at our miniatures and their rich colours.
Tell us something about your 'medicinal' drawings?
I keep drawing all the time, no paper before me remains free of drawing. During the boom period of art, I realised people and friends began picking those papers for their future worth. It tickled me. So I started drawing prescriptive drawings, according to people's problems and temperament, so that they make use of the drawing not only for its worth in money. Art is not acquisition.
You keep breaking all the prescribed rules in the book of art.
The problem is, even experimental art has become a genre, if it is experimental, why fix a tag?