Crank callers not even sparing 108
Chandigarh, September 1
Crank callers won't spare anybody, even if it's an emergency facility! At least that appears from the high number of pesky calls being received at 108, the 24-hour ambulance helpline.
Sink differences to keep Indo-Pak dialogue afloat, appeal Senators
Amritsar, September 1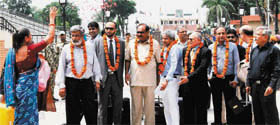 The bilateral relations between India and Pakistan should not be allowed to be taken hostage by any issue, said senators and Members of the National Assembly from the neighbouring nation who crossed over (to India) through the Attari-Wagah land route today.

A delegation of Senators from Pakistan crossing over to India through Wagah border on Saturday. photo: Vishal Kumar


shivali suicide case
Hundreds take part in protest march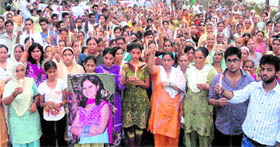 Jalandhar, September 1
Demanding action against those who had driven young Shivali to suicide, hundreds of city residents took part in a candlelight procession in the Garha locality this evening.


Protesting residents take part in a candlelight march in Jalandhar on Saturday. tribune photo: malkiat singh

Hawara acquitted in Arms Act case
Ludhiana, September 1
Judicial Magistrate Atul Kamboj today acquitted former Chief Minister Beant Singh assassin Jagtar Singh Hawara in an Arms Act case registered against him 16 years ago. Hawara was accused of possessing a rocket- launcher, three hand grenades, 44 pistols and 20 live cartridges.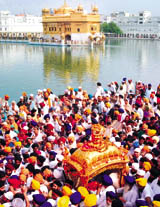 sea of devotion:

Sikh devotees participate in a procession to mark the 408th anniversary of Guru Granth Sahib at the Golden Temple in Amritsar on Saturday. Photo: Vishal Kumar
Train from Ferozepur to Sriganganagar flagged off
Ferozepur, September 1
The much-awaited Ferozepur-Sriganganagar Express train was flagged off today amid fanfare. Sher Singh Ghubaya, MP, Kamal Sharma, adviser to the Chief Minister, legislator Parminder Singh Pinky, DP Chandan, vice-chairman, Small Traders Board and NC Goyal were present during the flagging off ceremony. Rail officials said the train (No 14601/14602) would cover a distance of 185 km between Ferozepur and Sriganganagar in about four hours and 30 minutes.
Tandon attacks govt on power subsidy
Chandigarh, September 1
Former BJP minister Balramji Dass Tandon today questioned the Badal Government for ignoring the mounting power subsidy bill being given to Punjab State Power Corporation Limited (PSPCL) for providing free power to the farm sector.
Fresh taxes salt to injury: Chawla
Amritsar, September 1
Former Punjab Minister Laxmi Kanta Chawla today said the state government had added salt to the injury by imposing fresh taxes on the common people who were already reeling under high inflation.


HC notice to Punjab on village sanitation
Chandigarh, september 1
Acting on a public interest litigation on the sanitation facilities in rural areas, the Punjab and Haryana High Court today issued a notice of motion to the States of Punjab and Haryana for September 21.
It's a frameup, claims Pathankot MC Commissioner's wife
Gurdaspur, September 1
The remand of Commissioner of the Pathankot Municipal Corporation and Dhar Kalan SDM JP Singh, who was caught by the Vigilance Bureau while accepting a bribe from a builder, was extended by a day by Amandeep Kaur Chauhan, Additional Judicial Magistrate (First Class) here today.


Five of family killed as jeep rams into truck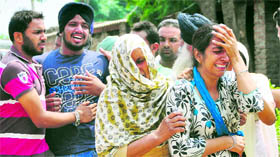 Salempura (Jagraon), September 1
Five persons were killed when the Bolero jeep in which they were travelling hit a stationary truck near Dadi village at Kiratpur Sahib early this morning.




inconsolable: A wailing relative of the deceased. Tribune photo: Himanshu Mahajan

3 held for Ropar youth's murder
Ropar, September 1
Four days after the murder of a youth at the local Government College, the police has arrested three suspects. While one of them, identified as Sukhjinder Singh, was nabbed from the nearby Budhan Majra village yesterday, the other two, Pavittar Singh and Jatinder Singh, both brothers, surrendered at the Chief Judicial Magistrate's court here today.