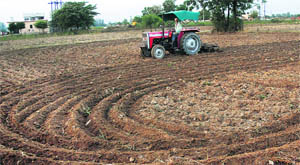 In debt trap, farmers forced to sell their tractors, equipment
Gurdaspur, August 30
With agriculture becoming economically unviable for scores of farmers having small and marginal landholdings, they are forced to sell their moveable property, including tractors and farm equipment, to meet their family obligations.
High costs of farm inputs and "unfriendly" polices are driving farmers to penury — A Tribune photograph

Teachers absent for years to be sacked
Faridkot, August 30
After years of dilly-dallying, the government has finally decided to sack teachers who have been absent from duty for several years. Most of them are abroad.
Cops claim clues on jailbreak bid
Patiala, August 30
Preliminary investigations into the recovery of mobiles and SIM cards from inmates of the high-security Nabha Jail corroborate the police theory that some hardcore terrorists were plotting to escape.
Development comes to a halt in Ferozepur dist
Ferozepur, August 30
This backward border district has become a virtual 'political orphan' with two major players from the ruling SAD- BJP alliance forced to shift their attention and energies elsewhere. No major development activity has taken place here in the past several decades, and even the small grievances of people have not been redressed in the present SAD- BJP alliance tenure for a lack of representation and subsequent follow up by the local politicians.
Enrol migrant workers as voters: CEO
Bathinda, August 30
The Chief Election Officer, Kusumjit Kaur Sidhu, at a meeting here yesterday, directed poll officials in the Bathinda and Mansa constituencies to include the migrant population on the voters' list. They were directed to work in liaison with industrial houses for the purpose.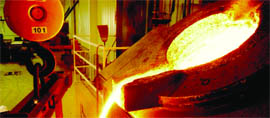 e-Trip is here to stay
Chandigarh, August 30
Even as the iron and steel units across the state are up in arms against e-Trip facility, introduced by the Punjab Excise and Taxation department, the service is here to stay.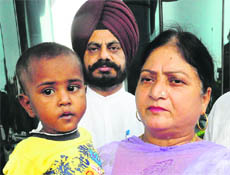 Child found abandoned near Sirhind rly station
Fatehgarh Sahib, August 30
A one year-old-boy was found abandoned in the bushes at a pond near Sirhind railway station here this morning.




The boy with Councillor Kuldeep Kaur and MLA Kuljit Singh Nagra. Tribune photo: Parvesh Chauhan

Service record of employees to be reviewed
Chandigarh, August 30
The Punjab government today repeated its instructions issued under the Punjab Civil Services Rule 1975 (pre-mature retirement), asking its departments to pre-maturely retire corrupt and inefficient officers and employees to tone up the administration. From now on, the record of every officer/employee will be reviewed on completion of 15, 20, 25, 30, 35 years of service.
Punjab Cabinet to meet on Sept 3
Chandigarh, August 30
A meeting of the Punjab Cabinet will be held on September 3, sources said, to take a policy decision with regard to regularisation of limited business or other commercial activity in urban areas.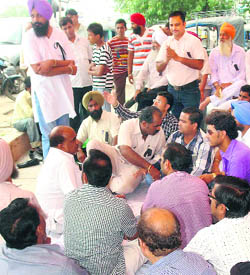 Mediapersons stage a dharna against Health Minister Madan Mohan Mittal in Rajpura. Tribune photo: JS Virdi
Fresh taxes in state
Jakhar demands emergency session of Vidhan Sabha
Abohar, August 30
Criticising the state government over its decision to impose new taxes outside the Punjab Budget, the Congress has demanded an emergency session of the Punjab Vidhan Sabha to discuss the merit of imposing new taxes on an already burdened state economy.
Illegal arms trade
Weapon dealers across Punjab under scanner
Patiala, August 30
Many weapon dealers operating in Punjab could have their licences cancelled for their alleged role in the illegal weapon trade spread across the country.
Pathankot MC Commissioner held for bribe
Pathankot, August 30
The Commissioner of the Pathankot Municipal Corporation, JP Singh, who is also SDM, Dhar, was arrested by Vigilance sleuths at his native village Chak Madho Singh, near here, while allegedly taking a bribe of Rs 2.50 lakh from a builder.
Roads to UT to be four-laned
Bathinda, August 30
PWD Minister Sharanjit Singh Dhillon today said that all roads connecting the districts of Punjab to Chandigarh will be four-laned in the four years before the next Assembly elections in the state.



Notice to govt on retaining tainted Vigilance officials
Chandigarh, August 30
The Punjab and Haryana High Court today issued notice to the Punjab Government and Vigilance Bureau on an application against re-employing or retaining cops of the bureau like Surinder Pal Singh who have indicted by the court or are facing criminal cases.



Inter-state gang of drug peddlers busted
Moga, August 30
The Moga police has busted an inter-state gang of drug traffickers and seized 184 bags of poppy husk. The contraband is valued at Rs 74 lakh.
Woman held with 5 kg poppy husk
Bathinda, August 30
The Kotwali police today arrested a woman with five kilograms of poppy husk. This is the third time that the woman has been found carrying the contraband in the last five years.Manjeet Kaur, 43, was caught travelling with the bag containing poppy husk in a bus from Rajasthan. She tried to flee after dropping the plastic bag containing the drug but was caught by the policemen.