24x7 emergency care still a far cry
Cheema (Sangrur), August 27
With the defunct radio-diagnosis room turned into a makeshift retiring room for class IV employees, the 25-bedded Cheema Rural Hospital in Sangrur, built to provide 24X7 emergency care services, is generally without a medical officer.
Crucial Cabinet meeting today
Chandigarh, August 27
With the state facing a fiscal crisis, the Cabinet is scheduled to meet here tomorrow. Sources say some important issues, including the levy of fresh taxes, is on the agenda. Among the tax proposals likely to be taken up at the meeting are increasing the stamp duty by 1 per cent as and the registration fee from Rs 30,000 to Rs 2 lakh.The proposed increase in the stamp duty is likely to generate an additional revenue of Rs 450 crore.
Industrial peace Punjab's USP: Badal
Chandigarh, August 27
Trying to project Punjab as an ideal investment destination vis-a-vis its neighbour Haryana, the Punjab Chief Minister and the state Industries Minister took pot shots at the neighbouring state for failing to maintain industrial peace and for poor power supply to the industry.
Experts call for three-year crop pattern
New Delhi, August 27
Based on the advice of experts, the Centre is contemplating different economic and ecological models, including a three-year crop rotation formula, to wean Punjab and Haryana away from the wheat-paddy cycle.
To check fraud, housing societies under watch
Chandigarh, August 27
To check malpractices and fraud in various cooperative house building societies and to make their functioning transparent, the Punjab Government has made it mandatory for the management of such committees to share information about their activities with their members through the internet.


Amarinder to tour 7 constituencies


Chandigarh, August 27
Pradesh Congress president Capt Amarinder Singh will tour the state beginning September 2, covering seven constituencies in the first leg. The tour programme is significant as Amarinder had indicated that he would go back to the masses only after the high command gave him the nod to continue as PCC chief.
Cong ex-minister to Join SAD
Fatehgarh Sahib, August 27
Three-time Congress MLA and former minister Harbans Lal is all set to join the SAD. "I have decided to join the SAD unconditionally and assured party president Sukhbir Badal to devote the rest of my life for the organisation," said Dr Harbans Lal.


100 rural medical officers have quit in a year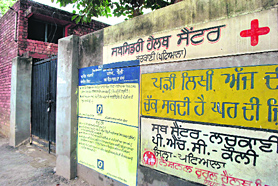 Patiala, August 27
A crisis-like situation has been looming over rural healthcare in Punjab as a large number of doctors have been calling it quits. In the last one year alone, over 100 medical officers have resigned. Their only grudge is that the Department of Rural Development and Panchayats, under which their services come, have "no promotion avenues".

The Subsidiary Health Centre at Lachkani village on Bhadson Road near Patiala. Tribune photo: Rajesh Sachar

Lab awaits machine, forensic reports delayed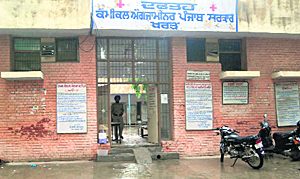 Kharar, August 27
The lack of facilities at the Punjab State Chemical Laboratory is leading to a delay in the forensic examination of evidences in various criminal cases. Sources say the laboratory takes at least two months to analyse a single case. In some cases, the time taken is as long as four months. This has an adverse impact on investigations into the cases.
The Punjab State Chemical Laboratory in Kharar. Tribune photo

Tension in village over land dispute
Bathinda, August 27
The ongoing controversy over the ownership of 12 acres of land in Maari Seekhan village near Rampura town escalated again when members of the Bhullar community, wanted to celebrate the tenth day of the Full Moon at the village gurdwara. However, the police citing prohibitory order, prevented them from marching to the gurdwara situated on the land under controversy.


Surprise checks an eye-opener
Chandigarh, August 27
Cleanliness is the biggest casualty in government hospital emergencies, as found by a series of night inspections of emergency care carried out by Health Department officials led by a team headed by Raji P Shrivastava, Managing Director, Punjab Health Systems Corporation.
Schools get Rs 86 crore to buy utensils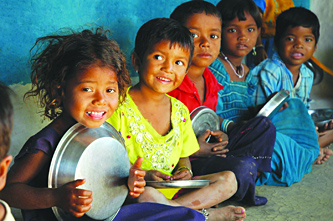 Moga, August 27
More than a decade after the mid-day meal scheme was introduced in elementary schools, the Punjab Government, with the help of the Centre, has issued instructions for the purchase of utensils to serve meals to students in 20 districts. A letter in this regard has been sent to all District Education Officers (Elementary) by the Director-General, School Education. There are at least 17,20,000 students enrolled in the state's elementary schools. the maximum of 1,50,269 being in Ferozepur.
Hospital 'neglects' HIV patient in labour pains
Ropar, August 27
An HIV-positive woman was forced to leave the local Civil Hospital in labour pains when doctors there did not attend her for three hours. The woman was shifted to a nearby private nursing home where she delivered her baby, which later died.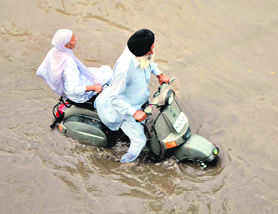 Monsoon misery: An elderly couple makes way through a waterlogged street in Patiala. Tribune photo: Rajesh Sachar

Neighbour shoots man
Fazilka, August 27
A man was shot dead by his neighbour over a land dispute in village Hasta Kalan of the sub-division late on Saturday evening. As per Boor Singh, he and his family members including his son Balwinder Singh were laying the roof of their under-construction house.
Set up stray dog houses: NGO
Patiala, August 27
The Society for People's Welfare & Awareness (SPWA) and Patiala Chapter of the Indian Medical Association (IMA) have decided to help the Patiala Municipal Corporation in its drive against stray dogs.
Relief for GPA holders
Ludhiana, August 27
The Punjab Government has decided to relax the ban on registration of sale deeds of residential and commercial properties against general power of attorney (GPA) for a period of six months.
Gutkha banned
Chandigarh: The government has banned the manufacture and sale of gutkha and pan masala in the state. An official spokesperson said the Chief Minister had cleared the file approving the proposal of the Health and Family Welfare Department to ban the two products containing tobacco in the interest of public health. — TNS


30 kg opium, 3 quintal poppy husk seized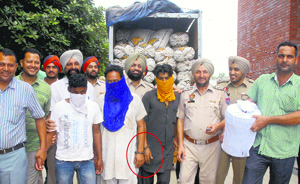 Jalandhar, August 27
The Jalandhar rural police today nabbed four persons in two cases and recovered 30 kg of opium worth Rs 60 lakh and 3 quintal of poppy husk worth Rs 90 lakh from their possession. In the first case, two Jharkhand-based smugglers were held near Bhogpur here. The police recovered 30 kg of opium from them.
Police officials along with handcuffed drug smugglers in Jalandhar. Tribune photo: Malkiat Singh

Drug mafia using pupils as conduits
Bathinda, August 27
Students from Haryana and other parts of Punjab are increasingly becoming a pawn in the hands of the drug mafia. The Mansa police has arrested five youngsters, including four students, who had been lured into the illegal trade for minor gains. They now face several years behind bars. Narendra Bhargav, Senior Superintendent of Police (SSP), said the students had been told they would be paid handsomely for smuggling drugs like opium from Haryana.
Two booked for selling PDS ration
Patiala, August 27
Two persons, including a depot holder in Rajpura, has been booked for illegally selling subsidised wheat meant for distribution among the poor.