Punjab fails to bail out power utilities
Patiala, August 28
With the Punjab government failing to pay attention to bail out the cash-strapped Punjab State Power Corporation Limited (PSPCL) and Punjab State Corporation Limited (PSTCL), the fiscal health of the two power utilities has worsened.
Turnabout: Now, mining licence to highest bidder
Chandigarh, August 28
In a turnabout, the Punjab Government has decided that the licence for sand and gravel mining would now be awarded to the highest bidder. This will help the state generate crores of rupees as revenue.


Sugar prices may tumble marginally
Death of MBA students
Conflicting reports by police, Home Dept
Ludhiana, August 28
An "accident" involving the death of two MBA students of Thapar University has become the bone of contention between the state police and the Home Department with both the offices overruling inquiries conducted by the other.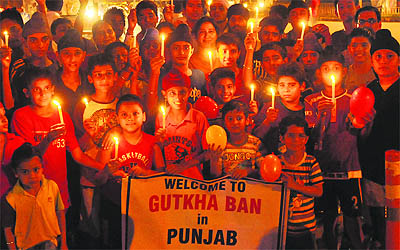 Young crusaders

: Members of the Generation Saviour Association hold a candlelight march in Mohali to welcome a ban on gutkha in Punjab. Tribune photo: Vicky Gharu
38 food samples fail safety test
Sangrur, August 28
About 250 food samples were collected by the health authorities from various parts of the district in the last seven months. Of them, 38 failed to clear the safety test. All these samples were collected after the new Food Safety and Standards Act was implemented last year.
Akal Takht objects to Devgan's film showing Sikhs in 'poor' light
Amritsar, August 28
Taking a serious note of actor-producer Ajay Devgan's upcoming film 'Son of Sardar' allegedly portraying Sikhs in poor light, the Akal Takht Jathedar today wrote to the SGPC to initiate necessary action to ensure corrective measures.
Govt teachers have it easy
Chandigarh, August 28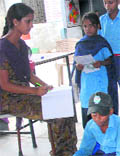 If an official document prepared by the Education Department is to be believed, government schoolteachers work two months less than their counterparts in private schools during an academic year. The document says that government schoolteachers teach for 173 days in a year against 240 by teachers in private schools. This means children in private schools study 67 days more than their counterparts in government schools. The document points out that teaching less than 220 academic days in a year is a clear violation of the Right to Education Act and that there is an immediate need to revamp the teachers' working schedule.
44 leprosy cases in 16 months in Sangrur
Sangrur, August 28
Forty-four leprosy cases have been detected in Sangrur in the last 16 months. While 31 cases (24 from Bihar, Uttar Pradesh and West Bengal and seven from Sangrur) were detected during the financial year 2011-12, 13 were detected between April and July this year.
Furnace units go on strike, 50,000 jobless
Fatehgarh Sahib, August 28
More than 50,000 workers have been rendered jobless as a result of the indefinite strike by steel rolling mills and furnace industries in Mandi Gobindgarh, Amloh and Khanna. There are more than 650 big and small steel re-rolling mills in the two subdivisions of this district employing 45,000 workers.
Amritsar far from being a tourism hub
Amritsar, August 28
Though successive state governments promised to develop Amritsar as a tourism hub, their action never seemed to be matching their words, as is evident with the way key projects like restoration of Gobindgarh Fort and Rambagh are getting delayed.

Rambagh and (left) Gobindgarh Fort. Photos: Vishal Kumar
CEO Sidhu pullsup poll officials
Sangrur: Taking serious note of non-preparation of photo-identity cards of voters, the Chief Electoral Officer (CEO), Kusumjit Sidhu, today directed the returning officers (ROs) to ensure that the same were provided to all voters at the earliest. "After the preparation of the photo-identity cards, a list should be sent to me,", she told the ROs.
'Irregularities' in admissions
HC clean chit to former VC setback for Vigilance Bureau
Patiala, August 28
In a setback for the Punjab Vigilance Bureau (VB), the Punjab and Haryana High Court has disposed of a writ petition against former Punjabi University Vice Chancellor Swarn Singh Boparai. The court also rapped the Vigilance Bureau for not giving ample opportunity to the former VC to explain his position during the course of inquiry against him.
Court declines plea for ban on construction over private land
Chandigarh, August 28
Pipelines allegedly affecting the natural flow of Baltana choe in Mohali have been removed after the Punjab and Haryana High Court's intervention. But, a petition filed in public interest for directions to the State of Punjab and its functionaries to stop "unauthorised construction" in area earmarked for the natural choe has failed to find favour with the High Court.
Conclude audit of gram panchayats, says HC
Chandigarh, August 28
The Punjab and Haryana High Court today issued instructions to the Panchayat Department to conclude the audit of gram panchayats and for taking action against defaulting officers.
Don't allow opening of hooka bar, MC told
Chandigarh, August 28
The Patiala municipal authorities have been directed by the Punjab and Haryana High Court not to allow the opening of a restaurant and hooka bar, allegedly run by the son of a former Director General of Police (DGP).
Form national commission for judges' appointment: lawyers
Chandigarh, August 28
A national judicial commission for appointment and transfer of High Courts judges has found favour with the Punjab and Haryana High Court Bar Association. In the association's General House meeting, it was unanimously resolved that need of the hour was to constitute the commission and do away with the collegium system.
Management institutes under SC scanner
Chandigarh, August 28
The practice of fixing the last date for submission of admission forms in management institutes well before the declaration of CAT and MAT results has come under the Supreme Court's scanner.
21 yrs on, HC doubles relief for acquired land
Chandigarh, August 28
Nearly 21 years after landowners moved the Punjab and Haryana High Court for enhancement of compensation for land acquired for establishing a 66 KV substation along the Malerkotla-Ludhiana road, Justice K Kannan has almost doubled the amount.
Official caught taking bribe
Chandigarh, August 28
The Central Bureau of Investigation (CBI) today arrested a superintendent with the Punjab Home Department for allegedly accepting a bribe of Rs 10,000 from a Muktsar resident.