| | | |
| --- | --- | --- |
| | OPED DEVELOPMENT | |

Water policies remain on paper
Sucha Singh Gill
The experience of the last two decades is a testimony to the growing clout of the corporate sector to gain control over natural resources of the country. Privatisation of water will be very quick and easy if water is transferred from the State List to the Concurrent List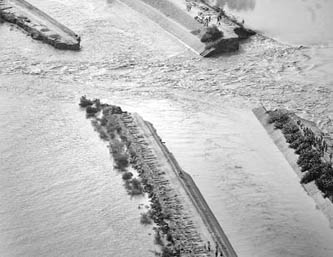 In view of the large shortfall of rainfall in the country, a drought-like situation, declining ground water resources and a large number of reports of poisoning of ground and surface water, it is useful to discuss issues concerning water policy in the country. It is well known that India has 17 per cent of the world's population, only 4 per cent of the world's renewable water resources and 2.6 per cent of the world's land area. Thus, by the world average standards India's water resources are scarce.

The recent high pace of economic progress, fast urbanisation, growing energy-intensive lifestyle, expansion of water-intensive agriculture, industry and power generation (thermal) have made large parts of India water stressed, facing an acute shortage. Along with five decades of emphasis on chemical farming, unregulated throwing of industrial/chemical and poisonous effluents in fresh waters and mixing of untreated urban sewerage and garbage have poisoned fresh water resources. Experts have been discussing these issues in professional journals, books and also in the electronic and print media.

Public concerns shown by iconic figures and experts have made water and environment topical issues. At the national level the Ministry of Water Resources, Government of India, has issued National Water Policy documents three times within the period of a quarter century. The first draft was issued in 1987 which was followed by another in 2002. The recent draft has been issued in 2012.

The latest draft of the National Water Policy is quite comprehensive and demonstrates improvement over the earlier drafts. The stated objective of the policy has been "to take cognizance of the existing situation and to propose a framework for creation of an over-arching system of laws and institutions and for a plan of action with a unified national perspective".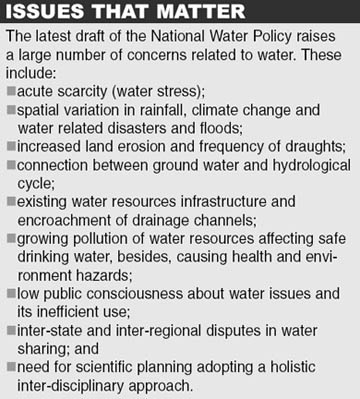 Incentives and penalties
Water quality and quantity are interlinked and need to be managed in an integrated manner with broader environment approaches, including incentives and penalties to reduce pollution and wastage; and climate change must be factored into water management related issues.
The Draft National Water Policy suggests a broad over-arching national framework of general principles on water for essential legislation on water governance in every state and devolution of necessary authority to local governments to deal with local water situation.
It is also suggested to modify the Indian Easement Act, 1882, which gives proprietary rights to the land owners on ground-water for his/her land. The legislation has to be comprehensive for optimum development of inter-state rivers and river valleys to facilitate inter-state coordination through basin authority for scientific planning of land and water resources.
The policy draft gives first priority to ensure minimum access to potable water for health and hygiene of all citizens followed by ecological needs. The economic needs such as agriculture for food security and sustainable development come next in priority. In the earlier policy documents industrial use of water is the last priority.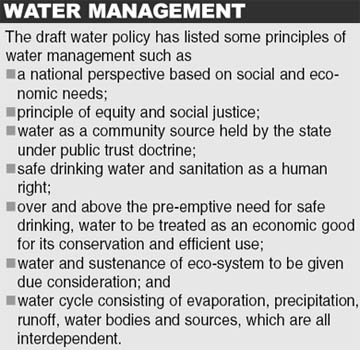 The policy documents contain many good suggestions for mitigation of climate change challenges; enhancing efficient use of the available water; preservation of river corridors, water bodies and infrastructure; project planning; resettlement and rehabilitation of project affected families; preparedness for flood and droughts; changes in institutional arrangements such as setting of a water regulatory authority in every state, a forum at the national level for deliberation of water issues, changing role of the state from a service provider to a water regulator and incentivisation of reforms for innovations, conservation and an efficient utilization of water.
Accepting basin as the basic unit of water management and planning and inter-country agreements are suggested for international rivers. Considerable emphasis has been given to the generation of authentic data base and information system and strengthening of research and training to address issues in the water sector in a scientific manner and rewarding of innovations.
Water as a state subject
Serious policy documents on such a vital issue of water scarcity and its fast declining quality so essential for sustainable development and human and animal existence remain non-consequential. There are several factors which are responsible for this. The most important point is that various drafts of the National Water Policy require a change in the constitution.
In the policy it is suggested that there should be a national perspective on water whereas water is a state subject. Even in countries like the US water is a state subject. It is also suggested that there should be a river basin authority for water management for optimum/efficient use of water. In many cases it will be an inter-state body with the union government having a major say. This is not acceptable to states like Punjab, West Bengal, Tamil Nadu and Jammu and Kashmir. It is well known that the West Bengal Chief Minister did not allow the Government of India and the Government of Bangladesh to enact the Tista River Water Treaty.
Secondly, the various water policy drafts are suggesting the change of role of the state governments from a water service provider to a regulator. Several states in the country ruled by different political parties are using the provision of free/concessional water and electricity to build their vote banks. This change in the role of the state will affect adversely the fortune of several political parties.
The third major issue relates to the exclusive right of the land owners on ground water of their land. The small section of big farmers (around 5.0 per cent) operating above 10 acres of land are the major beneficiaries of this right. This class of land holders calls the shots in state political parties. They control the lever of political power at the state level and do not allow any change of their exclusive rights over ground water resources.
Water pricing
Water being scarce in most of these states, these policy documents require a change in the allocation of water from existing use by various states to those states within the basin or outside to meet drinking water and development requirements. Already disputes on water between various states (Karnataka-Tamil Nadu; Kerala-Tamil Nadu; Punjab and Haryana) remain unsettled.
The policy drafts suggest the application of water pricing reflecting water scarcity. The pricing of water on the ground of availability requires raising it very high, making it beyond the access of the marginal and small farmers. Thus, it reflects a contradiction between the declared principles of equity and social justice and the suggested policy options. This is used by an influential section in the farming community to build widespread opposition to the National Water Policy.
Service provider or regulator?
The latest Draft National Water Policy has allowed the concept of "Public Private Partnership" to transfer water management to the private sector especially for changing the role of the state from a provider of water services to a regulator of water. This has enhanced the suspicion of a large number of people that this policy has a hidden agenda of privatisation of the country's water resources. In view of the growing role of private sector companies in the supply of bottled drinking water and the mining sector, it is feared that the private corporate sector is in for grabbing water resources along with land.
The experience of the last two decade is a testimony to the growing clout of the corporate sector to gain control over natural resources of the country. The privatisation of water will be very quick and easy if water is transferred from the State List to the Concurrent List. The transfer of water to the Concurrent List is being aired by an influential section of policy makers, especially in the Planning Commission.
Inefficient use of water
The major user of water is agriculture for irrigation to provide food security for the population. There cannot be any improvement in the quantity and quality of water if water policy and agricultural policies do not synchronise. Different drafts of the National Water Policy have been issued and no attempt has been made by the Union Government to incentivise an efficient use of water in agriculture.
On the contrary, several states have been encouraging an inefficient use of water through free water and electricity for irrigation purposes. Similarly, energy policy both in power generation and distribution has to be complimentary to the National Water Policy. But actually both agriculture policy and energy policy have been promoting water-intensive crops and an inefficient use of water.
Under the new economic policy regime, the private industrial sector has become less regulated as in the case of pollution control. It has been a major contributor to the poisoning of fresh water. Thus, agricultural policy, energy policy and industrial policy are moving in opposite direction of the National Water Policy, making various drafts as paper exercises. This policy cannot operate in isolation. At the same time it is difficult to implement this policy if there is an absence of cooperative federalism, lack of effective governance and a high level of trust deficit in the intentions of the government and policy makers.
The writer is the Director General, Centre for Research in Rural and Industrial Development (CRRID), Chandigarh