Need progressive masculinities to get feminist view
Thanks to market economy, women have found empowerment. But the fault lines of gender disparity still remain drawn. We need social mobilisation across genders to erase these lines
Deepshikha Batheja
THE recent case of mob molestation of a minor girl at Guwahati and its echo reflected in many such cases have discomfited most of us. These cases have moved us further away from the dream of seeing India as a safe country for all— irrespective of gender and caste bias. It has stirred inside us a feeling of helpless anger because this atrocious violence against women is not just confined to Assam, it is witnessed all over the country. The issue has led to much discussion, once again, not only about the weakness of the legal and executive systems in handling molestation cases but also on the role of institutions such as the National Commission for Women (NCW) – the power of the women's movement, a questioning of sorts has begun on what have been the benefits of over 60 years of efforts to improve the condition of women, in terms of material growth as well as their presence in the political, economic and social spaces?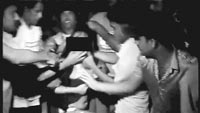 Can women be seen as knowledge creators? That alone will change scenes like this. About 20 men molested a minor girl in Guwahati on July 13
At present only two provisions of the Indian Penal Code primarily deal with the issue of sexual violence against women.
Sec. 376 IPC punishes rape and
Sec. 354 IPC punishes outraging the 'modesty' of a woman.
Sec. 354 IPC applies to routine incidents of molestation and certainly does not respond to aggravated sexual assault by a mob, accompanied by public stripping and parading. There is no provision in the law to redress the harm, injury, humiliation and trauma suffered by the young girl in Guwahati. Section 354 IPC offers no commensurate penalty nor is a deterrent. In fact, molestation is a bailable offence and allows the court to award a maximum of two years of imprisonment or at its discretion, a mere fine as a minimum sentence.
Law vs change in mindset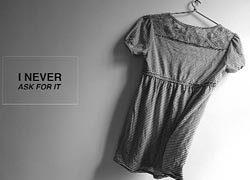 Several suggestions are put forward in response to this situation, for example, to strengthen the legal system, to have a strict law for eve-teasing and sexual offenses in the form of an explicit law defining it, to increase police patrolling and training and sensitising the police about handling these cases to increase the safety of women on the streets etc. Another important question that is being raised is to examine the reasons behind a differential treatment of women in the society and ways to bring about a change in the collective mind-set stemming it.
Here, again there are two streams, sometimes interlocking within the feminist debates. One is the exploration of the roles that traditions, especially the way patriarchal pressure within which societies are framed work. The other is, looking at political economy and the 'exchanges' between political economy and women. Violence against women and patriarchal attitudes that generate it is a large and fairly well discussed debate. Political economy theories, practices and initiatives, both global and national are not yet pulled in while looking at, for example, the Guwahati case.
However, in a recent volume called 'Harvesting Feminist Knowledge for Public Policy' edited by Devaki Jain and Diane Elson ( Sage Publications), an argument is being put forward that the knowledge that is generated by women's lived experiences, as well as scholarship, points to the importance of reconstructing theories on economic growth, definitions of progress, measurement of 'values' etc. These voices argue that there is need for feminist movements to engage with the 'other', with the ideas and theories, with their knowledge and the knowledge of the 'mainstream.'
Need to harvest feminist view
This volume, which is a collection of essays written from different locations and types of political economies has revealed how the knowledge that feminist scholars and activists have garnered over the years, reveals the range and depth of feminist approaches to social policy, valuation, theories, labour market, and to informal economy. The chapters draw on the diversity of socio-economic experiences of women from different countries and argue for new ways of thinking about development. They offer ideas for reformulating development to secure social, economic, and political justice.
The authors also point towards a fault line within the advocacy for women's rights and empowerment as it tends to buzz around only the importance of women's 'bodily' needs and markings. They are usually seen as objects requiring welfare services. Women should be seen, as Amartya Sen puts, "Not as patients whose interests have to be looked after, but as agents who can do effective things – both individually and jointly." If women's value to creation of wealth, to enabling family's income, to GDP could be highlighted, could the persecution, the killings be curbed?
Yet, the employment data in India shows that self-employed women workers not only significantly outnumber men, their conditions of work are also qualitatively different from men as they constitute a very large component of 'unpaid family labour.' They are 'workers' in statistical discourse but have no control over either the means of production or returns to work (International Labour Association, 2007). As high as 72 per cent (75 per cent in rural areas and 48 per cent in urban) of self-employed women workers are unpaid family labour, as compared to 27 per cent (30 per cent in rural and 19 per cent in urban areas) men workers.
Lessons from other cultures
Japanese social scientist, Prof. Hiroko Hara in her essay 'Modernity, technology, and the Progress of women in Japan: problems and Prospects' shows that macroeconomic success does not necessarily usher in equality for women. Using the Gender Empowerment Measure (GEM), she shows the mismatch between GDP and gender inequality in Japan. Breaking the hold of patriarchy in Japan, she argues, could happen only through women mobilising themselves, not by high GDP growth rates.
Marta Nunez Sarmiento, in a case study of Cuba's economic policies, shows that it is not necessary to be a rich country to get gender parity, nor is it necessary to wait for economic growth to bring economic and social development equality to men and women. What is needed is a strong political will. Marta challenges and redefines progress — arguing that what Cuba has achieved by providing free access for all the basic services, and rapid increase in women's participation in the labour market, including in technical and professional work, is progress.
Hence, definitions of progress, of measures of what is 'value,' highlighting women as knowledge creators, seems a way forward to establishing women's case for justice. In India, the lowest per capita income states like Bihar, Jharkhand, UP and others could possibly learn from the experience of Cuba and involve and bring women into the labour force, at a time now when conditions and policies for growth are being designed.
The irony of northern states
On the other hand, the North- Indian states of Punjab and Haryana have quite a different story to tell. They have a fairly high GDP per capita and yet the heinous crimes and violence against women are rampant in these two states. With the exception of Himachal Pradesh, no state in the north now has a child sex ratio above 900. Haryana (830) and Punjab (846) remain at the bottom of the table, though have shown some improvement over 2001 data. Adding to this shame is that more than 1000 young people are killed in the name of 'honour' in India of which Haryana, Punjab and UP account for about 900 honour killings as claimed by the report released by All India Democratic Women's Association (AIDWA).
The staggering figures of violence reported against women in Punjab and Haryana inform of unabated dowry cases, violence against Dalit women, rape cases and foeticide, could have another root cause, says Jael Silliman in her essay on 'Progressive Masculinities- Oxymoron or Achievable?' She discusses how defining masculinities and engagement of males in the movement is imperative in this struggle for gender justice and broader social change. How progressive masculinity (also called feminist masculinity) should be encouraged and hegemonic masculinity (patriarchy) over thrown and deconstructed to achieve gender parity. This essay is extremely important in the context of the patriarchal regime followed in the North India to understand the basis of the conflict that a 'man' faces to conform to the ideas of being one. Women too are enmeshed in the process of defining and sustaining masculinities—as mothers, relatives, friends, sexual partners, and co-workers. We all witness or practice this process of defining and supporting 'masculinities' in our everyday lives.
Silliman ponders over the reasons for this and examines how young men are still constrained by dominant masculinities that treat emotions and desires as weaknesses and as threats to male identities. They still conceive of sexuality as sin, and promote the authoritative role of the father in male lives. Understanding and engaging these sensitive males will help in strengthening the cause. There are many organisations and groups working in Nigeria, Brazil, USA and several parts of India, towards dislodging gender oppression by engaging young men and partnering with them to remove violence and subjugation. Patriarchy teaches males that violence equals strength and this adage, if negated by men in India will not only help in empowering women but also liberate men from the impediments of their self- created caricatured identity.
The volume discusses many new ideas, provides an overview and argues for economic democracy, as critical for effective functioning of political democracy. It also puts forth, using the collective experiences of various countries – an argument for a theory of growth, which is built not on trickle down, but on the energy at the lower end of the economies where women cluster and then bubble up to build a just political economy.
The writer is a Delhi-based economist and researcher with special interest in women's studies.
Women should be seen, not as patients whose interests have to be looked after, but as agents who can do effective things – both individually and jointly. If women's value to creation of wealth, to enabling family's income, to GDP could be highlighted, could the persecution, the killings be curbed? — Amartya Sen