Stealing away your sleep
Obstructive sleep apnea is a serious sleep disorder which can cause cardiovascular problems, diabetes, day-time fatigue and sleepiness. It is also a major risk but preventable cause of motor-vehicle accidents
Dr Amit Kumar Mandal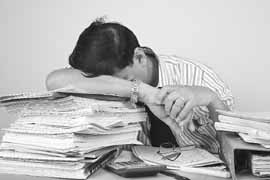 Apnea means cessation of breath (more than 10 seconds) and since it occurs during sleep, it is called sleep apnea. Several types of sleep apnea exist, but the most common type is obstructive sleep apnea (OSA), which occurs when throat muscles intermittently relax and block the pulmonary airway during sleep. Obstructive sleep apnea is potentially a serious sleep disorder in which breathing stops repeatedly during sleep.
The most noticeable sign is snoring. Other signs and symptoms include excessive daytime sleepiness, abrupt and repeated awakenings during sleep, accompanied by shortness of breath, observed episodes of breathing cessation during sleep, morning headache and difficulty staying asleep (insomnia). Anyone can develop OSA, but certain factors can increase the risks like being overweight, individuals with thick or large necks. Persons suffering from high blood pressure (hypertension) and diabetes are at an increased risk of being afflicted with OSA. Alcohol abuse, smoking and the use of sedatives also increase the risks of OSA.
Little patients, big danger
Children, too, could suffer from OSA. However, the problem may not be obvious, hence the danger increases manifold. Signs and symptoms in kids include bedwetting, poor school performance, sluggishness or sleepiness (often misinterpreted as laziness by teachers or by parents), snoring, choking or drooling, excessive sweating at night, restlessness in bed and teeth grinding. OSA in children is, sometimes, due to chronically enlarged tonsils and adenoids. Tonsillectomy and adenoidectomy surgeries may cure the problem. In serious apnea cases, the growth is retarded and abnormalities of the right heart may have developed. But even in extreme cases, surgery tends to cure not only apnea and upper airway obstruction, but subsequently allows normal growth and development. Such children need careful assessment jointly by paediatricians and sleep specialists.
Studies & surveys
A study conducted by nursing students of Dayanand Medical College & Hospital (DMCH), Ludhiana, and published in a nursing journal in 2011, found a high prevalence of OSA of 8 per cent in the control group and 18 per cent in patients with congestive heart failure.
A population-based study conducted by AIIMS in New Delhi in 2006 reported the prevalence of OSA to be as high as 9.3 per cent.
Another study on sleep problems carried out in Africa and Asia by staff and students of Warwick Medical School has indicated that 5 per cent of Indians suffer from sleep disorders. Women in India at 6.5 per cent surpass men at 4.3 per cent when it comes to sleep disorders. Approximately 4 per cent of Indian men suffering from acute sleep disorders at night were hit by extreme depression, while 3 per cent complained of severe anxiety. Among women, 3.79 per cent reported of extreme depression and 2.8 per cent reported of anxiety. Research consisted of studying the quality of sleep on 24,434 women and 19,501 men. All subjects were in the age bracket of 50 years and above. The survey was conducted in eight rural places across the globe. The locations were Africa, Bangladesh, Ghana, Kenya, India, Indonesia, South Africa and Vietnam. The study discovered that 16 per cent of the population in the countries under survey was insomniacs, which is not far behind the West's 20 per cent incidence.
Complications of OSA
OSA is considered a serious medical condition and is associated with many complications:
Cardiovascular problems: Sudden drops in blood oxygen levels occur during obstructive sleep apnea episodes. These episodes bring an increase in the blood pressure and strain the cardiovascular system. Many people with OSA develop high-blood pressure, which raises the risk of heart failure and stroke. The more severe the OSA, greater the risk of high blood pressure. People with obstructive sleep apnea are also much more likely to develop abnormal heart rhythms (such as atrial fibrillation). If there is an underlying heart disease, repeated episodes of low blood oxygen (hypoxemia) could also lead to sudden death.
Daytime fatigue: Normal sleep architecture is completely disturbed due to repeated awakenings, resulting in severe daytime drowsiness, fatigue and irritability. Affected persons may have difficulty in concentrating and find themselves falling asleep at work, or while watching TV or even when driving (increased risk of accidents). Children and young people with obstructive sleep apnea may do poorly in school, have reduced mental development or have behavioural problems. Treatment of obstructive sleep apnea can improve these symptoms, restoring alertness and improving the quality of life.
Diabetes: A number of studies have shown that OSA is associated with insulin resistance, glucose intolerance and type 2 diabetes. A study conducted by AIIMS, New Delhi, in 2010 found that the persons suffering from OSA had a four-fold higher occurrence of metabolic syndrome (presence of risk factors — obesity, hypertension, dyslipidemia and insulin resistance) than patients without OSA. The study also revealed that patients with OSA and having metabolic syndrome were also more likely to have higher blood pressure, fasting sugar and waist circumference.
Diagnosis
The diagnosis of sleep apnea is based on the evaluation of clinical symptoms, physical examination and sleep study (polysomnography). Sleep study measures various parameters like airflow, blood-oxygen levels, breathing patterns, electrical activity of the brain, eye and limb movements, heart rate and muscle activity and are conducted by trained sleep technologists in sleep laboratories. This sleep study aims at establishing an 'objective' diagnosis indicator linked to the quantity of apneic events per hour of sleep (Apnea Hypopnea Index, or Respiratory Disturbance Index, associated to a formal threshold, above which a patient is considered as suffering from sleep apnea, and the severity of their sleep apnea can then be quantified.
Devices
Patients are treated with mechanical devices like continuous positive airway pressure (CPAP). This machine uses a mask that fits over the mouth and nose of the patient or just over the nose attached to a machine that gently blows air into the throat. The pressure from the air helps keep the airway open while the person is asleep. There are many types of CPAP machines and masks.
Lifestyle modifications like losing weight, avoiding alcohol, sedatives and smoking, maintaining a good sleep hygiene and control of nasal symptoms with active treatment also help.
CPAP treatment may cause side-effects in some people. These include a dry or stuffy nose, irritated skin on face, dry mouth, and headaches. If the CPAP isn't adjusted properly, one may get stomach bloating and discomfort while wearing the mask. Treatment with CPAP improves both objective and subjective measures of sleep. After using CPAP regularly, many patients report the restoration of normal sleep patterns, greater alertness and less daytime sleepiness, less anxiety and depression and better mood, improvements in work productivity and better concentration and memory.
Patients with obstructive sleep apnea can have enlarged and thickened hearts that pump less effectively, but the heart abnormalities improve with use of a device that helps patients breathe better during sleep, according to a study published in the April 2006 issue of the Journal of the American College of Cardiology. A study published in European Heart Journal in 2004 found a reduction in need for hospitalisation in cases of heart failure, acute coronary syndrome or need for coronary revascularisation or cardiovascular death in patients of OSA with coronary artery disease (more than or equal to 70 per cent coronary artery stenosis) treated with CPAP over a period of four years, two months and 10 years.
Surgical solutions
Some patient might benefit from surgery. It is generally performed after a trial of CPAP fails to improve the symptoms. The type of surgery and how well it works depend on the cause of the obstruction. Surgery is done to widen breathing passages. It usually involves shrinking, stiffening, or removing excess tissue in the mouth and throat or resetting the lower jaw.
Risk factor for accidents
Sleep apnea is an important preventable cause of motor vehicle accidents. Various studies have found that treatment for OSA can lower the accident rate. A study in 2010 published in Journal of Occupational and Environmental Medicine, reports that effective treatment lowers healthcare costs and disability rates for commercial motor vehicle drivers with OSA.
Sleep experts
OSA is treated by pulmonologists, neurologists and ENT specialists. The facilities for conducting sleep studies exist in many leading government medical colleges and corporate hospitals of the region. Obesity and dietary habits compounded further by alcoholism and drug addiction predispose a significant section of the society to develop OSA. Screening should be considered for OSA in patients with obesity, diabetes, hypertension or coronary artery disease so that treatment can provide better quality of life and outcome.


A case study
Last year in June, a male patient, who was 49-year-old, morbidly obese (119 kg) and hypertensive, developed blurring of vision. He was investigated extensively for possible blood cancer since his haemoglobin levels were high at 24.1 gm/dl (polycythemia).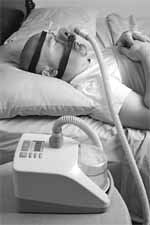 Other tests suggested increased size of liver, spleen, abnormal lipid profile and raised uric acid levels. An echo-cardiography suggested moderate pulmonary arterial hypertension. In April 2012, a detailed history revealed that he had snoring, repeated awakenings at night, significantly increased daytime drowsiness with difficulty in breathing since the last four-five months. His blood gas analysis showed raised carbon dioxide with low oxygenation. He was managed with supportive medication with oxygenation. After stabilisation, he underwent a sleep study (complete overnight polysomnography with titration), which revealed severe disturbance of sleep architecture with episodes of severely low oxygenation. And these were significantly corrected with the use of CPAP device during the study period.
A diagnosis of obstructive sleep apnea with obesity hypoventilation syndrome was made and advised use of BiPAP (bi-level positive airway pressure) device to be applied with a mask over his nose while sleeping. Two months later, he had lost 16 kg, has regained his normal activity levels and has no symptoms of daytime drowsiness. A routine check on his blood investigations revealed that his haemoglobin levels were within normal levels and his lipid profile was much better controlled than before.
The writer is Senior Consultant, Pulmonology, Sleep and Critical Care, Fortis Hospital, Mohali