India has lessons to learn
The burden of achieving 9 to 10 per cent growth for India has to be shared equally between public policy and the private sector; and both should work together for a strong self-confident economy
Y.V. Reddy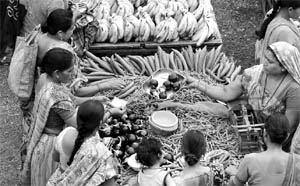 Commodity markets have started experiencing volatility in prices. High inflation hits the poor the hardest. Photo: AFP
We recorded an average growth of close to nine per cent for about five years immediately before it was interrupted by a global financial crisis. The global financial crisis that erupted in 2008 has since turned into a global economic crisis though a collapse of the global financial system and depression in global economy, have been avoided. The economic crisis is showing signs of turning into a series of political crises in a number of systemically important countries and regions.
In some parts of the world, there is a serious spillover into social tensions. There is considerable disagreement among economists and policymakers about immediate policy measures needed to bring the global economy into a normal state. Simultaneously, there are many fundamental issues that are being considered in regard to the post-crisis global economy among which, in my view, three are critical.
Some fundamental issues
First, some observers feel that the on-going crisis is the beginning of collapse of capitalist system. However, they are in a minority. There are some others who feel that there is virtually nothing wrong with the capitalist system, and that the boom and bust cycle are a part of the self connecting capitalist system. They cite successes of China and India in recent years as a result of greater market orientation in support of their view. Hence, they feel that nothing fundamental should be done to dilute the capitalist system and capitalism will survive and thrive in its present form. Some of the believers in capitalist system feel that there has been a failure of regulation and larger doses of capitalism are called for. Those who believe in this approach of 'no need for any change in the capitalist system', or 'make it more market friendly', are also in a minority. A majority of the observers feel that some basic changes are needed in the capitalist system whereby the regulatory systems as well as the economic relationship between different countries undergo significant changes. They also feel that such changes are consistent with the fundamental nature of capitalism which keeps reinventing itself to thrive under evolving circumstances.
We should, therefore, expect some systemic changes in the way capitalism functions, but the basic feature of market system may not change. Hence, India like other countries will have to learn lessons about the reforms that are appropriate to the on-going developments in the global economy, consequent upon the current crisis.
Short-term prospects
There is considerable analysis of the short-term prospects for the global economy by multi-lateral agencies, academics and market analysts. By drawing from these, it is possible to make some broad generalizations about the short-term prospects.
First, the global economy is likely to register sluggish growth in 2012 and, perhaps, marginally better with considerable uncertainties in 2013. Relative to advanced economies, the developing economies had initially withstood the adverse impact of the global financial crisis and registered impressive recovery and growth, but most of them have since begun experiencing pressures on their growth prospects from several angles.
The policy headroom available now for many developing economies in terms of fiscal and monetary policy is somewhat limited. However, the effectiveness of tools of public policy available in advanced economies is considerably more dented than that in developing economies. While some of the problems faced by developing economies may be pre-dominantly attributed to global conditions, in some others, such as India, it may be pre-dominantly attributed to domestic conditions.
Second, the advanced economies continue to face deflationary pressures because of sluggish demand in their domestic economies. The developing economies, on the other hand, are facing inflationary pressures. These pressures are partly caused by the considerable global liquidity and capital flows in some countries, while in some others, it is due to supply rigidities. Overall, however, the developing economies do not appear to be constrained by deficiency in domestic demand, though they are impacted by deficiency in global demand.
Third, the economic recovery, however modest, has not been accompanied by any relief on the employment front. Unemployment continues to plague many advanced economies. In some developing economies, there is upward pressure on wages, while in a few the sluggish export-demand is moderating the growth in employment and causing some sectoral unemployment.
Fourth, the commodity markets have started experiencing volatility in prices. The excess liquidity injected by advanced economies to provide stimulus to their economies is finding its way to finance speculation in commodity markets. At the same time, the possible moderation in demand due to pessimistic outlook on growth prospects is having a dampening influence on the commodity markets. Volatility in these markets is likely to continue in the short-term.
Scarcity of safe assets
Fifth, the financial markets are experiencing considerable uncertainties and several paradoxes are appearing. Both the stresses in Euro Zone countries and the polarized political economy in the U.S.A. are at the core of the continued uncertainties. There is a scarcity of, what may be described as safe financial assets since the government debt papers of some advanced economies are not free of credit risk (that is, the servicing of debt in full may not be certain). A considerable part of government borrowing programme in advanced economies and, to some extent, in select developing countries, is being funded indirectly by the central banks. The forex markets have been experiencing volatility. The main reason for this is the fact that U.S. Dollar continues to be a safe haven, though its medium and long-term prospects are under some stress. It is reasonable to expect that the financial markets will continue to display considerable volatilities and uncertainties in the near future.
In brief, globally coordinated public policy actions in response to the crisis have averted the collapse of the financial system and the depression in the global economy on account of the recent global crisis. They served the immediate interests of all concerned nations and markets. The subsequent uneven recovery created some problems for global coordination. More recently, the tradeoffs between short-term and long-term became acute in different degrees in different countries. Overall, the short-term prospects for the global economy are not optimistic, and in any case, are characterized by considerable uncertainties with potential for volatilities in several markets.
For India, the short-term policy challenge is to equip itself with adequate policy tools to cope with the uncertain prospects around a pessimistic outlook in the global economy, while managing the domestic expectations of a rapid restoration of pre-crisis levels of growth and inflation. The policy challenge for the short-term is compounded by less than optimistic sentiments in the market place in India.
Faster growth achievable
Since the global economic environment in future, post-crisis, is likely to be less benign than what it was when India recorded a nine percent growth for a few years, it is obvious that special efforts are needed to restore the rate of growth. I submit a few of the critical components for a strategy to achieve the goal of nine to ten percent annual growth in output. First, the level of domestic savings in India should be restored to pre-crisis levels. In addition, the domestic savings should be enhanced to make-up for the possible difficulties of obtaining net foreign savings on an assured basis in future, recognising India's vulnerability to shocks. This would imply wooing domestic savers who, in any case, finance over ninety percent of investments.
Second, assuming that the aggregate demand will not be constrained, climate for investment should be conducive to domestic investors on an assured basis. The role of small and medium businesses should be recognised not only for their potential for employment intensity but also for their significance for vertical economic and social mobility, particularly for disadvantaged sections.
Vulnerable to shocks
Third, in addition to removing supply inelasticities, improvements in productivity will be critical not only for containing inflation but also for ensuring that India has capacities to pay for all its imports through exports, over the medium term. India is vulnerable to shocks on account of fuel and food, and the demonstrated unwillingness of global financial markets to fund large current account deficits (say beyond three percent of GDP) warrant an acceptable ceiling of such deficit at three percent of GDP in any year. Experience during the high growth in pre-crisis period has shown that current account deficit close to one percent is achievable. However, in an uncertain global environment characterized by not so smooth shift in economic and political balances, maintaining global competitive efficiency at all times is essential for this purpose.
Fourth, strengthening the capacities and morale of the public sector is essential to overcome the most important bottlenecks in Indian economy, namely, social (education, health, etc.) and physical (power, ports, roads, urban facilities, etc.) infrastructure. In particular, Indian society seeks a sense of fairness in public systems. Finally, the private sector has to demonstrate its commitment to acceptable standards of governance and ethical conduct, and win the trust of Indian society.
Excerpted from the 17th Prem Bhatia Memorial Lecture delivered by Y.V Reddy, a former Chairman of the RBI, on August 11 in Delhi