State to rope in Olympian for shooting ranges
Mandi, August 14
The state government would take the services of London Olympics silver medalist shooter Vijay Kumar to set up two shooting ranges at Shimla and Hamirpur.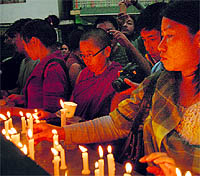 Tibetans hold candlelight march after 2 more self-immolations
Dharamsala, August 14
Tibetans-in exile carried out a candlelight march at McLeodganj this evening amidst reports of two more Tibetans setting themselves on fire in Tibet in protest against the Chinese rule there yesterday. The Tibetans here said there were also unconfirmed reports of a third self-immolation that took place later in the evening.

Tibetans-in-exile hold a candlelight march at McLeodganj on Tuesday. Photo: Kamaljeet

President's police medals given
Shimla, August 14
Prithvi Raj, Additional Director General of Police (ADGP), Armed Police Training, has been awarded President's police medal in recognition of his distinguished services.
Bragta gets Health, Ayurveda
Shimla, August 14
Horticulture Minister Narender Bragta, was today allocated the Health and Family Welfare and Ayurveda Departments today.
Court frames charges against ex-Education Minister
Chamba, August 14
Special Judge, Chamba, Kanwar Chirag Bhanu Singh today framed charges against former state Education Minister Asha Kumari in a land-related case.
Road safety a casualty to corruption in Transport Dept
Palampur, August 14
Over the past six months more than 200 persons have been killed in road accidents in the state. The loss of innocent lives has put a question mark over the functioning of the State Transport Department as well as the traffic police.
Motorcyclist hit by bus, dies
Nurpur, August 14
A speeding Haryana Roadways bus (HR 68A-9958) hit a motorcycle (PB09-Q0492) while overtaking it on the GT Road at Damtal in Nurpur subdivision this evening. The bike driver identified as Parminder Singh (38), son of Dalip Singh of Talwandi-Dandian under Dasuya police station, died on the spot.
Two die of poisoning
Kangra, August 14
Two men died at the DRPGMCH, Tanda, today as poison cases.
Nauni horticulture varsity introduces cultivars of apple
Solan, August 14
Promising a ray of hope both to planners and orchardists of low and mid hills of Himachal, the Dr YS Parmar University of Horticulture and Forestry, Nauni, has successfully tested eight cultivars of apple which can be commercially exploited for their potential.
Oral cancer screening centre set up
Hamirpur, August 14
The Regional Hospital here has become the first in the state to have an oral cancer screening centre. Its dental department was recently equipped with the latest direct fluorescence visualisation technique.
17 injured in road mishaps
Kangra, August 14
Seventeen persons were injured, one of them critically, in different road accidents during the past 24 hours in the district.
Missing trench weir raises stink
Kullu, August 14
A trench weir which cost the National Hydroelectric Power Corporation (NHPC) Rs 1.5 crore at its 800-MW Parbati stage-II project got dumped in the Jiva Nullah due to a flash flood in the wee hours on August 3.
Jan Satyagraha creates awareness
Bilaspur, August 14
Jan Satyagraha-2012 leaders Ramesh Bhai, Ashok Chaudhary, Roman and Guman Singh arrived here with other activists to spread awareness among the masses for the protection of environment.