While new rail lines in mountainous regions are a costly preposition, central and western U.P. along with south-east Haryana get new rail projects easily for being part of the NCR or adjoining it. The only state left behind in the North is Punjab, which does not fit in any scheme of the Railways to get new projects. Rajasthan is part of a uni-gauge project in a big way.
After partition, the doubling of the truncated single line up to Firozepur was not considered necessary as there were no development prospects. The two wars with Pakistan further aggravated the situation. The Bathinda-Firozepur-Patiala-Sirsa-Sriganganagar region with single lines was left behind vis-à-vis areas with double lines.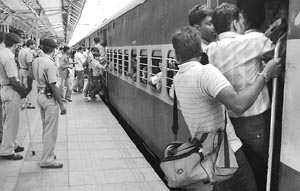 A view of Chandigarh railway station, which does not have the usual rush as only a small number of trains leave for select destinations. No Punjab district has a direct link with the state capital.
Slow pace
New rail projects could hardly be initiated except the conversion of a metre gauge up to Fazilka. While the doubling of the Delhi-Jakhal, Jakhal-Mansa track and the sanction of a second Mansa-Bathinda line are recent phenomena, the new line between Fazilka and Abohar has been completed at a slow pace without a y-connection at Abohar, which has its own repercussions.
Another link known as the loop line between Sriganganagar and Sarupsar (already linked with main line) has been broad-gauged and recently the Hanumangarh-Sriganganagar section has been closed for conversion. In the 2012-13 budget four trains (new/extension/increase in frequency) from Punjab and Chandigarh have been announced. The Duranto between Amritsar and Chandigarh has lost its purpose as the train no longer runs non-stop.
Apart from colour light signalling on some of the routes, route relay interlocking was provided at Bathinda recently. But the famous seven-line junction needs remodelling as not a single platform could be accessed without using a foot over-bridge till date, which is difficult for the old and incapacitated.
Any quality or volume input needs to see the volume of prospective freight traffic in the area based on which the rate of return is worked out to see financial viability of the project. Metropolitan status of a city also helps in getting new projects. Despite potential, Bathinda could not acquire this trait, thanks to lack of a long-term vision for the area until recently.
The district headquarters in the interior like Muktsar and Moga have asked for direct trains to Delhi, though no district headquarters in Punjab could have direct connectivity with the state capital till date. The new Chandigarh-Samrala-Ludhiana rail line will connect Majha, Doaba and part of Malwa only.
Punjabis love to drive
Despite criticism of the role of state politicians for not raising the issue of rail connectivity, the fact remains that there is not much say of representatives from smaller states in coalition politics at the Centre to get any project. States like Punjab need to have a sharp sense of priority in demanding new projects. The Green Revolution resulting in a false sense of prosperity to afford road vehicles combined with the adventurous nature of people here could be another reason for lack of emphasis on most basic rail connections like Rajpura-Chandigarh (Mohali) .
Chandigarh-Ludhiana link
While the new Ludhiana-Samrala-Chandigarh route will connect some areas of Malwa with the state capital, eight district headquarters of Punjab and two district headquarters of Haryana and Rajasthan will still miss direct connectivity, though many people in these areas are having double habitation and frequently visit Chandigarh, Mohali and Panchkula.
In the 2012-13 budget Shatabadi Express, ex-Ludhiana, has been extended up to Moga, two days a week, to run on the upgraded Firozpur-Ludhiana section. With this, Moga will also get direct connection with Delhi. Another train to touch three Sikh Takhts has been announced as one of the remaining two is not on the main line and the other is not even on the rail map, making any visit to the five Takhts in one go very costly. To justify the Maur-Talwandi Sabo-Raman (38km) link now, traffic figures of the power plant cannot be counted as the state government has its own compulsions to go private regarding the power plant at Banawala and the Vedanta group preferred to have its own up and down lines ex-Sada Singhwala. Now Punjab should go in for a 17-km connection between Maur and Damdama Sahib with a y-connection at Maur and a provision for expansion up to Raman to provide an alternatie route to the refinery.
In Himachal Pradesh efforts are again on to put Baddi, an industrial town, on the rail map, while Bhanupali (near Nangal dam)-Biaspur is a sanctioned project. The Bilaspur-Leh link, being complex in nature and mega in size, is still being worked upon. The Una-Talwara link is going at a slow pace. Missing links, breaking the continuity of the existing lines in Jammu and Kashmir, are also under construction.
Dedicated Freight Corridor
Hisar-Jakhal-Dhuri-Ludhiana is a single line but the Railways has a plan to upgrade it as a feeder route. The extension of the upcoming western DFC (Dedicated Freight Corridor ) from Mumbai to Delhi will be in focus if the Hussainiwala border opens for trade. Similarly, Rajpura-Bathinda is required to be doubled in view of the expansion plans of the existing power plants and a new plant planned at Gidderbaha apart from the projects of NFL and Gujarat Ambuja, and the refinery. On completion of all power plants, including the one near Rajpura, line capacity to run additional 30 rakes per day will be needed.
As interpolation of the Dedicated Freight Corridor with the present set-up will take place at Rajpura, this is the right time to have a direct link between Rajpura and Chandigarh (also Mohali ) as the execution will be easy and cost effective in developing a hub.
Another important link — three surveys for which have been done in recent years — is to directly connect Majha and Malwa through Mallanwala Khas and Gharyala/Patti on the Amritsar-Khem Karan line ( 25 km). With this the Firozepur belt will get its previous, short-distance connection with Amritsar and the Majha area, which it used to enjoy via Kasur before partition.
The Goindwal -Tarn Taran section ( already linked with Beas ) has also been completed for coal supply to the power plant at Goindwal.
Another link, Rishikesh- Karnparyag , which has been sanctioned already, will substantially reduce the travel time for Joshi Math. Connectivity needs to be improved in pockets of Hoshiarpur and Gurdaspur districts and south-west Haryana. The governments of Maharashtra, Jharkhand, Haryana, Andhra Pradesh, Karnataka and Rajasthan are executing 31 rail projects in their states on a cost-share basis. We need to keep a balance in having /widening national highways and modernisation of the Railways.
While toll plazas are mushrooming all around and an increase in the unit cost of power by companies is imminent as soon as plants begin operations, why are rail projects (safe, green, fast and comfortable) are always expected to be a free gift? Is it a signal for the national giant to privatise in a big way to save itself?
Mobilise resources
The Railways, having its own budget, need to mobilise resources to expand and modernise, but political will is lacking. While political bosses will always use its old social face to reap benefits for electroal purposes, smaller states which have a limited representation in Parliament may never get rail projects. In the current budget, various committees for tariff, safety and research have been proposed , but nothing is there for prioritising new rail lines. Populism is also taking its toll as many projects are announced regardless of resources, leading to a huge escalation in costs due to delayed execution.
Apart from need-based new lines states like Punjab should ask for y-connections, by-passes, upgrade of tracks and signalling for efficiency in operations for which experts in the field may be consulted. We should learn to ask things on merit as days seems to be numbered for asking projects merely on the basis of being socially relevant, seeing the cost of land and difficulties in acquisitions. The concept of cost-share basis should also be tried like other states for short-distance rail lines. NRIs may come forward as investors for the cause as puritan as connecting the remaining two Takhts to main lines so that direct trains could run covering all Takhts, in case the Railways goes on cold-shouldering the popular demand.
Points to ponder

No district headquarters in Punjab has direct rail connectivity with Chandigarh, the state capital. The Amritsar-Chandigarh Duronto has ceased to provide a direct link.

While toll plazas charge from road users, why are rail projects and travels (safe, green, fast and comfortable) always expected to be free gifts?

This is the right time to have a direct link between Rajpura and Chandigarh in view of the upcoming Dedicated Freight Corridor.

An important link is to connect Majha and Malwa through Mallanwala Khas and Gharyala/Patti on the Amritsar-Khem Karan line ( 25 km). With this the Firozepur belt will get its previous, short-distance connection with Amritsar and the Majha area, which it used to enjoy via Kasur before partition

Need to keep balance between having /widening national highways and modernisation of the Railways
The Green Revolution, resulting in a false sense of prosperity to afford road vehicles, combined with the adventurous nature of Punjabis is one of the reasons for lack of emphasis on most basic rail connections
The writer is a retired Chief Commercial Manager (Traffic Survey), Northern Railway