Workshop on Agrarian Distress and Rural Suicides
Corporate sector calling the shots on policy: Dr Gill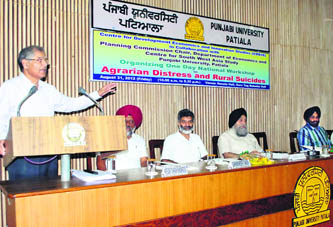 Patiala, August 31
Dr Sucha Singh Gill, Director General of the Centre for Research in Rural and Industrial Development Chandigarh lambasted political leaders of the country for framing anti-farmer policies. He said politicians were being heavily lobbied by corporate houses to do so.
Professor GK Chadha, former member of Prime Minister's Economic Advisory Council, speaking at the workshop, held at Punjabi University. Tribune photo: Rajesh Sachar

Sehajdhari issue: Patits can't claim voting rights, SC told
New Delhi, August 31
The Shiromani Gurdwara Parbandhak Committee (SGPC) has contended in the Supreme Court that members of the Sehajdhari Sikh Federation (SSF), including its president Paramjit Singh Ranu, were 'patits' and as such could not claim the right to vote in the SGPC elections. The committee's contention comes in the wake of SSF questioning the SGPC board's power to challenge the Punjab and Haryana High Court verdict restoring the voting rights of the Sehajdharis.


Race to become Patiala's next Mayor begins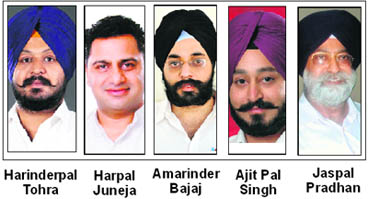 Patiala, August 31
Hopefuls have begun intense lobbying to secure candidature in the Akali Dal as the final date for the election of the Mayor of Patiala has been announced. As many as five senior municipal councillors are making desperate efforts to win the September 11 elections.
Fearing stigma, villagers live in denial


Jajjal (Bathinda) August 31
Residents of this village, the worst-hit by cancer in the Malwa belt, are living in denial. They refuse to accept that the deadly disease has struck root in their area. When a high-powered team of parliamentarians visited the village to take stock of the situation, most residents tried to play down the issue, maintaining that cancer cases had been reported from all over the world. The villagers are hostile towards mediapersons who approach them on the issue. A chemist lost his temper at the mention of the disease.
Blood bank remains closed for over a year
Mandi Gobindgarh, August 31
Over 50,000 workers employed at more than 650 furnaces here have to go to other districts in an emergency as the local blood bank has been closed for a year. The health department's apathy has come to the fore as it has not got the bank running for so long.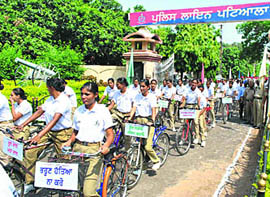 Pedalling for a cause: Women constables participating in a bicycle rally against female foeticide. Tribune photo: Rajesh Sachar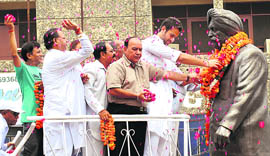 Congress workers pay tributes to former CM Beant Singh on his death anniversary in Jalandhar. Tribune photo: Malkiat Singh

DGSE taken aback to find govt schools sans teachers
Amritsar, August 31
Director General School Education KS Pannu along with nine inspection teams comprising four members each today carried out surprise checks in 97 government schools of Tarn Taran district and was astonished to find a number of schools without teachers.
Commissioner sent in police remand
Pathankot, August 31
Caught allegedly taking a bribe of Rs 2.5 lakh from a builder, Commissioner of Pathankot Municipal Corporation, JP Singh was sent on a police remand for one day. The former Sub Divisional Magistrate of Dhar was arrested by Vigilance sleuths at his native village Chak Madho Singh, near Pathankot on Thursday.
NFL set to reduce coal consumption by 42%
Bathinda, August 31
National Fertilisers Limited (NFL), Bathinda, is all set to reduce its per day coal consumption by introducing the ammonia feedstock changeover project at the cost of Rs 1,295 crore.
Seminar on smuggling
Patiala, August 31
Punjab Jail Department today held a one-day seminar to discuss ways to curb drug smuggling inside prisons. Punjab ADGP, RP Meena said the seminar primarily focused on educating staff about checking the inflow of drugs. — TNS
No to 'goonda tax' costs youth his life
Moga, August 31
A youth was allegedly murdered at Badhni Kalan township in the district yesterday for refusing to pay 'goonda tax' to a gang of "contract killers". The deceased, Rajinder Kumar who used to prepare dentures, was done to death with baseball bats while he along with his brother Parminder Kumar was going to a hotel for dinner.
Man shot at inside Sahnewal police station
Ludhiana, August 31
A tipsy man arrested on the charge of tearing pages of a holy book at a religious place in Sahnewal was shot at by a 28-year-old man at the Sahnewal police station here this afternoon.