'Crime, corruption biggest challenges'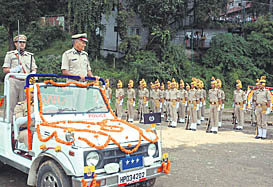 Shimla, August 31
Outgoing Director General of Police DS Manhas said today that crime, corruption and politicisation was the biggest challenges to the police force, which resulted in various pulls and pressures, which only a thorough professional could handle.
Director-General of Police DS Manhas takes a round in a jeep during his superannuation ceremony at Bharari in Shimla on Friday. Photo: Amit Kanwar


Virbhadra resorts to dinner diplomacy
Shimla, August 31
Back as state Congress chief, Virbhadra Singh resorted to dinner diplomacy to woo MLAs straightaway and decided to suspend some low-rung party leaders who opposed him. He hosted a dinner for the Congress Legislative Party here last night.

Virbhadra Singh

State govt failed to table facts: Cong
Kangra, August 31
The state government failed to disclose the data regarding the number of unemployed youths in the state and higher prices of cement. This was stated by Congress MLA from Nagrota Bagwan GS Bali while addressing a press conference at his residence here today.
Intervene on Tibet issue, CTA urges nations
Dharamsala, August 31
The Dalai Lama, who had been maintaining a stoic silence over the issue of Tibet, has said: "Though he does not encourage self-immolations, the ongoing wave of fiery protests in Tibet was understandable and was very sad.
Students' clash leaves woman injured
Dharamsala, August 31
A clash took place at a DJ party organised by activists of a student organisation. The students fighting with each other also injured some locals living in the vicinity of the college. An old lady working at a shop near Government College, Dharamsala, was hit by a bottle thrown by some students fighting with each other. The old woman was left profusely bleeding with injuries in her chest. She was helped by some locals who provided her first aid. However, the college administration has not filed any police complaint against the fighting students.
IIAS to emerge as global knowledge centre
Shimla, August 31
Shimla is set to emerge as a global knowledge centre with the incubation of the International Centre for Human Development (IC4HD) in India as a project at the Indian Institute of Advanced Study (IIAS) here.
BJP seeks PM's resignation
Shimla, August 31
Reiterating that the BJP will not settle for anything less than the resignation of the Prime Minister and the cancellation of coal block allotment, national BJP general secretary JP Nadda today said the party would take its fight to the public.
Cong to approach EC over poll code
Shimla, August 31
The Opposition Congress will approach the Election Commission (EC) for immediate enforcement of the model code of conduct for the Assembly poll to put an end to the blatant misuse of the state government machinery and resources for publicising its achievements.
Ex-MLA's daughter stakes claim to BJP ticket
Mandi, August 31
Geeta Devi, daughter of former BJP Balh MLA late Damodar Das, has staked claim for the party ticket from the Balh constituency (reserved for SC). She claimed that the "family is devoted to the party and she wants to fulfill the dreams of her father to serve the ignored section of people in the constituency".
Sports function of Kendriya Vidyalayas in Jammu region held
Dalhousie, August 31
A valedictory function of the sports meet of Kendriya Vidyalayas of the Jammu region was organised at Kendriya Vidyalaya (KV) Chamera power station-I, Khairi, in Chamba district yesterday.Chamera power station-I General Manager Janardan Choudhary, Chief Engineer Vinit Didi and Chief Engineer Rakesh Kumar were among those present.
Tax evasion worth crores by firm detected
Solan, August 31 The Parwanoo flying squad of the Excise and Taxation Department has detected tax evasion worth crores by an information technology based company in Baddi during a raid. GD Thakur, an Excise and Taxation official, said it was detected during the raid that the anti-virus software developed by the company at a cost of Rs 40 was being sold for as high as Rs 600.
Virbhadra withdraws HC plea
Shimla, August 31
State Congress chief Virbhadra Singh today withdrew his petition in the High Court to either quash the FIR registered against him in the CD case or transfer the investigation to the Central Bureau of Investigation.

Gurpreet Singh is IT Chief Commissioner
Shimla, August 31
An Indian Revenue Service Officer of the 1979 batch, Gurpreet Singh, has taken over as the Chief Commissioner of Income Tax, Himachal Pradesh, on promotion. He has earlier worked at Delhi, Chandigarh, Amritsar, Ludhiana, Valsad and Ahmedabad. — TNS