fifty fifty
Mr Modi, get serious, it's not healthy
Kishwar Desai

WSJ: Gujarat's malnutrition rates are persistently high. What are you doing to combat this?
Modi: Gujarat is by and large a vegetarian state. And, secondly, Gujarat is also a middle-class state. The middle class is more beauty conscious than health conscious — that is a challenge. If a mother tells her daughter to have milk, they'll have a fight. She'll tell her mother, "I won't drink milk. I'll get fat." We will try to get a drastic change in this. Gujarat is going to come up as a model in this also. I can't make any big claims, because I don't have a survey in front of me yet.
Reading the above question and answer (from the edited online version of Wall Street Journal), one can only assume it was a very serious 'oops' moment for Narendra Modi, Chief Minister of Gujarat, who will have to get used to forensic examination every time he speaks, mainly because of his prime-ministerial ambition, or because he would like to project himself as one of the most successful Chief Ministers.
To be fair, the same interview also included the very positive statistic that he has ensured the building of 60,000 new toilets in Gujarat for schoolgirls, but in the present overheated environment, anything positive is unlikely to be noticed.
Gender dimension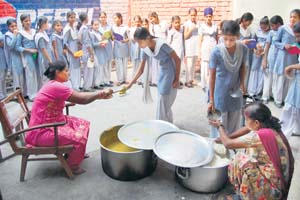 When he made the frivolous statement about malnutrition being due to 'beauty consciousness' among women, he missed the point completely. There is certainly a gender dimension to malnutrition, but not quite in the elitist manner described by Mr Modi. Most people now researching malnutrition even in well-performing states are also reaching the conclusion that it is mostly women who receive less food, and thus it is only natural that not only will they be more malnourished than others, so will their children. Especially their daughters, and thus the cycle will continue relentlessly. If only it were a problem of drinking too much or too little milk! Mr Modi made the fatal assumption that the Wall Street Journal would be read by the unthinking middle class, his biggest supporters, for whom his remark was meant. As he must know, in the days of the Internet, no gaffe is twitter-proof.
Of course, Mr Modi is in good company where prime-ministerial ambition and gaffes are concerned. We had plenty of them from George W. Bush, the former US President who was such a favourite in India, and now even David Cameron, UK Prime Minister, who was recently slammed when he made a frivolous remark about discontinuing Indian dance in British schools.
However, grave issues like malnutrition require a more careful consideration. It is an all-India issue and Mr Modi could have, for once, used the opportunity to look at the national situation, in and outside Gujarat, and examined the impact of this scourge all over the country, and how it continues to take the life of four children every minute. The persistence of malnutrition after 65 years of Independence is saddening, and its impact on women's health might be an even more persistent problem.
Instead of a population meter, we should have (as a constant reminder) a clock that keeps count of the children who die every day. That might prick the conscience of a Chief Minister, and others like him who might be tempted to make a dismissive statement about it.
Nationwide challenge
The issue is not how badly malnutrition affects Gujarat but how it impacts children (especially girls) all over the country, ensuring that most of the 2.1 million children dying each year do so due to health-related issues. When we get ready to spend money on a mission to Mars, we must remember many of these babies could have reached adulthood, on earth, but for a lack of resources.
Among the hungriest
For a country that says it has sufficient food, the existence of malnutrition is a mystery. One can only conclude it is poor governance. The Global Hunger Index for 2011 indicated India remains one of the worst performing countries in the developing world, where the index between 1996 and 2011 actually rose from 22.9 to 23.7. That means that more and more people in this country subsist on less and less food. Even countries like Pakistan and Nepal do better. It is now estimated 25 per cent of the world's hungry live in India.
Thus, Mr Modi is not the only one who is living in denial. Perhaps he does not want to admit anything could possibly be wrong in Gujarat. Instead of trying to analyse it as a problem of poverty as well as food mismanagement, he would rather present it as a problem of plenty. To further state that he hasn't studied the statistics makes it look like he does not even recognise there is a killer problem. Simply not good enough for someone who wants to be the Prime Minister! While there are national schemes such as the mid-day meal scheme that seek to address the issue, the fact is none of these go far enough. The current inflationary trend is only adding to the burden of low-income families, and in the past three years, possibly much more damage has been done to the health of very young children and their mothers than ever before.
Of course, malnutrition (and in some cases over-nutrition) does exist among the richer segments, and that leads to other issues such as obesity and diabetes. And among middle-class women, too, the problem exists, as many of them do suffer from anaemia. But much more needs to be done to recognise the gender dimension of the issue, among the rich and poor, both in Gujarat and elsewhere.