economy
PC rebooted
Sanjeev Sharma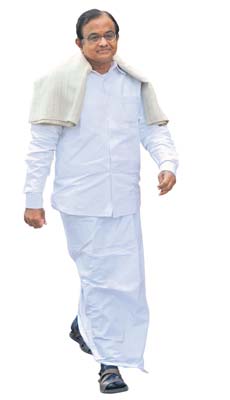 IT is his third innings as Finance Minister, and Palaniappan Chidambaram faces the tough task of reviving the Indian economy, which has faced a deluge of multiple challenges over the past two years. The Harvard-educated lawyer-turned-politician has been a veteran of North Block and was in the same position in UPA-I, when the economy was firing on all cylinders.
Some of the budgets he has presented have been called 'dream budgets'. He is credited with introducing the concept of service tax, which has now become one of the biggest revenue earners for the government, and the Rs 70,000-crore loan waiver package for farmers just before the 2009 General Election, which helped the UPA return to power.
It is now 2012, and the picture is not so rosy. The economy faces the challenges of low growth, lack of investment, high fiscal deficit, weak policy action on reforms, downgrade threat from rating agencies, a deficient monsoon, global slowdown problems and a turbulent political environment.
As Finance Minister, Chidambaram will also have to address the political mandate of the job. Next year's budget will be the last one before the 2014 General Election, which is expected to be populist to keep up the 'aam admi' agenda of the UPA and the Congress. Ten states are also scheduled to go to the polls next year.
Nikhil Vora of IDFC Securities says, "A spate of recent changes such as a new finance minister and economic adviser (Raghuram Rajan) has rekindled hopes of positive steps being taken by the government. Can the two deliver on expectations and lead India to being re-rated among global investors? They certainly have the track record."
Markets upbeat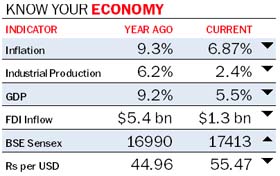 Markets and industry have been enthused and reassured by Chidambaram's appointment and are expecting action on the reforms front. Stocks are looking up and the rupee has stabilised in anticipation of concrete and credible steps to restore the economy. Chidambaram, who did not give any bytes on taking over, issued a detailed statement on the issues facing the economy exactly a week later. He unveiled a road map for reviving the economy with a dose of restoring investor confidence, fiscal consolidation, review of retrospective tax measures like GAAR (General Anti-Avoidance Rules) and steps to moderate inflation. A plan for fiscal consolidation will be announced shortly, and an expert committee has been appointed.
Underlying the importance of attracting more investment, both domestic and foreign, Chidambaram has stressed it is important to remove any apprehension or distrust in the minds of investors. "Clarity in tax laws, a stable tax regime, a non-adversarial tax administration, a fair mechanism for dispute resolution, and an independent judiciary will provide great assurance to investors. We will take corrective measures wherever necessary," he said.
According to policy analyst Ramesh Adige, to mitigate the current account deficit, it is essential to shore up the rupee by attracting FDI. At least in the areas of insurance, pension, and aviation, where political sensitivity is less, the Finance Minister can push through reforms. "Further delay in announcing a policy on attracting FDI will be suicidal. We certainly cannot afford another downgrade by agencies, whether justified or not," he adds.
A beginning
Chidambaram has prodded market regulator SEBI to unveil reforms to boost mutual funds and primary markets. Another board meeting of SEBI is slated soon, where more stock market reforms may be announced. Boosting the sentiment in stock markets and soothing the nerves of FIIs spooked by retrospective taxation like GAAR will help to increase flows into the economy and generate an overall feel-good factor.
He is also pushing banks to reduce EMIs on loans to stimulate consumer spending. That, and reviving the investment cycle, are the two things that will boost the entire economy, according to the Finance Minister. Some forward movement has been seen on insurance, with his ministry giving the go-ahead to raising FDI limit in the insurance sector to 49 per cent, from 26 per cent, which has been a major demand of foreign insurance companies.
On the two important tax reforms, while Chidambaram is hopeful GST (Goods and Services Tax) will be in place by April 2013, he has remarked that the Direct Taxes Code will need a relook, possibly because it contains controversial proposals like GAAR, and the government wants to send a positive signal to foreign investors.
Obstacles no less
The intention notwithstanding, consensus eludes FDI and other major reforms like GST. UPA constituent and Trinamool Congress chief Mamata Banerjee has rejected FDI in retail, insurance and pension sectors. The Land Acquisition Bill taken up by the Cabinet has been referred to a Group of Ministers as there were different opinions within the Cabinet.
Citigroup was among the brokerages that recently cut the India GDP forecast. A Citigroup report observes the leadership change at the Finance Ministry is positive, but "actions may be less than words, given the continuation of the dual leadership model and all eyes on the next polls."
While the big-bang reforms may take time as consensus-building may be painstaking, if not elusive, the Finance Minister can move fast on administrative actions. After all, India was still growing at 8 per cent when there was no FDI in retail. Accelerating day-to-day decision-making is crucial, along with having a stable policy regime where investors know what to expect.
Industry cautious
Nomura Securities observed in a research note: "Overall, we view the Finance Minister's statements as positive and a promise that decision-making is set to accelerate. However, it is too early to rejoice. The government now has to walk the walk."
It added that certain decisions, such as cutting subsidies (by hiking fuel prices), lay at the heart of fiscal consolidation and required cooperation from all coalition partners.
Cooperation, of course, remains the million-dollar variable.