Taxi union members beat up jeep driver
Mussoorie, September 3
The row over ferrying tourists to famous destination of Kempty Falls resulted in a brawl between members of the Mussoorie Car-Taxi Union and Jeep Owners' Association. A driver belonging to the latter was badly.
Main accused in temple theft case arrested
Dehradun, September 3
The city police achieved a major success in nabbing the main accused, Kulwant Singh and Raju, both residents of Udham Singh Nagar, who were involved in a theft at Sai Temple on Sahastardhara on August 21. Two parts of a Rudrakash chain, interspersed with gold, 5 kg chatar made of silver and another 5 kg piece of silver in floral design were recovered from them.
Development not possible without private sector: Secy
Dehradun, September 3
Rakesh Sharma, Principal Secretary, Higher & Technical Education, Uttarakhand, delivered a talk on "Investments in Infrastructure – Challenges and Opportunities" in the presence of students of various streams of MBA at the University of Petroleum and Energy Studies at Bidholi here today.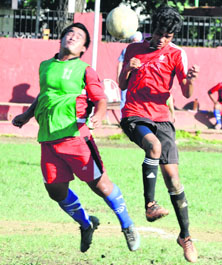 Win for Balaji Boys in Nemi Dass football tourney
Dehradun, September 3
Balaji Boys won their match in the Lala Nemi Dass Memorial District Football League played at Ambedkar Stadium here today. They defeated Rising Star Club by a solitary match. In an evenly contested match, it was Sagar Bhandari of Balaji Boys who scored the lone goal in the 52nd minute to give a lead to his team. Rising Star players tried hard for the equaliser but could not succeed. The second match between Gypsy Young Club and City Young Club ended in a 1-1 draw. Suren Subba of Gypsy Young Club scored the first goal in the 25th minute. After a tough contest, Aabri of City Young Club equalsied in the 45th minute.
A match in action during the Lala Nemi Dass Memorial District Football League in Dehradun on Monday.

Rainfall in state 12% below normal
Dehradun, September 3
Dehradun has received 1,026 mm of rainfall in August, which is the wettest month of the year. The city had received 1,017 mm, 1,089 mm and 1,114 mm of rainfall in August in 2010, 2007 and 1998, respectively.
Inter-school girls' basketball tournament from today
Dehradun, September 3
The 8th Gardner Silver Jubilee Inter School Senior Girls' Basketball Tournament will be played at the Gardner multipurpose floodlit auditorium at St. Thomas College here from September 4 to 12.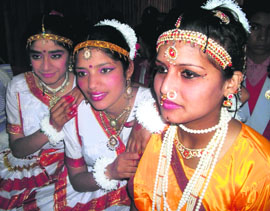 Mussoorie Girls' Inter College wins dance competition
Mussoorie, September 3
Students from Mussoorie Girls' Inter-College were declared winners at the Bhanu Jain Memorial Song and Dance Competition held under the aegis of the Rotary Club, Mussoorie, here today. Students from Santan Dharm Inter-college were declared runners-up.
Students of Mussoorie Girls' Inter-College wait for their turn during song and dance competition in Mussoorie on Monday.

Camp for physically challenged today
Dehradun, September 3
The district administration will be holding a welfare camp for physically-challenged people here tomorrow. District Magistrate Ravinath Raman, while addressing mediapersons, said, "Chief Minister Vijay Bahuguna and Social Welfare and Transport Minister Surender Rakesh will preside over the function.
Football tournament begins
Dehradun, September 3
The Seniors' Inter Council Schools Football Tournament started at St. Josephs' Academy here today. Brother AJ George, principal of the academy, inaugurated the tournament. Three matches were played on the opening day.
Communist parties to hold protest on Sept 10
Dehradun, September 3
Communist Party of India (CPI), CPI (ML) and CPI (M) are holding a protest in the city on September 10 against the alleged anti-public policies of the state government.