SFI announces candidates
Dehradun, August 31
The Students' Federation of India (SFI) announced its candidates for the post of vice-president at DAV (PG) College and SGRR (PG) College, Dehradun, today.
Sanitary workers gherao MC official
Dehradun, August 31
Members of the Uttaranchal Sanitary Workers Association gheraoed Mukhya Nagar Adhikari of the Dehradun Municipal Corporation Ashok Kumar today in support of their demands.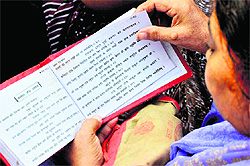 A devotee reads a holy scripture after taking a dip in the Ganga at Brahamkund, Har-ki-Pauri, in Haridwar on Friday. Tribune photo: Rameshwar Gaur

Health Dept sounds alert for H1N1
Dehradun, August 31
The officiating Director General, Health and Family Welfare, Dr CP Arya, said today that in view of the H1N1 virus cases reported in Uttar Pradesh, an alert had been sounded the state as a precautionary measure.
UPCL is now in position of selling power to other states
Dehradun, August 31
It is for the first time in the entire period of summer and rainy season that the Uttarakhand Power Corporation Limited (UPCL) is not doing load shedding in the state today.
Expedite pending works without delay, Joshi tells officials
Mussoorie, August 31
MLA, Mussoorie, Ganesh Joshi, on a day-long survey of the area in the town yesterday, directed officials to expedite the pending works without any further delay.
No FIR registered even one month after theft at temple
Dehradun, August 31
One theft at Sai Temple shook the entire police administration and the case was worked out within two days, whereas a similar theft at another Sai Temple at Mohabbewala took place more than one month ago but the Patel Nagar police did not bother to lodge an FIR in the case. The top police officials, too, got no inkling of such a theft in the town.
Upadhyaya elected Ramlila panel chief
Haridwar, August 31
RA Upadhyaya and Radhey Shyam were elected president and secretary, respectively, of the BHEL Ramlila Committee, Sectors 1 and 2, here today.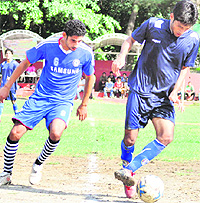 Doon Star drub DMK Club
Dehradun, August 31
Doon Star beat DMK Club 5-0 in a match during the Lala Nemidas Memorial Football Tournament here today. Abhinav scored 2 goals whereas Dheeraj, Shera and Balwant scored 1 goal each for the Doon Star team. In the second match, the contest between Akranta and Yamuna Club ended in a draw with both teams scoring one goal each.




Players in action during a match in the Lala Nemidas Memorial Football League in Dehradun on Friday.

Subroto Cup 2012
Uttarakhand team faces discrimination
Dehradun, August 31
The 53rd Subroto Cup International Football Tournament will kick off in Delhi from next month. This time, Uttarakhand has received a rough treatment from the organisers.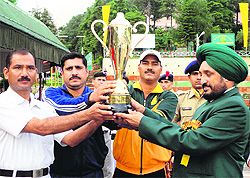 Northern-West Frontier declared champions in karate
Mussoorie, August 31
Northern-West Frontier were declared the proud winners of the second Inter-Frontier Karate Championship held at ITBP grounds in Mussoorie today.



Harbhajan Singh, Director, ITBP Academy, presents the trophy to the winners of the karate championship in Mussoorie on Friday.

KV (Birpur) win football meet
Dehradun, August 31
Kendriya Vidyalaya (KV), Birpur, has won the Regional Sports Football Meet by defeating KV, Ranikhet, 1-0.