Single in the city
Safety and security issues are paramount for the growing number of women who are single and working or studying in Indian cities. They might be up against multiple odds and pressures but they are ready to face them with grit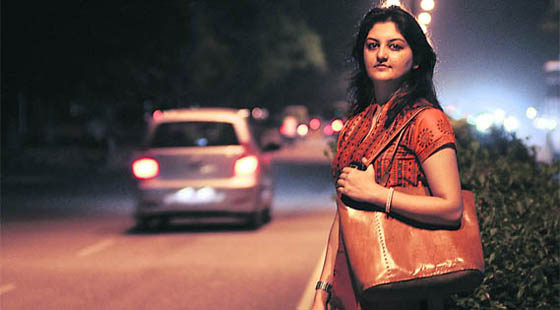 Taru Bahl
R

adhika Tomar

lived in a rented accommodation in West Delhi. Though she kept a low profile, word got around she was single and alone. One day, walking home late, she was waylaid by a man who stopped his car to seek directions. While explaining, she realised he was making obscene gestures. She ran, stumbling, tripping and crying as she did. Over the next six months, he hounded her, always taking her by surprise and inevitably he was in a state of undress. She could not share her agony with anyone. Terrorised and frightened, she quit studies and returned to Bhopal. That was 20 years ago. Are things any different today?
---
Arts


Poster d'art
The film poster, in its cinematic journey of more than 100 years, has survived both, the test of time and technology. It has also re-emerged as a trend that is regaining popularity
Deepa Ranade
S

tarting

off as a publicity tool, the good old film poster has today been transformed into an object de art, a collectible worthy of museum display and auction. Vintage Bollywood posters are displayed in art festivals the world over, and there is an increasing demand for hand-painted Indian movie posters in France too.

Fair display?
From Mother India to Kahaani, there has been a gender revolution in film posters
Shoma A. Chatterji
Film posters offer readings that sometimes reach beyond the film. They throw up the 'first look' before it is released as a teaser to attract the audience. In the male-dominated cinema, most posters are generally plastered with the faces of the hero. Even if the heroine has a stronger role, she is relegated to a marginal position in the poster. But what happens when the woman is almost an exclusive presence in a film where the men are rendered unimportant like Mehboob's Mother India?
---
Sports
Soccer's new stars
...& the fading ones
As the 2012-13 football season gets underway, let's take look at the rise of a new generation of talented players, as well as some of the older stars, who might struggle to keep up with their lofty standards
Vaibhav Sharma
F

ormer

Liverpool boss Bill Shankly once famously remarked, "Football is not a matter of life and death. It is much more." Decades later, as club football is rapidly changing the face of modern sport, the context of the statement dawns upon you. The English Premier League and Spain's La Liga are changing the way football is played and run the world over. These are the richest leagues, with the biggest stars and the best markets.
---
Society
Computers : How much is too much?
Making children as young as six computer savvy does not give them an edge. It might hamper their socialisation skills
Vibha Sharma
K

nowingly

or unknowingly, children do overwhelm the lives of parents and elieve it is more true with this e-generation. One main area that has always been in the domain of doubt and mistrust is the technology itself. Television, computers, phones, tabs, video games? When? How soon? How frequently? How much is more and how much is less? A software professional, donning the hat of a parent for the last 10 years, one has often questioned many changes that have replaced the good old over this decade. Needless to say, almost all of these have been centred around children.
---
Travel
City of three cultures
Toledo, the old capital of Spain, was at the confluence of many cultures that influenced its growth as a unique heritage town
Ranjita Biswas
T

oledo

— the name brings images of a place steeped in romance and history. The first glimpse of the old city across River Tagus did not disappoint. Bright sunlight washed over its contours adding to its mystery and charm. This was the city the great artist El Greco, the Greek, as locals called him, loved inspiring him to create some of his best works.

Foodie's day out in Toronto
Preeti Verma Lal
John Travolta? Or Bill Gates? as you walk up the wooden staircase of Mengrai Thai restaurant, Allan Lim, the sprightly restaurant owner, throws up this baffling question. Most people are aware about Mengrai's tag as Toronto's best Thai restaurant; many had heard finger-licking stories about Chef Sasi Meechai-Lim's red curry panang king prawns and lemon grass scallops.
---
Entertainment
Little joys,big goals
Children's cinema in India is seeing an unprecedented growth although challenges continue to dog the genre
Saibal Chatterjee
T

he

International Children's Film Festival in Hyderabad last year was a runaway success. It screened more than 150 films from 37 countries and drew 1.75 lakh young cineastes into its fold. While those numbers might suggest that children's cinema is thriving in India, nothing could be further from truth.

'Tigers can't make excuses'
Salman Khan's espionage drama Ek Tha Tiger raked in Rs 33 crore on its opening day
Uma Ramasubramanian
Action films take a toll, says Salman Khan, who is recovering from a facial nerve disorder, and adds disarmingly that a 'Tiger' can't make excuses like "I am not well", a reference, of course, to his action film Ek Tha Tiger.