Affair with ex-wife drives man to kill cousin
Amritsar, September 3
A man killed his cousin who had a live-in relationship with his ex-wife. The incident occurred in Maqboolpura on Sunday. Dilip Mandal brutally stabbed his cousin Gopal Mandal with a sharp-edged weapon as Sheela Mandal after getting divorce from Dilip had been living with Gopal.
Five nabbed with illicit liquor, lahan
Amritsar, September 3
Continuing its raids, the police nabbed five persons with a huge quantity of lahan (a raw material used in preparing liquor), illicit liquor and narcotics. The rural police arrested two persons from Lapoke with 180 litres of illicit liquor and 80 kg lahan. Gopal Singh of the anti-narcotic cell said the arrested were identified as Gurdial Singh of Khiala Kalan and Rawail Singh of Makkowal.
DC orders probe against AGA secy
Amritsar, September 3
Following serious charges levelled against Amritsar Gaming Association (AGA) secretary Mohit Khanna, Deputy Commissioner Rajat Aggarwal today formed an inquiry committee to probe the issue and withdrew all the financial powers enjoyed by Khanna.
Age of multi-tasking
Activity centres take kids on joy-cum-learning ride
Amritsar, September 3
It's no surprise that kids today have a lot on their plate. Juggling continuously and efficiently between academics, extracurricular and their own interests, they seem to be lapping up every opportunity to excel. And to fulfil their growing appetite for multi-tasking and learning something new, are activity centres in the city that are bringing in new concepts of learning via leisure.
Women walk the ramp against foeticide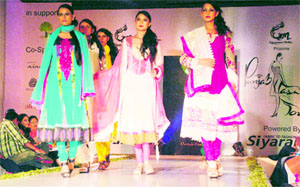 Amritsar, September 3
Sunday evening saw the who's who of the city walking the ramp for the girl child. The Amritsar leg of Punjab Fashion Tour, a glamorous event organised in association with the Nanhi Chaan Foundation to create awareness and raise a voice against female foeticide, had a VIP attendance in the front row.
Models walk the ramp during Punjab Fashion Tour organised by the Nanhi Chaan Foundation at a hotel in Amritsar on Sunday. Photos: Sameer Sehgal

'Commissionerate system a total failure in city'
Amritsar, September 3
Alleging the Commissionerate system to be a total failure in the city, Youth Congress workers today accused the city police of being unsuccessful in curbing crimes. They also blamed the ruling party, BJP, for burdening the masses with property taxes and the irregularities prevailing in the government's Atta-Dal Scheme.
Extension block inaugurated at GNDU
Amritsar, September 3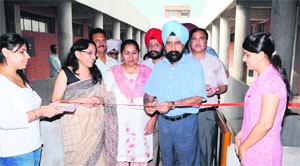 Prof AS Brar, Vice-Chancellor of Guru Nanak Dev University, today inaugurated the newly constructed extension block in the Electronics Department of the university here today. The block has been constructed at a cost of Rs 1.25 crore.
Prof AS Brar, Vice-Chancellor, Guru Nanak Dev University, inaugurates the extension block in the Electronics Department of the university in Amritsar on Monday. A Tribune photograph

Tributes paid to Rajesh Khanna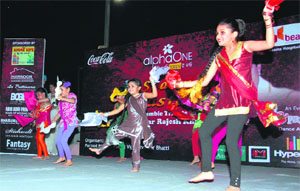 Amritsar, September 3
An event, "Ye Sham Mastani", was held yesterday at Alpha One Mall to pay tributes to late actor Rajesh Khanna. The programme included a singing and dancing competition where children and teens performed on various songs. The event was hosted by Harpal Bhatti and Aman. Out of 100 entries, only 45 participating groups were selected.
Children perform during a dance competition in Amritsar on Monday. A Tribune photograph

'Ajj De Ranjhe' aims at strengthening police-public relationship
Amritsar, September 3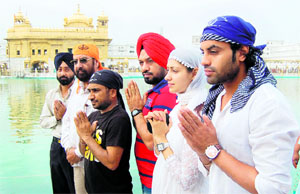 When talking about the Punjabi cinema with director Manmohan Singh, popularly known as Manji, one thing is assured, the conversation is well-defined, just like the characters in his films. His flawless observation, attention to detail and commitment towards Punjabi cinema reflects in his films. The man, who single-handedly resurrected the Punjabi film industry, believes in keeping things simple in the real and reel life.


The star cast of film 'Ajj De Ranjhe' pays obeisance at the Golden Temple in Amritsar on Monday. Photo: Sameer Sehgal

Defence pension adalat from Sept 13
Amritsar, September 3
The 112th Defence Pension Adalat will be organised by CDA (PD), Meerut Cantonment, at Panther Auditorium Old Cantonment, Amritsar, on September 13 and 14.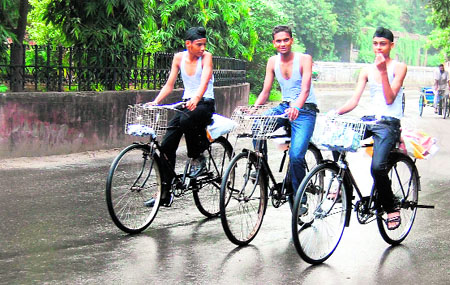 Raining fun: Boys ride bicycles in the rain in Amritsar on Monday. photo: Sameer Sehgal