Innovation

Creating art from waste
Neha Saini
Tribune News Service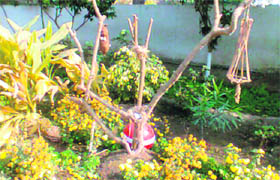 Naresh Moudgil's murals using waste materials like egg shells, grain and pots have earned him the state award. A tribune photo
Amritsar, August 24
In the age of innovation and creativity, there are many who make use of things which are otherwise labelled as useless by others. There are some artists who have turned entrepreneurs thanks to some innovative waste management.
Bharti, an artist-cum-entrepreneur from Amritsar, who saw designer décor items in discarded ropes, wires and CDs, has turned waste into glamorous designer murals that find takers from all across the region.
"There is a huge demand of handmade or waste-made utility and décor items in cities like Chandigarh and Delhi. People appreciate the fact that these pieces of art have been crafted using waste material, which gives it an eco-friendly appeal," says Bharti, who runs her own studio in the city.
Her raw materials often include waste paper, ropes, wires, CDs and even band-aids. "I believe everything can be turned into art. I do a lot of paper mache stuff using newspapers, make mouldings of newspapers to turn them into photo frames, candle stands and designer stationery. Most of my murals are embellished using discarded utility items," says the artist, who has been crafting waste into designer ware since the past four years.
Her client list includes collectors and buyers from Delhi and she has been a regular feature of some of the known lifestyle exhibitions in the region.
Similarly, Aruna Sharma, an art teacher from DAV Public School, has also found her calling in 'waste'.
"Contrary to the belief, creating and re-creating beautiful things from waste is an easy job. One just has to put some creative insight into using them," shares the woman who has mastered the art recycling paper.
Whether it's making dolls out of discarded wires and glace paper or decorative masks using waste wood and cardboard, Aruna loves to re-use and re-create. "I teach my students to use waste and turn it into art pieces. Call it passing on the passion, but they too find it quite interesting."
Her efforts often turn out to be successful ventures as she gets good response at her exhibitions. "One of my creations, using crockery and m-seal, which is widely used adhesive, was sold out."
Another artist who believes in not just creating art from waste but also sharing it on a public platform is Naresh Moudgil. The senior artist from the city is a master when it comes to using waste to its maximum potential.
"Open spaces present a lovely display opportunity and such art works need public attention for more support," says Moudgil.
His work using waste cloth material and fabrics have found appreciation from artistic fraternity. Recently, he created beautiful mural using rags, dupattas, turban cloth and fabrics. "I do traditional patterns and techniques like weaving to make daris, mats, rags and other fabric-based items. Waste has come out to become an important element for artists and if given required push offers a good business potential," he says.
Creative minds

Bharti, an artist-cum-entrepreneur from Amritsar, who saw designer décor items in discarded ropes, wires and CDs, has turned waste into glamorous designer murals that find takers from all across the region

Aruna Sharma, an art teacher from DAV Public School, loves to make dolls out of discarded wires and glace paper or decorative masks using waste wood and cardboard

Naresh Moudgil's works using waste cloth material and fabrics have found appreciation from artistic fraternity