Safai karamcharis serve 72-hr ultimatum to MC
GS Paul/TNS
Amritsar, August 14
Safai karamcharis today issued a 72-hour ultimatum to the Amritsar Municipal Corporation to accept their demands otherwise which they would go on an indefinite strike.
They demanded regularisation of temporary employees and recruitment of more staff instead of hiring private hands and machinery on a rental basis. The threat of the MC workers gains significance as the garbage collection system has already been hit after the private firm, Antony Waste Handling Cell Pvt Ltd, engaged for garbage collection, pulled out of the contract with the MC.
Though the MC has engaged 15 trolleys at a rate of Rs 1,000 per trolley per day to lift garbage, the garbage crisis is far from over.
MC safai karamcharis demanded that instead of shelling out Rs 4.5 lakh every month on private garbage-lifting trolleys, the MC should invest the money in raising its own infrastructure.
Safai karamcharis under the banner of the Sanjhi Sangharsh Committee submitted its charter of demands to the MC Commissioner.
Amarjit Singh, president, sanitary supervisor union, demanded that the sanitary inspectors and sanitary jamaadaars should be provided uniforms, gum shoes and gloves.
Surinder Tona, general secretary, Municipal Corporation Workers Union, Amritsar, said a large number of safai karamcharis, which included Mohalla Sudhar Committee employees and those employed under the DC rate scheme, had not been paid salaries for the past several months.
"We have given them a 72-hour notice. If we do not get satisfactory reply from the authorities, we will halt the garbage lifting process after 72 hours," he said.
Narinder Goldy, president of Safai mazdoor union, said, "We demand that the MC should regularise the services of safai karamcharis and engage extra hands to fill up the vacant posts. Even as the interview process for the same has already been done, but the process got stalled midway," he said.
Official Speak
The process is on to purchase machinery. At our end, the XEN concerned of the department has been conveyed to provide us with the quotations for at least 15 trolleys, 10 bins, garbage lifting cycle rickshaws and other supporting infrastructure. Since it is a government process, it takes time to execute. I have received the demand list of safai karamcharis and will deliberate on the demands.
Dharampal Gupta, Mc Commissioner
Garbage crisis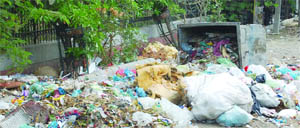 Fulfill demands otherwise which they will go on an indefinite strike, karamcharis say


They demand regularisation of temporary employees and recruitment of more staff instead of hiring private hands and machinery on a rental basis


They also asked for uniforms, gum shoes and gloves for sanitary staff


A large number of safai karamcharis, which included Mohalla Sudhar Committee employees and those employed under the DC rate scheme, had not been paid salaries for the past several months