Jail inmate dies in hospital
Amritsar, August 4
Harpal Singh, a jail inmate, died at Guru Nanak Dev Hospital after a brief illness today. His family members have alleged irresponsible attitude on part of the jail authorities as the reason.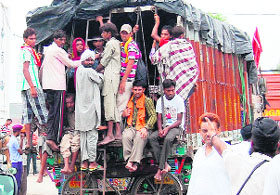 The outsiders

Commuters risk their lives as they hang behind a truck in Amritsar. Photo: Sameer Sehgal
Rs 2.5 lakh for a teacher's post; one held for fraud
Amritsar, August 4
The City police has arrested a conman for allegedly duping many unemployed youths on the pretext of providing them jobs in the education department. The accused wielded influence claiming he had close relations with the ruling party ministers besides the Director General of School Education (DGSE) Kahn Singh Pannu and Secretary Education Husn Lal.
Local firm gets job to beautify Durgiana Temple complex
Amritsar, August 4
The Amritsar Improvement Trust (AIT) has engaged Chaman Lal and Sons for the construction of a multi-storey commercial complex in Durgiana Temple complex.
go organic
Pingalwara farm bags award for highest sugarcane yield
Amritsar, August 4
An organic sugarcane farm managed by Pingalwara Charitable Society has won the prize for record production of sugarcane given by the Sugarcane Development Office.
Admn challans eight establishments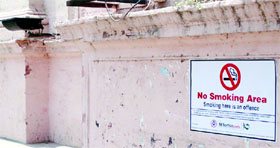 Amritsar, August 4
Teams of the district administration today issued challans to hotels, eating joints and a shopping mall for not displaying warning against smoking at public places.




No-smoking board pasted outside the Town Hall in Amritsar. A file photo

Smokers, vendors make light of norms
Amritsar, August 4
With no fear of getting challaned, cigarette vendors and smokers make light of anti-smoking norms as soon as the sun sets and the health department teams are off for the day.
NGO condemns chopping of trees
Amritsar, August 4
The activists of NGO Mission Aagaaz and several residents strongly condemned the chopping off century-old trees by the Durgiana Mandir committee.
It's show time for Pingalwara inmates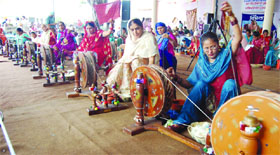 Amritsar, August 4
The Pingalwara Charitable Society today organised an exhibition of handicrafts and artefacts made by the inmates. The exhibition was organised to observe the 20th death anniversary of its founder Bhagat Puran Singh.


Inmates of the Pingalwara Charitable Society spin cotton on charkhas. Photos: Sameer Sehgal

Absorb us in govt schools: Aided teachers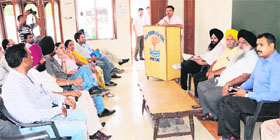 Amritsar, August 4
Teachers associated with government-aided schools today urged the government to absorb them in government-run educational institutions which face staff crunch.


Teachers hold a meeting in Amritsar. Photo: Vishal Kumar

DPS students plant saplings to mark van mahotsav
align="left">Amritsar, August 4
To celebrate the van mahotsav, students along with teachers of Delhi Public School planted saplings in the school campus.
Conference on HIV begins at GMC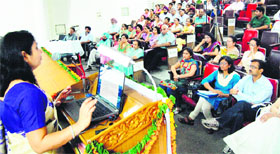 Amritsar, August 4
The Amritsar Obstetrics and Gynecological Society inaugurated the two-day North Zone HIV Conference at Government Medical College (GMC) here today. The stress was on the prevalence of HIV among pregnant women and their handling at the time of delivery and treatment.

A speaker during the North Zone HIV conference, organised at GMC in Amritsar on Saturday. Photo: sameer sehgal