Middle of the road surprise A garbage dumpster lies in the middle of the Mall Road in Amritsar on Friday. (L) and Singer Roshan Prince during a promotional event of his upcoming film 'Sirphire' at a Guru Teg Bhadur College in Amritsar on Friday. Photos: Sameer Sehgal
Short-term course for GNDU employees
Amritsar, August 3
The Guru Nanak Dev University has begun a short-term course on professional development for its B and C class employees at the Academic Staff College.
Without salaries, multipurpose health workers threaten protest
Amritsar, August 3
Reportedly without salaries for the past two months, the multipurpose health workers with the health department have threatened to launch a protest from next week.
Industrialists not happy with govt
Amritsar, August 3
Industrialists of border districts have little hopes from the state government which has begun meetings to frame the new industrial policy.
Dy DEO's death: Teachers demand transfer of DEO
Amritsar, August 3
After more than two weeks since the death of deputy DEO and noted writer Jasbir Singh Jass, representatives of various teachers' unions have alleged that the Department of Education and the authorities concerned have not taken any action against DEO Sunita Karan, who allegedly humiliated Jass so much that he died of cardiac arrest.
Breast feeding week gets underway in district
Amritsar, August 3
Celebrations of the World Breast Feeding Week were launched at a function organised by the district administration at the Jallianwala Bagh Memorial Civil Hospital here today.
250 units collected at blood donation camp
Amritsar, August 3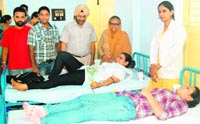 A blood donation camp was organised by Pingalwara Charitable Society to mark the 20th death anniversary of its founder Bhagat Puran Singh. College students and volunteers donated 250 units of blood at the camp, said Dr Inderjit Kaur, society's president. She welcomed various dignitaries and lauded the role of Bhagat Puran Singh for establishing Pingalwara institution which has helped thousands of people since its inception.
Eight booked for molestation, assault
Amritsar, August 3
Sadar police has booked eight persons, including former sarpanch of Nangali Bhatha village, in a case of molestation and assault.
8 booked for damaging vehicles
Amritsar, August 3
The City police has booked unidentified persons who had gone on a rampage and damaged government and private vehicles during violence which erupted after the death of a woman rag picker in an accident two days ago. Khushwant Singh, driver of the Punjab Roadways bus, in his statement to the police said the mob attacked his vehicle when he was passing through Ram Talai Chowk to the bus stand.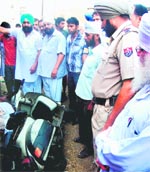 Scooterist killed in mishap
Amritsar, August 3
Harjit Singh Nikku, a resident of Jai Singh Chowk, Gillwali Gate, was killed on the spot after he was run over by a speeding truck at Bhagtawala area today. The incident took place when he was returning home after buying milk from a dairy near the Bhagtanwala grain market.

The speeding truck hit the scooter driven by the victim from behind.


Policemen conduct investigation at the accident site at Bhagtanwala in Amritsar on Friday. Photo: Sameer Sehgal


Purse snatched
Amritsar, August 3
Two motorcycle-borne youths snatched the purse of a woman when she and her husband were on their way back home on a rickshaw near Dr Prem Rai Hospital. Govind Sharma, husband of the victim in his complaint to the police alleged that he along with his wife Kanta Sharma were on their way to Jagdambay Colony, Bohar Wala Shivala when the accused snatched her purse.