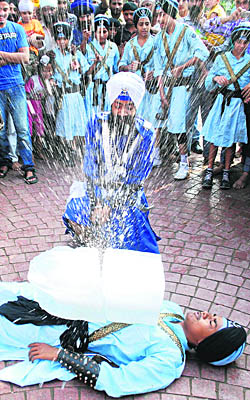 Sikh youths display martial arts during a religious procession to mark the 408th anniversary of Guru Granth Sahib in Amritsar on Saturday. Photo: Vishal Kumar

Rs 1,034 crore to be spent on potable water in villages
Amritsar, September 1
The Punjab Government will spend Rs 1,034 crore to provide potable water in 2,481 villages of the state. The government will also ensure that all 15,170 rural inhabitations get proper water supply by the end of December, 2013. This was stated by Virsa Singh Valtoha, Chief Parliamentary Secretary, Rural Water Supply and Sanitation.
Mud-slinging mars sports association
Amritsar, September 1
Raking up a controversy, international cricket players from the city, backed by a local councillor, have levelled serious allegations against the working style of the Amritsar Gaming Association secretary Mohit Khanna.
Teacher on a mission to make city alcohol, drugs-free
Amritsar, September 1
To build safe and healthy communities by minimising alcohol, tobacco and other drug-related health, social and economic harms among people in the city, a Karnataka-born lecturer, Pandit Rao Dharenanwar, is out on a cycling mission to attract public attention.
Manhole Mishaps
Panel comes to rescue of AMC staff
Amritsar, September 1
The Sanjhi Sangharsh Committee has come to the rescue of the sewerman and the junior engineer (JE) who were placed under suspension and the officiating SDO against whom a disciplinary action was recommended by the Amritsar Municipal Corporation (AMC) for allegedly being negligent in performing their duties.
Bangalore-based doc asked to refund Rs 1 lakh
Jalandhar, September 1
The District Consumer Disputes Redressal Forum, Jalandhar, has asked a Bangalore-based doctor to refund Rs 1 lakh advanced to him by the daughter of a cancer patient, who died in 2010, on account of medicines not received by her during the course of her mother's treatment.
Parkash Diwas of Sri Guru Granth Sahib celebrated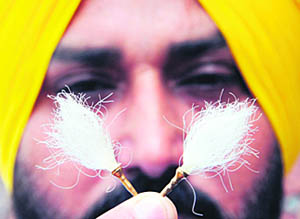 Amritsar, September 1
The Centre on Studies in Sri Guru Granth Sahib of Guru Nanak Dev University has organised a symposium to commemorate the Parkash Diwas of Sri Guru Granth Sahib in the conference hall of Guru Nanak Bhawan of the university. Former Jathedar of Sri Akal Takht Sahib Joginder Singh Vedanti and a renowned scholar of Gurbani was the chief guest, while Inderjit Singh, registrar, presided over.
An artist displays a miniature version of 1.25 centimetre small chaur sahib on the Sri Guru Granth Sahib Parkash Utsav in Amritsar. Photo: Vishal Kumar

FROM SCHOOLS, COLLEGES
KV No. 1 lift U-19 cricket tourney
Amritsar, September 1
Hosts Kendriya Vidayalya (KV) No. 1 lifted the U-19 cricket tournament by beating KV-1 Srinagar in the finals of the 43rd Regional Sports Meet of Kendriya Vidayalya Sangathan (KVS), Jammu region, on Thursday.
SPEAKING OUT
Residents flay govt for imposing fresh taxes
Amritsar, September 1
City residents are saddened with the SAD-BJP coalition government for levying VAT on consumer goods and fresh taxes on property. A majority of them are of the opinion that the second stint of the present government has been made possible with the support and mandate of the common people. Instead of offering them respite from soaring inflation, they are being penalised with more taxes.
Woman ends life; in-laws held
Jalandhar, September 1
Allegedly tortured by her in-laws over dowry, a woman committed suicide at her residence near Nakodar Chowk on Saturday. The deceased was identified as Kamaljit Kaur.
Graft case
Ex-SMO jailed for 2½ yrs
Amritsar, September 1
A local court has sentenced a former senior medical officer at Ajnala Civil Hospital to two and a half years of imprisonment in a graft case. The Vigilance Bureau (VB) had, eight years ago, caught SMO Gurmeet Singh red handed while taking a bribe of Rs 5,000.