Teaching
Tests and lessons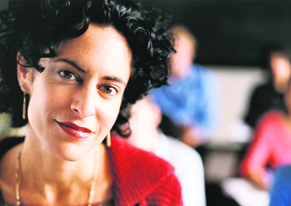 Teaching as a career has come a long way from the days of guru-shishya system. On this Teachers' Day let's take a look at the current status and future prospects of this noble profession
Imparting education has always been seen as a noble calling on which depends the very foundation of society. Teaching as a career has always enjoyed an exalted status and teachers, especially in India, have been accorded a special place and respect.
If teaching is to be made an informed first career choice for the youth in our country then its social status and professionalism need to be upped

Career Hotline
A number of choices
Q. I have done MSc in maths and BEd, and have been teaching in a convent school for the past eight years. But over the years I have lost interest in this job and want to switch over to a different field. What are the options available for me?
Career compass: corporate trainer
Masters of social skills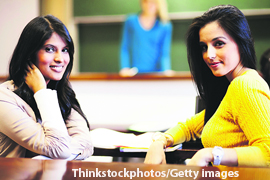 With the services sector coming to the limelight, more focus is being laid on affective skills rather than on the cognitive understanding of one's domain. Most professions today need certain specific skill sets that have to be learnt in the classroom or through experience. While education provides a basic framework, we still need to invest time and effort in honing the skills learnt and acquiring functional skills specific to an industry. That's where professional trainers come into the picture.
Field in focus: actuarial science
Number game
Actuarial Science is the lifeline of the insurance industry. A very versatile discipline, it requires in-depth knowledge of mathematics, statistics, economics, investments, operation research, etc.
Success sutra: tips to achieve your life's goals
Know where you are going
People with goals succeed because they know where they are going. It's as simple as that. And here are ten tips to make the going easier:
1) Include serious and fun goals
Vary the scope of your goals to include some just-for-fun dreams. Also, don't be afraid to complete the easier goals first. Building a momentum from these early successes will help you find the courage to tackle the larger tasks.
Testing times: cracking cat quant section
Step up focus
By now most of the CAT aspirants are (hopefully) through with bulk of the basics. So let us discuss the specific actions they should take in the next 35-40 days to do well in Quant section. Going by CAT-2011 pattern, this section in CAT-2012 is likely to have a mix of about 18-22 questions from Quantitative Ability (Quant) and about 8-12 questions from Data Interpretation (DI) areas. While it has not been explicitly spelt out in the CAT notification, the possibility that this section may also include one or two questions from Data Sufficiency area cannot be ruled out.
Scholarship roundup
Eligible candidates can apply online for the University Grants Commission-funded Post-Graduate Indira Gandhi Scholarship for Single Girl Child in any recognised university or college for 2012-2014.
Eligibility: Any single girl child of her parents. In a family if one son and one daughter is available then girl child will not be considered for scholarship under the scheme.
Course cruising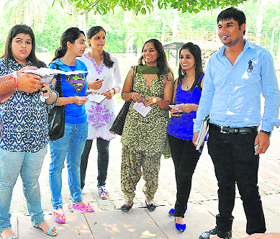 Institute for technology driven financial management, Modrika, has opened enrolment for its Global Internship Programme in Algorithmic and High Frequency Trading. Ideally suited for MBA, MCA, B.Tech and B.E. students, this project-based training gives a comprehensive overview of all aspects of algorithmic and high frequency trading. Designed for both buy and sell-side market, this internship involves a top-down approach to algorithmic trading, wherein students are equipped with an overview of electronic trading, including factors driving the growth of this segment, identification of target markets and trading styles, designing trading strategies and their algorithmic components.
Award for best chemistry teachers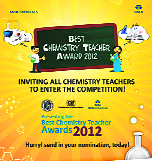 The Association of Chemistry Teachers (ACT), in association with the Confederation of Indian Industries (CII) and Tata Chemicals Ltd. invites entries for its second series of Best Chemistry Teachers Awards (BCTA) 2012. This initiative has been launched to honour exemplary teachers involved in teaching chemistry and its allied subjects. The awards were instituted last year to commemorate United Nation's International Year of Chemistry (IYC 2011). The call for entries is now open and will be closed on September 30, 2012. The nominations for the entries are classified in the five distinct award categories:
Call for National Student Challenge
The Indian Institute for Human Settlements (IIHS), Bangalore, has announced the 'Transform Urban India — National Student Challenge 2012', a campaign to elicit innovative ideas and solutions from students across the country to drive positive change in urban India. This is the second cycle of this student challenge.
Happiness @ work
Gems of ancient wisdom
Stem the rot fast
Vice like weeds — if unchecked — can grow very rapidly and ruin the field. To ensure that your garden is full of flowers, act fast when it comes to dealing with rotten apples. On the birth of prince Ajatashatru, it was predicted that he would kill his father King Bimbisara of Magadha. Bimbisara's wife Chellana abandoned the baby but Bimbisara brought the child back to the palace and years later Ajatashatru made an assassination bid on his father. He confined Bimbisara in his palace and later put him in prison. Finally he had his father executed.
Pharma sector hiring slides
Recruitment in the pharmaceutical sector may decline in the second half of this year due to drop in the hiring sentiment in the sector, a survey has said. According to a hiring outlook survey conducted by jobsite Naukri.com, only 51 per cent recruiters are expecting to add new jobs in second half of 2012 as against 67 per cent in the first half of the year.


CareerCature
SANDEEP JOSHI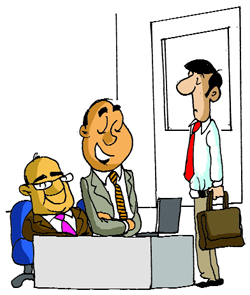 Yes, we want someone fresh and young, but you don't have any experience.
In expansion mode
Bharti Group firm Centum Learning will be expanding its training units across India by setting up about 100 centres in 2012-13 as part of a roadmap to make 15 million people employment-ready in the next 10 years. "India faces the risk of 500 million persons being unemployed in the next 10 years. We want to train 15 million persons and make them employment-ready in 10 years," Centum Learning Chief Executive Officer and Director Sanjeev Duggal said. The company is aggressively expanding presence across the country, especially in rural areas where a majority of the workforce would come from, he added.
CUBICLE TRENDS
Home perks
People who work from home are likely to be more productive due to quieter working conditions than those who go to office, a new study has claimed. In the study published by Stanford, on whether employees are more or less productive at home or in the office, researchers created perhaps the first randomised study of remote work of a company.
Bullying on the rise
Bullying at workplace, mostly by bosses, is on the rise and about one-third of the employees either face health-related problems or quit their jobs after getting bullied in office, a survey has found. Besides, nearly half of the employees do not confront their bullies and let go a majority of such incidents unreported, found the survey conducted among close to 3,900 employees across the US.
All-India Essay writing competition
An online essay writing completion themed on education is being held as part of the 'In Our Hands' campaign by IDFC Ltd. Students aged 18 to 22 years across the country can participate in this contest. The word limit should not exceed 2,500 words.