Bars flouting norms finds survey
Chandigarh, September 14
Though complimentary drinks on the house at weekend parties have long been on the platter at bars and discotheques, it was only in the aftermath of the high-voltage poolside party at the Lake Club where a particular brand of beer was offered free under "one plus one" deal to the party revelers that the Chandigarh Administration has suddenly woken up to the reality of complimentary drinks being offered at bars, restaurants and discotheques in the city.
Gallantry award winner booked
Chandigarh, September 14
The Cyber Crime Cell of the UT police has booked a 22-year-old woman, who is a national bravery award winner and a daughter of an Army officer, for allegedly using abusive and vulgar language on the Facebook page of the traffic police. The police has registered a case under Sections 66 A, 67 of the Information Technology Act 2000 against Henna Bakshi, a Panchkula resident, and another man identified as Kamalpreet Singh, who shared the comments on the Face book.
Diesel price hike: Residents flay Union Government
Chandigarh/Mohali/Panchkula, September 14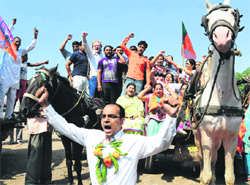 The tricity residents have flayed the Central Government for increasing the price of diesel and restricting the supply of subsidised LPG cylinders.






Members of the Bharatiya Janata Party take out a horse cart rally to protest against a hike in diesel and LPG rates at Maloya in Chandigarh on Friday. Tribune photo: Parvesh Chauhan
Fruits and vegetables to cost 2 to 5 pc more
Chandigarh, September 14

The increase in price of diesel is all set to upset the household budget of all the residents. This will lead to a sharp increase in the transportation cost of various commodities, ultimately affecting the households. The commodity prices will register an increase between 2 and 5 per cent, said Kanwal Kishore Mahajan, a fruit and vegetable merchant in the wholesale fruit and vegetable market in Sector 26.


Landslide at Chandi Kotala
Panchkula, September 14
Over 30 houses at Chandi Kotala village near Chandimandir collapsed or developed cracks following a landslide today. Continuous rain was said to be the reason for the landslide.



A house that collapsed following a landslide at Chandi Kotala village near Chandimandir on Friday (L) and Residents being shifted to safer places, An elderly woman, whose house collapsed, in tears (inset) Tribune photos
MC bypoll
Campaigning ends, over to voters now
Chandigarh, September 14


As many as 14,816 voters will seal the fate of four candidates in ward number 7 of the municipal corporation that goes to the bypolls tomorrow.

(i) Congress candidate Poonam Sharma (2) BJP candidate Bindu Rani (3) BSP candidate Seema Yadav
Bid to loot woman fails
Mohali, September 14 A woman who had come for treatment to a Sohana hospital narrowly escaped the attempt of looting her today. As Joginder came out of the hospital she was offered a lift by a woman who said buses were not plying on the route to Kharar.
Hindi Diwas celebrated
Panchkula, September 14
The State Bank of India, Administrative Office, Haryana Zone, Panchkula, today celebrated Hindi Diwas.
33 Verka booths to come up in Mohali
Mohali, September 14 Mohali has only three Verka milk booths but soon it will have many more and better designed booths at new sites, which are identified by the Greater Mohali Area Development Authority ( GMADA). Though the number of the milk booths remained only three in Mohali, the number of such booths in Chandigarh was 101.
Delay in salary bugs Teachers
Chandigarh, September 14
Contractual computer teachers and data entry operators recruited through the Spic society Chandigarh in the government schools are not getting their salaries on time. Several teachers said they are being harassed as their contract is renewed every month. Their increment for this financial year is also pending.
Visually impaired light up stage
Chandigarh, September 14
"Different people react differently to us. But we feel we are contented of what we are, says a visually impaired student, Vikram Goel. Vikram is a BA first year student at Government College, Sector 11, who along with other blind students participated in a play 'Jhanki Hindustan ki', staged at the English department auditorium, Panjab University.
Authorities yet to wake up
Chandigarh, September 14
Despite an outbreak of dengue fever in the city last year and the virus having already affected three persons this year, the UT health department is yet to wake up to the grave situation.
Experts to dwell on cytology
Chandigarh, September 14
The department of cytology and gynaecological pathology, PGIMER, will organise a two-day CME on "Recent Advances in Cytology and Gynaecological Pathology" tomorrow.
Chandigarh-Leh flight to resume towards year-end
Chandigarh, September 14
Jet Airways is all set to resume its Chandigarh-Leh flight from October-end or first week of November. The frequency will be twice a week from the Chandigarh airport.
Government should have spared us, say industrialists
Chandigarh/Panchkula, September 14
The hike in diesel price is expected to translate into an additional burden of Rs 500 crore per month on around 2000 small and big industrial units in Chandigarh. President of the Chandigarh Industries Association MPS Chawla made this claim while asking for an exemption from the hike for the industry that is already reeling under the recent power tariff hike.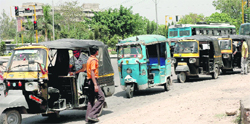 CTU to press for bus fare hike
Chandigarh, September 14
With a steep hike of Rs 5 in diesel price, running buses will cost Rs 1.60 lakh more on a daily basis to the Chandigarh Transport Undertaking (CTU). Left with no other option, the authorities have decided to write to the UT Administration to approve the pending proposal of hike in bus fares.


B-school to hold 'iDiya' contest
Mohali, September 14
The Indian School of Business (ISB) has announced "iDiya", a nationwide idea competition, for working professionals who want to set up ventures that have the potential to create a social impact.
7 days on, observers yet to submit audit report
Chandigarh, September 14
Even seven days after the Panjab University Campus Student Council (PUCSC) elections concluded, the observers appointed by the university to keep a check on the expenses made by each student party are yet to submit their reports. The observers were supposed to submit an audited report of the expenses made by the student parties.
3 PU scholars get 'Inspire Faculty Award'
Chandigarh, September 14
In a rare achievement, three scholars from the department of chemistry, Panjab University, received 'Inspire Faculty Award' started by the Government of India.
School bus fee hike anticipated
Chandigarh, September 14
The school bus operators in the city are contemplating on increasing the fare of school buses in the wake of yesterday's sharp hike in diesel price.
Indo-Swiss Centre ties up with varsity
Chandigarh, September 14
The Indo-Swiss Training Centre (ISTC) here has tied up with a university in Rajasthan for its diploma holders to obtain Bachelor of Technology degrees. This would empower the diploma holders to go into research and development and also open other professional avenues.