star track

Beyond acting
There is a lot more that several Bollywood actors can do! From singing to cooking to writing, read on to find out who is good at what
Say it with the guitar
He is a rockstar! He can play the electric guitar and has collaborated with Parikrama in the past. He even strummed the guitar for the song Yaariyaan from Cocktail. He loves playing the guitar. He can also speak French.
Musical innings: Saif Ali Khan
Crooning glory

The talented actress has a magical and seductive voice. She has started singing professionally and her first international single is called In My City. Her career in the international music world and even Hollywood is set! She has an amazing voice and a Western appeal.
Sing song: Priyanka Chopra
What's cooking

The fashionista and award-winning actress loves cooking and baking. She is a foodie and on Simi Garewal's show, she baked the perfect chocolate cake. She loves cooking because she loves eating. We are sure she can cook a lot more!
Food for thought: Kangna Ranaut
Wings of poesy
Besides being an exceptional actress, Vidya Balan has a love for shayari and poetry and she writes Urdu poetry and couplets as well. How sweet is that!
Read and right

Besides being a gifted and unconventional actress, she is also a gifted writer. She wrote and acted in a play called the Skeleton Woman and has also written and acted in other plays. She wrote and acted in That Girl In Yellow Boots, which has become a cult film and been appreciated internationally too.
Act two: Kalki Koechlin

New film on the block
Hrithik Roshan concentrates on one film at a time. He is busy with Krrishh 3 at the moment. He has given his nod to Siddharth Anand's next film which will be a welcome change for him as it is a relaxed role.
Next line: Hrithik Roshan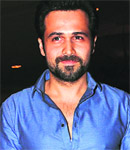 Taking all chances
Emraan Hashmi had predicted that Raaz 3 would cross a certain number by the weekend and it made more than Rs 36 crore. He had bet on this with Mahesh Bhatt and he won the bet. We will not be surprised with Raaz 4 going on the floors soon! Everyone had a gala time at the success party.
Success story: Emraan Hashmi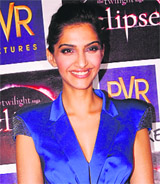 Divine intervention
Sonam Kapoor is shooting in Varanasi and if she gets time in the morning, she visits the temple and does the aarti. She likes moving around the place. Her parents, Anil and Sunita, visited her over the weekend while she was shooting and she was very happy about that.
Morning person: Sonam Kapoor

Bachelor's party
Karan Johar says that he has all the time in the world to judge two reality shows and direct and produce movies because he is not married and does not have children. His mother is also very understanding and lets him do what he wants.
Single child: Karan Johar
I don't want dad to interfere in my work: Alia Bhatt
Filmmaker Mahesh Bhatt's daughter Alia Bhatt, who is making her acting debut with Karan Johar's Student Of The Year, says she wants to learn from her mistakes and doesn't want her father to interfere in her work. The 19-year-old says though she comes from a filmy background she doesn't want any help from her family. "Every now and then he (Mahesh) tells me where he feels the need but I like to be on my own and I want to learn from my mistakes," said Alia.
The movie sees her play the role of Shanaya Singhania, who comes from a very affluent background. "Shanaya loves her clothes, bags, shoes and she is very brand conscious. She also comes from a dysfunctional family and feels lonely and is looking for that one person who can love her unconditionally," Alia said.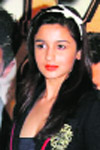 Alia says she is excited and nervous about becoming an actress at a very young age.
"I am just 19, I finished school and just walked into movies. So I am really scared and nervous as to how will it turn out to be. I didn't plan this, it just came along and I am enjoying every bit of it." —PTI
Going solo: Alia Bhatt
Brangelina wishes Saifeena!
While the entire nation is gung-ho about Bollywood's charming couple Saif Ali Khan and Kareena Kapoor's impending wedding, Hollywood too is desperately waiting to see them get hitched. Saif and Kareena are going to tie the knot on October 16 and Hollywood's famous star Brad Pitt also wished the duo, a happy wedding ahead.
In an interview, when Brad Pitt was asked about his take on Saifeena's wedding, he said, "They are a good looking couple! No two individuals in a relationship can be the same as another, so I don't know if it is correct to compare them to us. But I am glad they will soon be getting married and I wish them all the luck and a beautiful life ahead."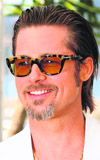 Speaking her heart out, Bebo said, "The day I met Saif, in my mind, I was married to him," adding, "I wouldn't sacrifice my work for my love, I wouldn't sacrifice my love for my work after marriage." Bebo also revealed that Saif apparently can't see her with any other man, not even on screen: "Saif never wants to see my movies."
In the meantime, preparations are going on in full swing for Saifeena's wedding and the wedding cards have been already sent to the invitees.
with regards: Brad Pitt
Story of 'sour grapes'
How much ever Priyanka Chopra and Kareena Kapoor pretend to be friends and praise one another to the heavens, in reality both share a very bitter relationship. Perhaps that's why Priyanka Chopra ended up calling Bebo 'sour grapes' in one of her recent interviews.
Kareena Kapoor is all over promoting her latest film, Heroine and during one event Kareena said that Heroine is going to be better than Madhur Bhandarkar's award winning movie Fashion starring Priyanka Chopra in the lead. Bebo's statement has not gone well with Priyanka who bagged national award for her performance in Fashion.
Priyanka hit back at Kareena's comment sarcastically saying, "Well, I guess if you don't have one (National Award) then, it's just sour grapes, you know. What do I say?"
English Vinglish gets a standing ovation
English Vinglish which premiered to a housefull and sold out crowd at Roy Thompson Hall at Toronto on September 14th 2012 has got a massive response from people the world over.
The global audience sitting for the premiere loved it so much that the film got a standing ovation at the premiere where people were applauding for at least 10 minutes. They loved the film so much that just applauding the film wasn't enough.
Many believed that English Vinglish breaks away from the studio structure and sing-dance format of Bollywood that India is known for. —HRM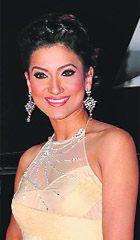 Return of the natives
Gauhar Khan and Meiyang Chang will return to Jhalak Dikhlaa Jaa semi-finals to help the other dancers dance their way to the top. Expect more names to return during the semi-finals! They will be a treat to watch.
Help desk: Gauhar Khan
Visiting rights
Vidya Balan was shooting in Banaras and she wanted to buy a few sarees and eat the famous Banarasi pan. Since she couldn't step out on her own, she wore a traditional outfit and covered her head with a dupatta and took one of her assistant directors along and moved around in a local rickshaw. She ate the pan and did some saree shopping.