Paradox in China
Prosperity giving way to unrest
by Sankar Sen
During the last three decades from being a Third World country China has now become the second most important nation on the planet. Its progress in various directions has been truly amazing. In 1990, the average income of the people in China was less than $3 a day, but today it has become the second biggest economy in the world. It has also industrialised itself at a tremendous pace. It has accomplished this within a generation, according to well-known columnist Fareed Zakaria. This took 100 years to achieve in Europe. Interestingly, the economic transformation in China has been accomplished without any large-scale violence.
It is true that there is dictatorship in China, but so it was in many Western countries when they were industrialised. They experienced much greater levels of violence than China. China's foreign exchange reserve has now hit an all-time high of $2.3 trillion. This, indeed, is a huge reserve with China becoming the second highest reserve holder. Japan has less than half this amount.
Initially, after the suppression of the demonstrations in Tiananmen Square in 1989 China had to apply the brake on its reformist programmes and policies. But Deng took the bold decision that China's economic reforms and development will continue. "One does not," he said, "stop eating because of fear of choking." The rest is history. During the next decades China grew by around 10 per cent a year and has lifted about 440 million people out of poverty, the biggest poverty reduction in history. But along with greater prosperity has come greater inequality, more corruption and greater social tension.
China today is witnessing workers' protests in different parts of the country. There is growing discontent among migrant workers who seek employment in cities. They are treated as second-class citizens with poor access to health care and education. China's household registration system denies equal access to public services for the rural migrants who work in cities but are registered in villages.
The residence permit system is known as the "hukou" system in China. An urban "hukou" comes with health, education, retirement, housing and unemployment benefits; a rural "hukou" has fewer benefits. It is estimated that 200 million migrants carrying rural "hukou" work in China's factories.
Land grabs by local officials is also a big source of anger and dissatisfaction. Thus, migrant workers have become not just a source of growth but also a cause for insecurity. China's transformation has been led by manufacturing. Peasants have been turned into industrial workers. Strikes are also becoming more frequent in privately owned factories. Thanks to the explosive growth of the Internet, the news of any unrest or protest spreads far and wide. It is true that the unrest among workers is not going to result in the communist party losing power. Opinion polls show a consistently high level of support for the central leadership of the party and the optimism of the future under the party's rule, but there is simmering anger among the people in many places against the local authorities.
At the same time while aggressively promoting economic growth, Chinese leaders are firmly set against democratic political reforms. Earlier from the disintegration of the Soviet Union the Chinese leaders had drawn some harsh lessons. One was that the communist regime would bring about its downfall if it courted democratic reforms. By exposing itself too much, the Soviet Union during the glasnost days in the late 1980s destroyed its legitimacy. The second conclusion arrived at was that the Soviet regime collapsed because of its poor economic performance. Economic growth is essential for retaining the support of the people. Hence rapid economic development has become a matter of life or death for the party.
The party has also noted the role of intellectuals and social elites in bringing about the downfall of the Soviet system. That is why its post-1992 strategy has been to induct intellectuals, college students and affluent businessmen into the party. Entrepreneurs once denounced as unworthy constituents were admitted to the party. Similarly, a large number of college students were also recruited to strengthen the party.
In China, a new leadership will take charge after the upcoming party congress. The once-a-decade change is expected to see the current Vice-President, Xi-Jingping, taking over as the head of the Communist Party of China. After decades of burgeoning economic growth China now stands at the crossroads. The double digit growth that characterised the Chinese juggernaut is becoming a thing of the past. Wages are rising. The wage rise in 2010-11 is around 25 per cent in some areas. This may affect competition. The vast army of surplus labour waiting to man new factories is no longer a resource China can rely upon. Slow economic growth accompanied by growing social tension has to be faced by China in the coming years.
China's neighbours fear that popular nationalism might prompt the Chinese leaders into muscle-flexing abroad. Faced with domestic unrest, Chinese leaders may be tempted to encourage flag-waving and foreigner-bashing as a means of distracting the public from serious domestic problems.
There is genuine pride in China at the country's rapid modernisation and development. There is also anger against the West, particularly the United States, for its "perceived" containment strategy against China. There is also a sense of national victimhood drawn from China's humiliation at the hands of Western powers from 1840 to 1949. Chinese nationalists often describe it as China's "century of humiliation". The Chinese Communist Party presents itself as the defender of China's national honour and allows it to portray the West as an "evil force".
However, even though riding high on nationalism, party leaders cannot afford an open breach with the West. The West is China's largest export market and main source of capital and technology. The US and the European Union account for 50 per cent of China's exports. China would not like to jeopardise its economic relations with the West, but use it as a survival strategy and point out that the West would like to see China plunge in political and economic turmoil.
Chinese leaders also fear that further fuelling of nationalism may backfire politically and can be exploited by dissidents. It is not known what the future will unfold. China may remain as an authoritarian colossus and stagnate, or it may usher in democratic reforms and surge ahead. Future developments in China, whatever be their shape or form, are going to be of utmost significance not only for China but for the rest of the world too.
The writer is a former Director-General, National Human Rights Commission.

Thanks for the smile, Miss Alice
by Rachna Singh
She was pretty, green-eyed, raven-haired and comfortably plump. I loved her as did almost 50 others in my class. She was my grade V teacher in a convent in Jabalpur. Every morning when she walked into the class and with difficulty raised her plump proportions into a dainty Victorian chair without mishap, the class sighed with collective relief. She simply smiled and quipped, "I am getting too fat." That invariably elicited giggles from all of us even as we wished her a warm and loud "Good morning, Miss Alice".
Her "Good morning, darlings" heralded an indulgent mood and made our day. It meant no reprimands and a few precious extra minutes of recess time and games. But the day she responded with "Good morning, girls", we knew we were in trouble. Even the smallest lapse on our part would mean a sermon on etiquette and values of life in tones so serious that it put the fear of the devil in us. But even when she was very angry she never used the "ruler" to smack our palms as was the habit of most junior teachers then. Instead, she would banish us to a corner in the class. This ignominy was enough to make us all behave.
She inculcated in us values that have not lost their sheen despite a lapse of several decades. Miss Alice was honest and bold in pointing out a fault. But more than anything else she taught us to laugh at ourselves and our faults. I remember an incident where she forgot to arrange for refreshments on Sister's Feast Day. She simply walked onto the stage, made a public apology for her faux pas and, as a penance for the "hole" in her memory, gustily sang the nonsense rhyme, "There is a hole in the bucket, dear Lisa", to much ribbing from her colleagues.
Miss Alice taught us to shoulder responsibilities with a smile and shrug away any momentary dips in life. She had an old sick cantankerous mother whom she cared for with utmost dedication. She, in fact, stayed single so that she could care for her mother. And she smiled through it all. "Smile, darling" was her constant refrain. It became more insistent if one of us scored badly or lost an important race or did not win the "elocution" competition.
The refrain left a lasting impression on our vulnerable minds and taught us to face life with equanimity and aplomb. Miss Alice is no more but her face still shines bright and happy through the mists of time and brings a huge smile to my face. Thank you for the smile, Miss Alice. Thank you for the joy it still brings.

Like mythical virgins, women will be able to produce children even without the sperm of a male. Technologies to facilitate such a possibility already exist. The moot question is: Will humanity allow the gender-based social order to be overthrown?
Will love and sex be redundant?
Vandana Shukla
The source of all creativity- love - may soon be pushed into history to be recounted in myths. Like the narratives of honesty are. Reams and reams of love poetry, serenading compositions in music, and the world of romance invoked in art to woo a lover may all become a thing of the past. And myths may be brought back to reality, if men and women will be able to procreate by themselves. Almost all religions project such myths. Kunti had Karna despite being a virgin, Mary had Jesus, Kauravas, the 100 sons of Dhritrashtra came out of an incubated lump, delivered by Gandhari. Sita emerged out of the earth.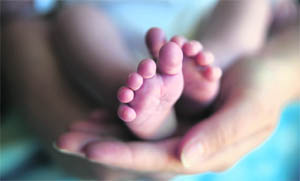 Like these characters of lore, men and women will not need to copulate to have children. Science is re-drafting the rules of reproduction. There is a possibility, assisted with technology, of 'self-generating solo parents' -- men and women both, who will be able to make children by using sperm and egg generated from the bone marrow stem cells of a male, or using two re-programmed eggs of a female.
In the much talked about book 'Like A Virgin- The science of a sexless future' (Oneworld Publications), author, Aarathi Prasad, a London based single mother, with a Ph. D. in biology explores this possibility. Her work is based on a premise that though a woman goes through all the pain of child bearing and rearing, she has been seen only as a 'vessel' - a kind of living incubator to carry the child. Great scholars - Plato through Leonardo da Vinci, believed that only men were complete, Aristotle believed that women were reproductively defective. All these vehement 'scientific' beliefs carried through human evolution have resulted in a paradoxical situation for women; while they are never given complete biological right over their children (in all cultures a child is identified by the father's name), they are blamed for any genetic defect their child carries.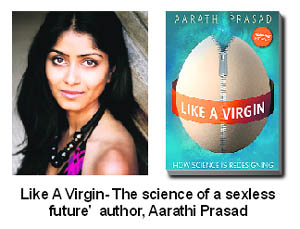 "Imagine if the ability to produce sperm was no longer just the preserve of men, to produce eggs no longer the preserve of women, and then an artificial womb was created that meant both women and men could gestate a child independent of the human body. Now bear in mind that there is active research into all of these areas." — Aarathi Prasad
Ideas have consequences
Though, genetic diversity is always preferred over having a child with the same gene of the 'solo parent,' the new technologies may correct the wrongs nurtured by cultural history of the mankind. The gender defining roles, assigned to women particularly, have been used to subjugate them and to justify male superiority. If children could come without sex, the traditional gender roles that construct our social matrix will change beyond recognition.
"This is more than a question of futuristic science," writes Prasad in 'Like A Virgin', "Both male and female infertility is on the rise, and some scientists are warning that the Y chromosome, the very thing that makes men both fertile and male, is slowly but surely dying; it now has only around forty-five genes of the 1400-odd genes with which it began the human species. If the Y chromosome's genetic information essentially disintegrates, what solution could technology offer to sustain, well, us? " Thus, the need to reconfigure our attitudes to fit our lives 'after sex.'
Humanity has taken to technology like fish takes to water, but changing cultural beliefs on gender based roles would raise the issue of 'unnaturalness' of it all. In most cultures homosexuality is still viewed as an unnatural act. And matters of life and death are best left in the hands of god! If technology could control and create life, then will it replace god? "Technology in this case is not a controller but a facilitator, people who nature has not allowed to have children will be offered a helping hand by technology. They will both be important," says Prasad, in an e-mail interview.
Genesis of the 'solo parent'
To begin with the solo parent is born out of the changing social order and by interventions of technology in facilitating these changes. As more and more top women emerge in the global economy, women who are near or just past their menopause, who usually do not have good quality eggs, and also do not have a partner, who have jobs, good financial circumstance, but little hope of being a mother. Women have two X chromosomes, a kind of limitation, but this limitation can still be sorted out by creating an embryo that mixed DNA of two women, a process that has been tried successfully in mice. In 2004, Kaguya, the mouse was born without a father. Scientists had manipulated the egg chromosome as though it had come out of a sperm by using one mature and one immature egg. A child born with this technique wouldn't be a clone, because every time a new egg is created, there is a shuffling of DNA. "You can think of this as the technological version of adoption - it's just that the 'adopted' baby grows in their own wombs and they give birth to them. To create a child that is completely genetically belonging only to one person could be theoretically possible," says Prasad. While men have both X and Y chromosomes, both egg and sperm can be generated with their stem cell, and they can be fitted with silicon wombs to carry the baby.
This may still sound to be a maverick, narcissistic idea, Prasad says, "It certainly wouldn't be large scale. I am not suggesting a self-reproducing world but one in which there are new options - granted, some of these options have never existed in all of human history and could change family as we know it." The research had begun with a view to developing therapies for young people who had cancer, or malformed wombs, or early menopause, those with malfunctioning sperm or who have repeated miscarriages. In fact egg donation too started as a therapy specifically for a young woman who had survived cancer but now it is in general use, and in great demand.
Although an artificial womb has already been developed for sharks and something similar was tested on goat foetuses it is hard to say when one will be produced that humans could use, but research is ongoing. "It looks like the generation of sperm and eggs from bone marrow or ovarian stem cells could be in clinical use within 15 to 20 years, plus, transplantation of frozen ovarian tissue has already proven a success," adds Prasad. This would enable women to start having babies well past what is currently their limited reproductive span, it would be something of an equaliser for they would spend more years of their youth making a career, if they choose so. It would also enable gay and lesbian couples to become the genetic parents of their children.
The ethical crisis
The question of solo parent is not if it will happen, but when, believes Prasad. And once it happens, the concept of family, the parent rather than parents will trigger tremendous shift in the structure of society. If the child grows in an ideally created womb, outside the body of mother, free of her genetic problems- something that has already been successfully experimented by reproductive researcher Hung-Ching Liu, who managed to grow the lining for a human womb, using a sort of scaffolding over which cells, cultured from a woman's womb could multiply. She used fertilised egg left over from IVF cycles, the eggs implanted in the artificial womb, just like they do on the sixth day in a 'real' womb. But, her experiment had to end eight days after implantation because researchers are not allowed to grow human foetuses for more than 14 days in a lab, for now. To the question of emotional bonding of such a baby who grows outside the body of parent, Prasad says," Emotions are not esoteric, magical things actually - they are chemical and hormonal responses. They can be simulated, if this is a concern. It's not all about what happens in the womb, though this is important too. There are many more years that emotional support is required once a baby has left the womb."
Another worry is the cost. Infertility treatments are prohibitively expensive even in developed countries - that is why people from Europe and the USA and Japan and Israel go overseas, to places like India and the Ukraine to find cheaper sources for egg donations and surrogate wombs. So, will these technological advances bring any difference to the way babies are made in countries like India? "Clinics in India are cheaper than clinics anywhere else, and they seem to have good results. I think, because India has a record in frugal innovation, these technologies will be adapted to suit the market there," says Prasad
When it happens, it will be just one more adaptation for us humans, one more victory over our 'dependence on nature.'

Reproduction sans sex
* Men and women will be able to make children on their own by using sperm and egg generated from the bone marrow stem cells of a male, or using two re-programmed eggs of a female within 15-20 years.
* Men can be fitted with silicon wombs to carry the baby.
* In 2004, Kaguya, the mouse was born without a father, two eggs were manipulated by the scientists to create X and Y chromosomes.
* An artificial womb has already been developed for sharks and something similar was tested on goat foetuses.
* Transplantation of frozen ovarian tissue has already proven a success
* Similar books on the subject- 'Genetic Maps and Human Imaginations' by Barbara Katz, 'Genome' by Matt Ridley, and 'Here is a Human Being' by Misha Angrist