First installation of Adi Granth
Khushwant Singh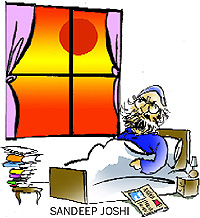 Not many people, including Sikhs, know that Saturday, the first of September, invoked the first time that the Adi Granth was installed as representative of all the Ten Gurus of the Sikhs. I got to know because I keep Bhai Chattar Singh Jiwan Singh's Jeewan Diary beside me on my desk. It is the only diary which records Hindus, Muslims, and Sikhs' historical events, including births and deaths of their holy men. It was in this that I located Guru Gobind Singh's "Bichitra Natak" and many other poems in Sanskrit, Persian and Punjabi. In a brief life span of 40 years, preoccupied with fighting the Mughals, he found time to put his thoughts in poetry. One is particularly significant, as it records why he set up the Khalsa Panth. It reads:
Although my thoughts were lost in prayer/ At the feet of Almighty God/ I was ordained to establish a sect and lay down its rules/ But whosoever regards me as Lord/ Shall be damned and destroyed/ I am – but the slave of God, as other men are,/ A beholder of the wonders of Creation
– Bichitra Natak
In his Zafarnama, he wrote:
I am the destroyer of turbulent hillmen/ Since they are idolators, I am breaker of idols
– Butshikan
Going bonkers
When I wake up, I am not sure if I am getting up after a night's sleep or an afternoon siesta. The daylight appears much the same to me. I wait my daughter, Mala Dayal's arrival to ask about what I would like to eat for my midday meal. I am confused to decide what time of the day it is. It is only then I am able to draw up my schedule of work for the day. And after I have done that I forget to do so.
When my readers ask me: "Have you stopped writing your columns for The Tribune and The Hindustan Times?" I reply bluntly: "No fears! I've never missed one in 70 years". I realise I am going bonkers as I have missed quite a few and am totally confused.
Most people of my age (I am 98) are gone bonkers. Most of my friends call me a crackpot behind my back. I am fully aware of it. There is nothing much I can do. No one can put the clock back. Time moves on at an unrelenting pace.
Rau mein hai raksh-e-umr, kahaan dekhiye tthamey?/ Naa haath hai baagh par; no paa hai rakaab main.
(Life moves on at a galloping pace/ I know not where it will stop./ I do not have my hands on the reins./ I do not have my feet in the stirrups.)
Needless to say, I have accepted the fact that I have gone bonkers.
Doggy joke
One hot summer, a blonde came to town with her dog, tied it under the shade of a tree, and headed into a restaurant for something cold to drink. Twenty minutes later, a policeman entered the restaurant and asked: "Who owns the dog tied under that tree outside?" The blonde said it was hers. "Your dog seems to be in heat", the officer said.
"No way", the blonde replied, "She's cool 'cause she's tied up under the shade of a tree".
The policeman said: 'No, you don't understand. Your dog needs to be bred." "No way", said the blonde. "My dog doesn't need bread. She is not hungry 'cause I fed her this morning."
The exasperated policeman said: "No, you don't understand. Your dog has to have sex!" The blonde looks at the cop and said: "Well, go ahead. I always wanted a police dog".
Courtesy: Vipin Buckshey, Delhi
Papa Tiwari
What new meaning has 'ND' in Tiwari's name acquired?
Ans: 'Now Daddy' Tiwari's.
Tough nuts
What is common between Siachen and Sachin?
Ans: Both are difficult to cope with
Caution
Written outside the chamber of a dera chief:
"Leave your mobiles and worries here."
Contributed by KJS Ahluwalia, Amritsar