last word: Sriprakash Jaiswal
Dial-a-quote mantri with the gift of gaffe
Despite the coal in his eye, Union Minister Jaiswal has weathered the storm over mine allotments with unflinching resolve.
By Anita Katyal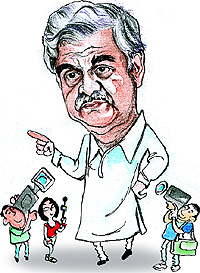 When Sriprakash Jaiswal took over as the Coal Minister last year, he never imagined this relatively low-profile charge would land him in the thick of a raging controversy that has placed Prime Minister Manmohan Singh in the line of Opposition fire and is fast threatening to derail the UPA government.
As the Coal Minister, it has fallen on Jaiswal to communicate the government's side of the story on the latest CAG report on the allotment of coal blocks. And the overwhelming verdict is that the quintessential homespun politician from the Hindi heartland has acquitted himself fairly well, dealing deftly with difficult media queries on what has been dubbed Coalgate. Although he stands out in sharp contrast to English-speaking politicos like P Chidambaram and Kapil Sibal, Jaiswal has managed to hold his own in numerous interviews to national and international television news channels.
"Coal ministry was always viewed as a silent ministry, but now suddenly this explosion has taken place," Jaiswal confesses in his trademark deep voice as he recounts his 35-year-old journey as a junior political activist from his hometown Kanpur to the corridors of power in Delhi. Jaiswal is unfazed at being pushed into the limelight. But then he has had plenty of practice in dealing with the media.
Darling of the media
As Minister of State for Home in the UPA-I government, Jaiswal endeared himself to the media because he was easily accessible and could be counted upon to comment on any subject even if it meant spouting inanities. Known as a "dial-a-quote" mantri, Jaiswal became famous for his well-known opening line to questions ranging from a terrorist attack to a rape case: "Agar apne jo bataya hai woh sach hai, sarkar uski zaroor jaanch karegi."
Jaiswal admits his five-year stint as a junior minister under Home Minister Shivraj Patil proved to be a great "training period". Since Patil was not keen on talking to the media, Jaiswal was invariably deputed to face the cameras. That experience is standing him in good stead now. His party colleagues, who have watched him evolve over the years, are not surprised as, they tell you, he always had "the gift of the gab". Although comfortable speaking in Hindi, Jaiswal has apparently been taking crash courses in English so that he does not feel out of place in Delhi.
But being loquacious also has its downside. Jaiswal has hit the headlines on several occasions for stirring up controversies with his unnecessary statements. He created a stir during the last UP Assembly elections when he said Rahul Gandhi would "remote control" the next state Chief Minister if the Congress was voted to power. He embarrassed the party when he announced that President's rule would be imposed on UP if the Congress failed to get a majority.
Clearly, Jaiswal has come a long way since he took a plunge into politics in 1977 when he joined the Congress after Indira Gandhi lost the elections; and from the early days when he travelled free to Delhi by train as an attendant to freedom fighter Rameshwar Awasthi. His friends in Kanpur say it was his burning ambition to become an MP as he would then be entitled to a free rail pass.
Fiercely ambitious
Although politics was an unusual vocation for somebody coming from a business background (his family has dal mills in Kanpur), Jaiswal took to it like a duck to water. He attached himself to the UP Congress chief Mahabir Prasad and then to senior leaders ND Tiwari and Madhavrao Scindia; was elected mayor of Kanpur in 1989 and held a series of positions in the party organisation before winning his first Lok Sabha election a decade later. Ask anybody from his constituency and they will invariably describe Jaiswal as an affable and polite person.
But beneath this surface, lurks a shrewd politician and businessman. Deeply into factional politics, Jaiswal successfully divided the Congress in his backyard to make sure no second-rung leader was allowed to flourish. At the same time, he kept a sharp eye on his business interests. Proving to be an adept pupil, he soon learnt to turn an adverse situation to his advantage. For instance, when he learnt he was going to be removed as the UP Congress president in 2000 after a year in office, he preempted the move by handing in his resignation and then making it public. A senior Congress leader explained: "Jaiswal is no visionary … he is essentially a nuts and bolts guy."
Plain lucky
There is also a lot going for Jaiswal. "There are two good things about him. One, he has never defected from the Congress, and the other, deep down he is not communal," says Kanpur-based CPM leader Subhashini Ali. This is indeed high praise from a political arrival. But, as she says, he also has been lucky. Contesting his first Lok Sabha election in 1999 when the Congress hit a low in UP, Jaiswal received support from across the political divide as there was a wave against the BJP.
Jaiswal has gone on to win two more elections since. The mantra for his success is accessibility and humility. "I feel incomplete if a single day goes by without meeting members of the public," remarks the self-confessed grassroots politician.