Iron ore export scam: CBI registers 5 cases, raids firms
Tribune News Service & PTI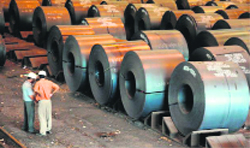 Bangalore/New Delhi, Sept 15
In what could mean fresh trouble for BJP MLA G Janardhan Reddy, the CBI today registered five new cases in connection with the Rs 2,500-crore illegal iron ore export scam and carried out searches at 17 locations, including the premises of associates of the jailed mining baron.
After filing the five new FIRs and a preliminary enquiry, CBI teams carried out a coordinated search operation at 17 locations in Goa and Karnataka, which included the premises of various mining firms and exporters.
Searches were spread across Bangalore, Karwar, Hospet and Goa at the premises of ILC industries, Dream Logistics, SB Logistics, Sri Malikaarjuna Shipping, Greentex Industries, Adani Enterprises and Salgaocar Mining Industries, Swastik Cements, Rajmahal and Softex.
A 10-member CBI team also searched the houses of Karapudi Mahesh, Swastik Nagaraj and Somasekhar, who runs a transport firm, all aides of Reddy, sources said.
CBI sources alleged that over 50 lakh tonnes of iron ore was illegally exported and four exporters -- ILC, SB Logistics, Dream Logistics -- and Shree Mallikarjun Shipping Pvt Ltd were involved in half of these exports. Adani has said in a statement that the company was a mere service provider and was not in a position to check mandatory clearances/permissions/permits as it does not have the authority to do so.
"The Central Bureau of Investigation has registered five cases and one Preliminary Enquiry against certain firms and exporters in connection with alleged illegally excavated iron ore to the tune of 50 lakh MT worth Rs 2,500 crore (approx) and subsequent export of the same from Belekeri Port in Karnataka in pursuance to the order dated 07.09.2012 of Hon'ble Supreme Court of India in Writ Petition (Civil) No. 562/2009. Searches are being carried out today at 17-places in Bangalore, Karwar, Hospet and Goa," a CBI press release said.
The Supreme Court had pulled up the Karnataka Government for claiming ignorance over massive illegal mining in its own forest reserves and transportation of minerals to the Belekeri port over a period of 17 months.
50L tonne exported

CBI sources said over 50 lakh tonne iron ore was illegally exported

Four exporters — ILC, SB Logistics, Dream Logistics — and Shree Mallikarjun Shipping Pvt Ltd were involved in half of these exports

The apex court had pulled up Karnataka government for claiming ignorance over massive illegal mining in its own forest reserves