CPM to hold protests over diesel price hike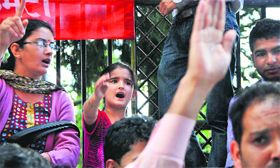 Shimla, September 15
Seeking an immediate roll back, the CPM will hold massive protests on September 17 across the state against the steep hike in the price of diesel and capping of supply of subsidised LPG cylinders.



CPM activists raise slogans against Foreign Direct Investment in retail in Shimla on Saturday. Photo: Amit Kanwar

Provide subsidy on LPG, state govt urged
Shimla, September 15
BJP legislator Khushi Ram Balnatah today requested Chief Minister PK Dhumal to remove VAT from diesel and provide subsidy on LPG to provide relief to consumers rather than just blame the Centre for the price hike.
Shanta is adamant
Shimla, September 15
With Rajya Sabha MP Shanta Kumar refusing to soften his stand, the core group of the Bharatiya Janata Party (BJP) which met in Delhi last night failed to resolve the contentious issues of accommodating Ravinder Ravi and Rajeev Bindal in other constituencies and taking back Independent MLA Rakesh Pathania.
Shanta inaugurates girls' hostel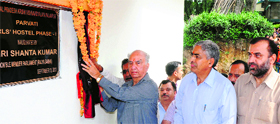 Palampur, September 15
Member of Parliament Shanta Kumar has sanctioned Rs 25 lakh from his MP Area Development Fund for the construction of a boundary wall of a girls' hostel at CSK HP Agriculture University here today.

Shanta Kumar, MP and national vice-president of the BJP, inaugurates a girls' hostel in Palampur. Photo: Ravinder Sood

Ashapuri village still in state of shock
Palampur, September 15
This small village with only 30 houses has lost 23 persons in the worst-ever road accident in the history of the Kangra valley.
Borrowed staff at new sub-tehsil hits work
Nurpur, September 15
The state government has taken no financial nod and created no posts to run the new sub-tehsil of Nagrota Surian in Jawali subdivision declared by the government on March 3.
Lawrence School wins declamation contest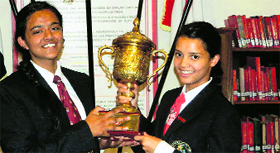 Sanawar, September 15
Lawrence School, Sanawar, bagged the overall trophy for an inter-school English declamation competition held at Sanawar where teams, including Army Public School, Dagshai, Daly College, Indore, MGD Girls School, Jaipur, Rashtriya Military School, Chail, St George's College, Mussoorie, St Mary's Convent, Kasauli.

The winning team with the trophy at Lawrence School at Sanawar on Saturday.

Protesters seek Aman's release from Somalian pirates
Kangra, September 15
A rally was taken out today to draw the attention of the government to the case of Aman Kumar, held hostage by Somalian pirates since November 2010. The pirates' deadline ended today.
Govt for women empowerment
Bilaspur, September 15
The BJP government has done a lot for empowerment of women. It has given them 50 per cent reservation in local bodies and panchayats and other facilities.
Engineers Day celebrated
Kangra, September 15
In remembrance of Sir Mokshagundam Visvesvaraya, the engineering fraternity of the Government Polytechnic here today celebrated Engineer's Day on his 147th birthday.