Lawrence School alumnus is Nepal Army Chief


Solan, September 10
Lt Gen Gaurav Shumsher Jung Bahadur, a 1972 batch pass-out of Lawrence School, Sanawar, was elevated as the Army Chief of Nepal yesterday. Son of a former Major General, Bahadur had joined the school on March 1, 1962, in lower kindergarten.
Traders seek restoration of IT Commissioner's office
Palampur, September 10
Beopar mandals of Palampur, Kangra, Nagrota Bagwan, Jwalamukhi, Pragpur and Dehara Gopipur in separate resolutions yesterday demanded the restoration of the office of Commissioner of Income Tax-Appeals (CIT-A) at Palampur.
20 students injured as minibus hits tree
Nurpur, September 10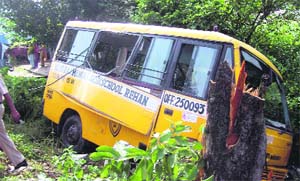 As many as 20 students of Hans Raj Memorial Senior Secondary School, Rehan, near here, were injured, five of them seriously, when the minibus taking them to the school met with an accident today. The overloaded and speeding minibus belonging to the school hit a roadside tree at Bharal leading to the accident.
An overloaded minibus of a private school hits a tree at Rehan near Nurpur on Monday. Photo: Rajiv Mahajan
Three-day auto fair concludes
Bilaspur, September 10
A three-day auto fair organised by Hindi daily Divya Himachal in collaboration with over a dozen automobile distributors concluded at Raura Sector yesterday.
BJP cheating people on ambulance scheme, says Virbhadra Singh
Shimla, September 10

Lambasting the BJP government for taking false credit by renaming centrally sponsored schemes, HPCC president Virbhadra Singh said today that the much-publicised Atal Swasthya Sewa Yojna was part of the Emergency Response and Transport System Scheme of the Centre under which 4,500 ambulances were operating across the country in 22 states carrying over 20,000 patients daily.

HPCC president Virbhadra Singh listens to people at the Congress office in Shimla on Monday.

No collection of motor vehicle tax, HC summons Principal Secretary
Shimla, September 10
Taking a serious note over the issue of non-collection of motor vehicle tax by government officials, the HP High Court has summoned the Principal Secretary (Finance) before the court on October 15. The court has also sought an explanation from him on what action has been taken against those officers who were apparently guilty of grave dereliction of duty in not collecting motor vehicles tax, both from on and off road buses.
State electricity board employees stage dharna
Shimla, September 10
Members of the State Electricity Board Employees Union staged a dharna during lunch hour across the state in support of their demands. The main protest was held in front of the Vidyut Bhawan Complex, headquarters of the board, here today.
300 Class III employees stopped from taking promotion test
Hamirpur, September 10
More than 300 Class IV contractual employees of various state government departments, who were debarred by the Himachal Pradesh Subordinate Services Selection Board (HPSSSB) from taking a computer typing test after clearing a written test, are up in arms against the decision. The aggrieved candidates have decided to meet the Chief Minister and take up the issue.
Reservation in promotions opposed
Bilaspur, September 10
The District Brahmin Sabha, at a meeting held here today, has decided to oppose political leaders and parties advocating reservation in promotions. According to the decision, the parties which support the move in Parliament will not get votes from the Brahmin community.
HPSEB employees burn effigy of power secretary
Nurpur, September 10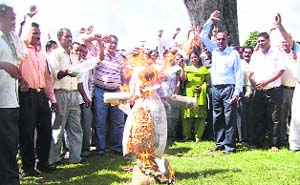 On a call given by the state body of the Himachal Pradesh State Electricity Board (HPSEB) Employees Union, hundreds of employees of local units held gate meetings and protest demonstrations at Nurpur and Bodh today. Led by state vice-president of the union Pawan Mohal, the agitating employees also burnt an effigy of power secretary Deepak Shanan to protest against his anti-board and anti-employee policies.
HPSEB employees hold a protest demonstration in Nurpur on Monday. Photo: Rajiv Mahajan
Appoint HPCCL MD from state cadre: Assn
Mandi, September 10
The Project Engineers' Association today warned the state government that if any outsider was appointed Managing Director (MD) of Himachal Pradesh Power Corporation Limited (HPPCL), they would move the high court against the same.
Public Information campaign from today
Mandi, September 10
Rural Development Minister Jai Ram Thakur will inaugurate a three-day Bharat Nirman Public Information campaign at Sundernagar tomorrow. It will get feedback from the public on Centrally sponsored schemes.