Dhumal keeps up inauguration drive
Karsog (Mandi), September 4
Apart from attacking the previous Virbhadra Singh regime on the issue of development, Chief Minister PK Dhumal today said over 4.5 lakh farmers in the state had got themselves registered for the setting up of vermi-compost units.
Kaul Singh takes on Virbhadra, Dhumal
Mandi, September 4
Criticising the expulsion of certain Congress workers by Virbhadra Singh, Drang MLA and former state Congress chief Kaul Singh Thakur today expressed faith in Congress president Sonia Gandhi, saying she would do justice to Mandi by maintaining a regional balance.
SJVN to enter thermal power sector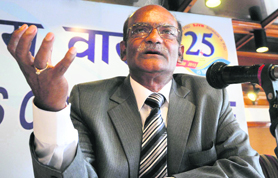 Shimla, September 4
After venturing into renewable wind and solar energy, public-sector hydro-power major Sutlej Jal Vidyut Nigam (SJVN) is all set to enter the thermal power sector with a 1,320-MW plant in Bihar. The Rs 9,000-crore project based on super-critical technology will come up at Chaunsa on the Bihar-Uttar Pradesh border. It will have two units of 660 MW each and its capacity will be expandable up to 2,000 MW.
RP Singh, MD of SJVN, addresses mediapersons in Shimla on Tuesday. Photo: Amit Kanwar

Project engineers stake claim to MD's post
Shimla, September 4
The Project Engineers Association has urged the government to fill the post of Managing Director (MD) of the Himachal Pradesh Power Corporation Limited from the project engineer cadre keeping in view their seniority and experience in the field of hydroelectricity.
Civil Hospital sans specialists
Karsog (Mandi), September 4
People of the Karsog subdivision, which has the largest Dalit population in the district, today got a 60-bedded Civil Hospital building after 10 years and at a higher cost of Rs 2.9 crore, but they still required specialists, a gynaecologist in particular, as the hospital continued to function as a community health centre despite its upgrade in 1999.
Devotees throng Vashisht Rishi temple
Manali, September 4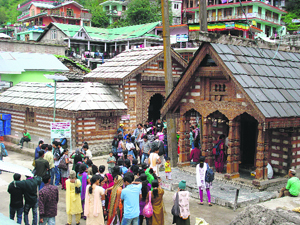 On the occasion of "Bees Bhadon", the 20th day of the Bhadon month, hundreds of devotees thronged the Vashisht Rishi temple and hot water springs today to take a dip. The "Bees Bhadon" holy dip holds a special significance for residents of the Kullu valley. On this day, devotees also visit the Bhrigu Lake, Dashaur Lake, Chandertal Lake, Beas Kund and Beas Rishi situated at an altitude of 14,000 ft to 15,000 ft to take a dip, while the elderly take a dip in the Beas, Nehru Kund and Manikaran.
Devotees throng the Vashisht Rishi temple and hot water springs near Manali on the occasion of "Bees Bhadon" on Tuesday. Photo by writer

Fissures in BJP over rally venue
Solan, September 4
The Chief Minister's proposed visit to Nalagarh on September 6 to address a rally has become a bone of contention between BJP leaders and a retired official, with each faction vying for the BJP ticket.
2 Nepalese workers killed in blast
Mandi/Sainj, September 4
Two Nepalese workers working in a powerhouse of the 100-MW Sainj hydropower project executed by the HP Power Corporation on the Sainj river killed while one was injured when a detonator developed a suspected leakage and exploded due to a short-circuit.
Three-day Hamir Utsav ends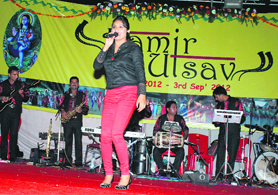 Hamirpur, September 4
The three-day Hamir Utsav concluded here last night with playback singers Arshpreet Kaur and Abhijit Ghoshal performing at the last cultural evening of programme. IPH Minister Ravinder Ravi was the chief guest, who inaugurated the cultural evening by lighting a traditional lamp. In the beginning of the cultural evening, schoolchildren and artistes of local musical groups also gave their presentations.
Arshpreet Kaur performs on the concluding day function of Hamir Utsav in Hamirpur on Monday night. A Tribune photograph

Praveen is chairperson of Central excise board
Chamba, September 4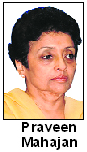 Praveen Mahajan has been made chairperson of the Central Board of Excise and Customs (CBEC) of the Union Ministry of Finance. A native of Chamba, Praveen is a daughter of late Padma Shri Kailash Chand Mahajan, an illustrious ex-chairman of the HP State Electricity Board. People of the state, especially Chamba district, conveyed gratitude to Prime Minister Manmohan Singh and Finance Minister P Chidambaram for giving this opportunity to Praveen. Praveen, who is the first woman in the country to head the CBEC, joined the Indian Revenue Services in 1976 and held many important assignments in the department, including Member (P&V), from August 1, 2011, before the present assignment.
Minister opens Rangers' college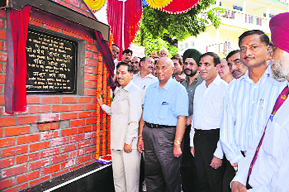 Sundernagar, September 4
Forest Minister Khimi Ram today laid the foundation stone of the administrative block of the Forest Training Institute and Rangers College, Karnody, Sundernagar, at a cost of Rs 2 crore. He formally inaugurated the Rangers' college, the classes of which were started last week.
Forest Minister Khimi Ram lays the foundation stone of the administrative block of the Rangers' college in Sundernagar on Tuesday. Photo by writer

Proclaimed offender held
Chamba, September 4
The police arrested a proclaimed offender (PO) Ganesh Kumar from Killar township, headquarters of Pangi tribal sub-division in Chamba district, on Sunday, Deputy Superintendent of the Police (DSP) Kulbhushan Verma stated this here today.
Forensic lab Director's appointment hailed
Mandi, September 4
The State and Regional Forensic Lab Employees' Association today hailed the appointment of Dr Arun Sharma, who joined as Director, State Forensic Science Laboratory, Junga, today.