| | | |
| --- | --- | --- |
| | OPED — THE ARTS | |
Century old patience or perseverance
For a Nobel in Literature
India's multicultural, multilingual and multidisciplinary authorial landscape is unusual and unique, yet the global recognition it deserves has eluded it
Rajvinder Singh


It happened 100 years ago: 'Gitanjali', a collection of songs written originally in Bengali, was translated in prose by the poet himself. Y B Yeats, celebrated English poet, and a friend of Tagore wrote an introduction to 'Geetanjali,' for the world to savour its beauty.
India is world's most productive, diverse, erudite and competent laboratory of literature in which authors, both acclaimed as well as lesser known masters, from 24 officially recognised languages are producing literature with expertise in basic and deep rooted human vocations.
But after the 1913 Nobel Prize for literature for Rabindranath Tagore, the first ever and the sole one till date, Indians have been required to wait for almost one hundred years now for further recognition of their rich literature depicting India's literary thought expanded into multiple geographical, cultural, and intellectual domains. Multiple factors are responsible for this long wait.
Recent years have witnessed a quantum leap in the enhancement of India's image on the global economic scene. As it happens, the nation now enjoys considerable growth in the profound and dynamic interest in its scholarship and culture the world over. Many Indian writers today are rated amongst the best in the world. Consequently, India has become the only country in the world to have been made twice the Focal Theme of the Frankfurt Book Fair, world's largest trade fair for books and literature, firstly in 1986, and then again in 2006.
As a German language freelance writer of Indian origin having lived in Berlin for the last 31 years I have been closely connected with these events as coordinator as well as literary presenter, besides teaching semiotics at various German universities. Time and again I have felt very strongly about one saddening fact looming over these unique honours, which has been very detrimental to the vast literary edifice of India so uniquely diverse and rich.
Through the yearly Nobel Prize for Literature, best writers from all languages of the world are being felicitated for their outstanding works. But for almost one century competent Indian writers have been left out consecutively from these honours. Why?
My charge here does not contain a lament but rather a challenge which speaks via a dual speaker outlet, like that of a double-barrel-gun, whose one direction is aiming inwardly, at the various curatorial literary authorities of India, who have failed to promote and propagate Indian Literatures in the wider world over the decades, and the other at the outward, world agencies, who have for almost a century been inhospitable to Indian Literature being written in as many as 24 different languages. With that India is the only country in the world (after the demise of the Soviet Union) in which so many nationally recognised languages, markedly different from each other, are being used parallel for literary production.
The 'Inwards'
The poignant one-sidedness of Indian Literature presented abroad all these years has been very conspicuous. Conceding a very few exceptions, the Indian writers known in the world are all English language writers. However, though we generally treat Indian English as one of our own languages, a vast and much larger variety of Indian literature is being written in the indigenous languages we call regional or modern Indian languages. That literature has absolutely failed to attract the attention it deserves from the wider world as, with the exception of a few scattered examples, it has found virtually no exposure on the world literary scene.
Why have these literatures been marginalized globally for so long?
The reasons are manifold. Two most important being, firstly, the unavailability of translations of these works into English or other prominent languages of the world, and secondly, which partly gives rise to the first, is the lack of availability of credible sympathetic introductions to these literatures in English or other world languages. This effort could have been seen as giving an overview pertaining to selected important works, their authors, and the extent of their achievements in their particular literary fields.
Therefore, in order to fill this painful vacuum and to do justice to the vast and diverse literary world of India, as National fellow at the Indian Institute of Advanced Study (IIAS), Shimla, I am attempting, in a book form, to make it visible like a coherent mosaic by putting forward an academically creative hybrid portrait of the literatures of the modern Indian languages, which should help disseminate the concrete and multi-layered knowledge about its entity, its richness as well as its distinctiveness. With its inherent synergies, this soul-searching venture into a multifaceted literature, which until recently had been still coming to terms with its legacy of partition and is now putting its innovative strength forward, is designed to encourage and stimulate the significant collaborative forces such as international translators and publishers, literary journalists and critics, but also much wider world readership to help establish a far greater interaction with and enhanced interest in the real Indian literary thought.
And the 'Outward'
Indian literatures, as entities, have existed as meaningful categories nearly as long as the languages themselves. And Indian literary culture can go back farther in history than the emergence of many other civilisations.
Alfred Nobel, who was a man of versatile cultural interests and having himself tried his hand at fiction, had cultivated a particular interest in literature throughout his life. He had, in his will, clearly stated that the Nobel Prize for literature would go to "…the person who shall have produced in the field of literature the most outstanding work in an ideal direction ...".
No one knows though what he meant by that "ideal direction", but in the case of India, that clause is amply qualified by its many literatures which unify people across religions, regions and cultures, propagating a sense of tolerance one cannot find anywhere else. Its multi-cultural, multilingual and multidisciplinary authorial landscape is unusual and unique, giving expression to a treasure-trove hard to find in any other corner of the world. The works of established Indian language writers, as well as other unexplored writers who have brought about a paradigm shift to impress upon the vibrant nature of Indian language literature. They have not been receiving the attention that is due to them.
Works in an ideal direction
In their works both 'the technique involved' and the 'standard of language used' is recognisably high. Seen through an unparalleled sensory energy and seasoned in the finer nuances of varied artistic styles these works give us an insight into the contemporaneity of the particular Indian culture they depict. Be it Gurdial Singh or Surjit Pattar in Punjabi,U R Ananathmurthy in Kannada, Vijaydan Detha in Rajasthani, Mahashveta Devi or Sunil Ganguly in Bengali, Sitakant Mahapatra or Yashodhara Mishra in Oriya, MT Vasudevan Nair or Satchidanandan in Malyalam, Gulammohammed Sheikh or Sitanshu Yashaschandra in Gujarat, Namdeo Dhasal or Bhalchandra Nemade in Marathi, or be it late Nirmal Verma in Hindi or late Indira Goswami in Assamese, all of them are world class writers essentially contextualised in the present time depicting the sheer future-oriented idiosyncrasy of theirliterary aesthetic, narrative language and style.
Why the world has then been blind for so long to these excellent literatures being written in these languages?
No matter whether it is ignorance of the world about the Indian languages literature, or a simple rebuff, it is by all means scandalous.
I, therefore, hereby call upon cultivated but non-professional, as well as professional literary audience of India to knock at the Nobel Committee's and Nobel Researchers' doors, as well as the other nominating agencies, who have been inhospitable to Indian literatures for almost a hundred years, to remind them that the Indian languages are not dialects, and that the literary works being written in them are not of lesser value than the ones which have been honoured with the Nobel awards in the last few decades.
We have one whole year to expose the limits of Nobel search committee, as well as of the nominating agencies, and help them equip themselves to be able to look into the mature writings available in the vast range of diverse Indian languages and "evaluate" the rich and diverse Indian literature having inherent deep connections to their subject matter.
And I remind the fraternity of Indian publishers that we have one year's time to make the world acquainted with the world class literatures being written in India today.


Such a long journey
Every year, in the month of September, the Nobel Committee of the Swedish Academy, Stockholm, the institute entrusted with awarding the Nobel Prize in Literature, begins officially the search for the next Nobel Laureate from the possible candidates nominated for the award. At the same time the invitation letters are also sent to qualified persons to nominate the candidates for the following year. So the invitation letters to nominate 2013 Laureate are being sent in these days.
February is the deadline for the submission of nominations. Between April and May the process of selecting first the preliminary and then the short listed candidates is completed and forwarded to the 18 members of the Swedish Academy, known as the "eighteen mighty". Between June and August
they are busy reading the books of the short listed candidates whose number can vary from three to five. From early September till the first week of October is then the crucial period when the final winner is established to be announced, latest by 10th October.
Despite limitations of translation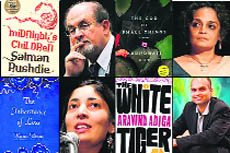 The identity of Indian literature is limited to a handful of writers writing in English.
"I have carried the manuscript of these translations about with me for days, reading it in railway trains, or on the top of omnibuses and in restaurants, and I have often had to close it lest some stranger would see how much it moved me. These lyrics—-which are in the original, my Indian friends tell me, full of subtlety of rhythm, of untranslatable delicacies of colour, of metrical invention—-display in their thought a world I have dreamed of all my life long. The work of a supreme culture, they yet appear as much the growth of the common soil as the grass and the rushes. A tradition, where poetry and religion are the same thing, has passed through the centuries, gathering from learned and unlearned metaphor and emotion, and carried back again to the multitude the thought of the scholar and of the noble. If the civilization of Bengal remains unbroken, if that common mind which—-as one divines—-runs through all, is not, as with us, broken into a dozen minds that know nothing of each other, something even of what is most subtle in these verses will have come, in a few generations, to the beggar on the roads."
From the introduction to 'Geetanjali' by W. B. Yeats to Sir William Rothenstein, who drew a series of portraits of Tagore.
The writer is the initiator of the campaign: Nobel for India 2013. He is a German language poet of Indian origin, at present National Fellow at the Indian Institute of Advanced Study, Shimla.