Woman thrashes trader over parking in Panchkula
Panchkula, September 4
High drama was witnessed when a 32-year-old woman allegedly thrashed a shopkeeper and created a ruckus over a parking issue in Sector 9, Panchkula, this afternoon. It was only after the police reached the spot that the situation could be brought under control.
PU hostels raided ; 10 outsiders nabbed
Chandigarh, September 4
Barely a few hours after the Chandigarh police launched a campaign to check the identity cards of students campaigning on the Panjab University (PU) campus, raids were conducted on three boys' hostels during the wee hours today in which 10 outsiders were nabbed.
UT police set to acquire 'Segway' for patrolling
Chandigarh, September 4
Moving a step ahead in technology, the UT police is set to acquire a 'Segway' for better patrolling in the city. The light-weight battery-operated vehicle will soon be seen with policemen while chasing thieves and snatchers in crowded areas.
Attendant molested at GMCH; accused held
Chandigarh, September 4
A woman attendant at the Government Medical College and Hospital (GMCH), Sector 32, here was molested inside a ward of the hospital allegedly by a male attendant last night.


PU Vice-Chancellor acts traffic marshal
Chandigarh, September 4
Panjab University Vice-Chancellor (VC) Arun Grover today meant business while enforcing the traffic law on wearing of helmets. Falling in the footsteps of previous Vice-Chancellor RC Sobti, Grover has categorically told the students not to drive two-wheelers without wearing helmets.
Panjab University VC Arun Grover reacts sharply during a meeting with student leaders over the helmet issue at his office in Chandigarh on Tuesday. Tribune photo: Pradeep Tewari
Metro trains will be gradually increased to 52 in 2041
Chandigarh, September 4
In order to cater to ever-rising population and to meet future demands, the Delhi Metro Rail Corporation (DMRC), in its detailed project report (DPR), has suggested that for the residents of the tricity region the number of Metro trains, which will be 16 in 2018, will be increased to 52 in 2041.
'Fake SP earned Rs 50 lakh a month'
Panchkula, September 4
In a major revelation of the fake IPS officer case, the police has revealed that the accused had a monthly income of Rs 50 lakh. The police has also revealed that three persons from Chandigarh were also involved with him in the racket and his network was spread till Mumbai.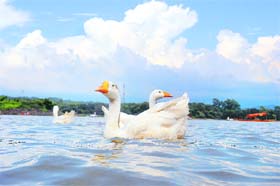 Picture perfect:

With a record rainfall in August breathing a new life into the Sukhna Lake, ducks are back on the scene. Tribune photo: S Chandan
6,000 apply for 226 posts of TGT
Chandigarh, September 4
More than 6,000 applicants, who have cleared central teachers eligibility test (CTET), applied for 226 posts of trained graduate teacher (TGT) advertised by the UT education department on August 14. Advertised under the Sarv Shiksha Abhiyan Society, UT, on a contractual basis, the last date to apply for these posts was September 4.
Verka takes steps to keep milk quality intact
Mohali, September 4
To keep the quality of milk intact till it reaches consumers, the Verka milk plant in Phase VI has decided to provide insulated shippers to its dealers at a cost of Rs 45 lakh. It has also decided to make sweets available throughout the year at the plant outlet .
Prevention of Atrocities
Rules for SCs/STs amended
Chandigarh, September 4
The Chandigarh Administration has revealed that the Centre has made amendments to Annexure-1 of the Schedule to the Scheduled Castes and Scheduled Tribes (Prevention of Atrocities) Rules, 1995, leading to an increase of 150 per cent generally in the minimum scale of relief for the victims of atrocities.
60 attend workshop on infections at PGI
Chandigarh, September 4
The "asian tiger mosquito", which breeds in artificial collection of water, in urban areas, has been found to affecting people during the daytime and causing fatal diseases like dengue and chikungunya.


DC reviews work on projects
Mohali, September 4
To ensure usage of good quality material in developmental projects, the Mohali deputy commissioner today visited various spots where such work was being undertaken.



Mohali Deputy Commissioner Varun Roojam checks the quality of paver blocks being used in parks and foothpaths in the town. A Tribune photograph
Secretaries' meeting on Kajauli waterworks today
Chandigarh, September 4
The Civic Body authorities will discuss the issue of Kajauli water with the UT Administration on Wednesday. A special meeting has been convened by the the UT Administration which will be attended by the officials of the administration, the Municipal Corporation and the Chief Secretaries of Punjab and Haryana.



Law dept loses its dominance
Chandigarh, September 4
The dominance of Panjab University's (PU) law department, which was considered as the nursery for budding leaders, has faded away following the Lyngdoh Committee recommendations.



Supporters of SOPU campaign near BDS College, Sector 25, Chandigarh, on Tuesday. Tribune photo: Pradeep Tewari




PUSU president's pending dues: Rs 85,000
Chandigarh, September 4
Barely three days before the student elections, the Student Organisation of Panjab University (SOPU) exposed the controversy regarding pending hostel and mess dues of Panjab University Student Union (PUSU) president Sukhjeet Singh Brar, amounting nearly Rs 85,000.


Members of SOPU protest outside the Vice-Chancellor's office against the university's failure to take action against the PUSU chief in Chandigarh on Tuesday. Tribune photo: Pradeep Tewari

Topper to be GGSCW president
Chandigarh, September 4
The 2011 topper will be the president of the Guru Gobind Singh College for Women (GGSCW), Sector 26. After the only nomination filed for the post of president got cancelled, the college has decided to appoint the meritorious student as the college president.
A file photo of the Guru Gobind Singh College for Women, Sector 26, Chandigarh.



Teacher's Day Today
Teaching runs in their veins
Chandigarh, September 4
Education runs in their veins. Meet these school teachers and principals from the city who are into teaching more by choice and inspiration and belong to families having three generations into the teaching profession.


Students celebrate Teacher's Day at Shivalik Public School at Phase VI in Mohali on Tuesday. Tribune photo: Vicky Gharu
Mohali Police asks for reserve force from Patiala
Mohali, September 4
With three back-to-back shootout cases involving students of Panjab University (PU) in the area in a span of less than five months, the Mohali Police is overcautious for the forthcoming student elections at Panjab University (PU) on September 7.
INSO leaders 'thrash' UIET student
Chandigarh, September 4
A student of the University Institute of Engineering and Technology (UIET) today alleged that he was beaten up by leaders of the Indian National Students Union (INSO) at their party tent erected in the PU campus.
Ensure violence-free polls: VC
Chandigarh, September 4
Vice-Chancellor (VC) Arun Grover interacted with college principals and student leaders today in the wake of student council elections to be held on September 7. The student leaders were warned that excess expenditure can lead to cancellation of candidature.
ISB announces scholarships for Rs 2.5 cr
Mohali, September 4
The Indian School of Business (ISB) has announced "Diversity Scholarships" totalling Rs 2.5 crore for its students of incoming PGP class session 2013-14. The scholarships are part of the school's total scholarship outlay of about Rs 8 crore, comprising both merit-based and need-based scholarships.
PU prof is member of minorities commission
Chandigarh, September 4
Ajaib Singh, a Panjab University teacher, is all set to join the National Minorities Commission (NMC) as a member against the vacancy created after the retirement of former Rajya Sabha member and ex-chief of Punjab Pradesh Congress Committee (PPCC), HS Hanspal.