NHAI takes steps to prevent accidents on NH-21
Mandi, September 12
To prevent the increasing number of accidents on the Chandigarh-Manali National Highway (NH)-21, the National Highway Authority of India (NHAI) has put up crash barriers, sign boards and white lines on 45 black spots out of the 75 accident-prone black spots on the highway between Ghara Morha and Manali. The police too has put up close-circuit television (CCTV) cameras to keep an eye on the offenders.

Land deals: Satti dares Virbhadra to open debate
Shimla, September 12
Accusing the Congress of misleading the public on the issue of land deals made in violation of the norms, state BJP chief Satpal Singh Satti today dared HPCC chief Virbhadra Singh to an open debate with Chief Minister PK Dhumal with facts and figures so that people could know the truth.
State BJP president Satpal Satti addresses mediapersons in Shimla on Wednesday.

Sirmaur witnessing speedy development: CM
Solan, September 12
Chief Minister PK Dhumal said today that the BJP government had accelerated the pace of development in Sirmaur, which had remained neglected during the Congress regime.

Shanta accuses political parties of tarnishing image
Palampur, September 12
Shanta Kumar, MP and vice-president of the national BJP, said today that a sinister campaign had been launched against him by certain political parties for the past one month to tarnish his image. The media had also reported that Shanta Kumar joined hands with corrupt politicians of the state, he said. Shanta termed such media reports false and far from truth.
BJP on path of dynasty politics
Shimla, September 12
Grappling with the rising trend of "dynasty politics" in its own rank and file just like the Congress, the state BJP leadership is facing a tough time with requests pouring in from senior leaders for accommodating their sons and wives in their Assembly segments in the coming polls.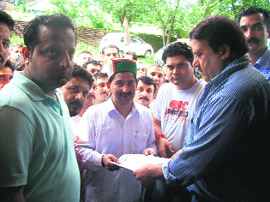 Congress holds protest
Kangra, September 12
Congress workers, led by HPCC spokeman Kewal Singh Pathania, took out the rally through the main market of Shahpur raising slogans against the government for its failure on all fronts and against ignoring the common people. They also submitted a memorandum to the Tehsildar, Shahpur, for its onward transmission to the Governor of the state.
Congress workers hand over a memorandum to the Tehsildar at Shahpur on Wednesday. Photo: Ashok Raina

Workshop on krishi vigyan kendras begins
Palampur, September 12
The two-day annual workshop of the 12 krishi vigyan kendras (KVKs) of the state got underway at CSK Himachal Pradesh Agriculture University here today. The workshop is being jointly organised by the Zonal Project Directorate of the Indian Council of Agricultural Research (ICAR), Ludhiana, and the Directorate of Extension Education of the University.
CD case: Court reserves order for Sept 15
Shimla, September 12
The special court reserved its order on the application filed by the prosecution for cancelling the bail granted to former Union Minister Virbhadra Singh for September 15 in the alleged CD case.
Panel formed to keep tab on 'paid news'
Chamba, September 12
The schedule for the Assembly elections in Himachal Pradesh is yet to be announced, but the Election Commission (EC) of India has shown its preparedness by gearing up official machinery for the conduct of free and fair elections.
Tractor unit workers stage protest dharna
Solan, September 12
Employees of Indo Farm Tractors, Baddi, struck work yesterday in protest against the suspension of an employee by the unit management.
Bus stand project: Govt, Mandi Bachao Morcha on collision course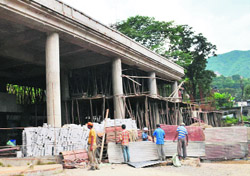 Mandi, September 12
The convener of Mandi Bachao Morcha (MBM), Lakshmender Guleria and the government are on the collision course over the inauguration of Rs 16-crore bus stand project as MBM has sought a stay on the grounds that "its inauguration is illegal as bus stand is half-complete".


A part of the under-construction bus stand in Mandi. Photo: Jai Kumar

State-of-the-art data centre for HPPCL
Shimla, September 12
Himachal Pradesh Power Corporation Limited (HPPCL) will be able to run various complicated businesses, administrative and other functions with the setting up of a state-of-the-art data centre here.
High Court acquits CPM leader
Shimla, September 12
The High Court has acquitted former MLA and CPM leader, Rakesh Singha, who was sentenced by the Sessions court, Rampur, for two years rigorous imprisonment for voluntarily causing grievous hurt to deter public servant from duty.
Cong leader asks Shanta to clarify stance on corruption
Bilaspur, September 12
State Congress general secretary and former Forests Minister Ram Lal Thakur has asked BJP national vice-president Shanta Kumar to explain his earlier stance of criticising the state government on issues such as "rampant corruption" and his "U-turn" in supporting the same government from joint platforms with the leaders he had earlier accused of corruption.
Samiti to boycott BJP leaders against district status demand
Palampur, September 12
Members of the Palampur Zila Banao Sangharsh Samiti have decided to expose the names of BJP leaders allegedly opposed to the demand of the district status for Palampur. Their opposition had forced Chief Minister Prem Kumar Dhumal to postpone the creation of new districts in the state, they said.
BJP announces state poll panel
Shimla, September 12
The BJP today announced its State Election Committee headed by state party president Satpal Singh Satti. The 19-member committee has four special invitees, including in charge of party affairs in Himachal Kalraj Msihra, national BJP general secretary JP Nadda, BJP co-in charge Shyam Jaju, and Hamirpur MP Anurag Thakur.
18 injured as bus overturns, driver held
Bilaspur, September 12
At least 18 passengers were injured, one of them seriously, when a private bus on way from Nangal to Naina Devi shrine, overturned at a sharp turn, 108 km from near the Bhakra Dam yesterday.
2 held for woman's death
Bilaspur, September 12
The police has arrested two persons for the death of a woman allegedly due to harassment.
Date extended
Shimla, September 12
The Himachal Pradesh University (HPU) has extended the last date for the submission of admission forms for the Master of Computer Application (MCA) course of the International Centre for Distance Education and Open Learning (ICDEOL) to September 15.
CM wishes Shanta on birthday
Solan, September 12
Chief Minister PK Dhumal has congratulated Shanta Kumar, Senior Vice-President, national BJP and former Chief Minister on his birthday today.