Cong regimes doomed to go, says Chautala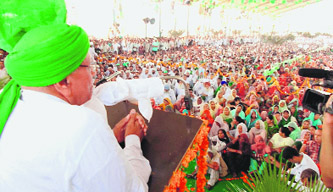 Rania (Sirsa), September 12
Former Chief Minister and Indian National Lok Dal supremo Om Prakash Chautala today said the Congress governments at the Centre and in Haryana were doomed to exit soon as the people had made up their minds to get rid of the party due to alleged scams by its leaders while addressing a parivartan rally at Rania today.
INLD supremo Om Parkash Chautala addresses a public meeting at Rania village in Sirsa district on Wednesday. Photo: Manoj Dhaka

Assault on SDO
Public apology sought from Fauji
Chandigarh, September 12
With pressure mounting on either side to resolve the dispute following the alleged assault on a Bhiwani public health subdivisional officer at the behest of Chief Parliamentary Secretary Ram Kishen Fauji, the district administration today tried to find a middle path to put an end to the controversy.
Formation of HR panel put in cold storage
Chandigarh, September 12
The Haryana Government seems to have put the constitution of the human rights commission in cold storage. Almost four months after a committee, headed by retired high court judge Justice IP Vashist constituted by the Haryana Government to assist a high-powered committee, reportedly proposed four names for the chairman of the commission, the state government has failed to show any urgency and is yet to take a final call on the issue.
Dealing With Mayhem
Maruti trains officials in basic combat
Gurgaon, September 12
In a bid to help its executives recover from shock of the July 18 mayhem, Maruti Suzuki India Limited, has come with a scheme. The company has hired the services of a martial arts trainer, who will train the officials in basic combat and self-defence techniques. Sources said the executives of MSIL's production units at Manesar and Gurgaon will be given lessons on handling violent situations and basic self-defence skills.
MDU hostellers' stir enters 6th day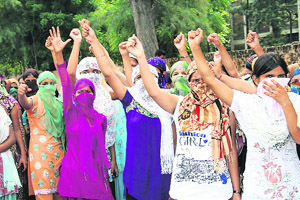 Rohtak, September 12
The agitation by MDU girl hostellers here entered its sixth day today, with the protesters staging a demonstration outside the office of the Vice-Chancellor this morning. They submitted a memorandum seeking the suspension and removal of a hostel warden allegedly responsible for their problems.
MDU girl hostellers stage a demonstration outside the VC's office in Rohtak on Wednesday. Photo: Manoj Dhaka

DELHI-GURGAON EXPRESSWAY
SC refuses to stay HC order suspending toll
New Delhi, September 12
The Supreme Court today refused to entertain South Delhi Municipal Corporation's petition challenging Punjab and Haryana High Court's September 4 order suspending the collection of toll on the Delhi-Gurgaon expressway for 15 days.
VC calls for joint efforts to raise farm output
Hisar, September 12
Haryana Agricultural University Vice-Chancellor KS Khokhar today called for combined efforts by farm scientists, the government and farmers to raise foodgrains production in the country.
Prisons to have jammers to prevent jailbreak
Chandigarh, September 12
Jammers will soon be installed in all jails of Haryana. A proposal was sent by the state government to the Centre on August 16 for its nod. "As soon as the centre gives its nod , jammers will be installed in all prisons in Haryana," the Punjab and Haryana High Court was informed during the hearing of public interest litigation on making the jails breakproof.
Over 10 schoolchildren taken ill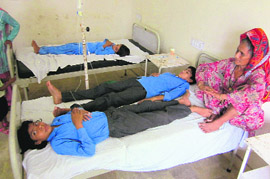 Fatehabad, September 12
Over 10 schoolchildren were taken ill after consuming albendazole tablets distributed by the Health Department in Martyr Manohar Lal Government High School at Dhani Dulet in Fatehabad. Albendazole is used for deworming and the health authorities are distributing it in schools as a part of their anti-anaemia drive.
Schoolchildren under treatment at the community health centre, Bhuna, in Fatehabad on Wednesday. A Tribune photograph

Pensioner running around to prove he is alive
Kurukshetra, September 12
Mam Chand has been shown dead in the old age pension list following which his pension has been stopped.
INSO protest march in Sonepat
Sonepat, September 12
INSO activists today organised a protest march against the state government in the town and burnt effigies of Chief Minister Bhupinder Hooda, former ministers Om Prakash Jain and Gopal Kanda and other Congress leaders at Geeta Bhawan Chowk here.
Two bodies found
Sonepat, September 12
The bullet-riddled bodies of two youths were recovered by the police today. Cases have been registered in this connection. Sources said the body of Surender, a resident of Khubru village, was found lying in a paddy field in adjoining Bhambar village. His Alto car was also found parked near the field.
Market fees on cotton crop cut
Sirsa, September 12
The Haryana government has agreed to reduce market fee, including HRDF, on cotton crop from the existing 4 per cent to 1.6 per cent.
One arrested for mixing water in milk
Rohtak, September 12
The police has arrested a youth on charges of mixing water in the tank of a milk plant van. A case has been registered in this connection.
Power nigam extends last date for VDS
Chandigarh, September12
On the persistent demand from consumers, the Uttar Haryana Bijli Vitran Nigam (UHBVN) has decided to extend the last date for the voluntary disclosure of load scheme (VDS) till September 30.