OPED

Women
Not the heroine of her narrative
Vandana Shukla
Since 1913, the socio- economic landscape of cinema viewing has undergone tremendous change. More women are consumers of cinema than ever before. It is intriguing why their representation in cinema has remained nondescript



The regressive Varonica of 2012 (Deepika Padukone as Varonica in 'Cocktail')

In 1913 when the first film was made in India, women characters were played by men. Things have not changed much since then. Women have more visibility on screen - more skin than their character, tailored according to the demands of the market. And these demands have varied over the last century – from a sati savitri clad in six yards of saree, perpetually crying over her misfortunes to the seductress in a wet saree, to skimpily clad hot babe riding hotter motorbikes-- women are given many roles to play, but these roles often do not translate into memorable characters. Changes appear only in terms of costumes. Women have not been the protagonists of their on- screen narratives.
Bollywood cinema has flourished, in India alone about 4 billion movie tickets are sold annually, while Hollywood movies are watched by 3 billion people, worldwide. Still,  the industry does not pay its heroines on par with its male counterparts. Bollywood heroines have shorter shelf life- while heroes come of age at 40, heroines retire at the same age.
If you look at the woman centric films of the last 100 years, invariably the protagonist will turn out to be either a courtesan, bandit or, a policewoman. An ordinary woman and her tribulations in a man's world rarely offer a subject- compelling enough to be explored. The primary role of a woman in Hindi cinema is to fulfil the basic ingredient of sex appeal, or, strengthen family values through her sacrifice. In doing so, women have lost strong characterisation and thus a meaningful presence on screen over the years.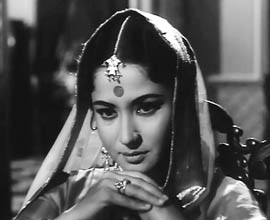 The progressive pativrata of 1962- Meena Kumari as Chhoti Bahu in 'Sahib Bibi Aur Ghulam'

Apart from 'Mother India,' it is hard to find a woman centric film that turned out to be a cult. Somewhere on the mid-way of this century long journey, 'Abhimaan' (1973) was made by Hrishikesh Mukherjee. The film summed up the status of women in our cinema. A small town girl marries a successful Bollywood singer whose talent does not match up to hers. He patronises her initially, but as recognition and adulation comes her way, it makes him angry and insecure. Her social status is manipulated-- emotionally and finally the man is able to reclaim his space in the world. She is relegated to a weak position where she once again needs his support.
The role of women in Hindi cinema is limited to four types, like four blood groups.
Hum dil de chuke sanam
Love is the most potent commodity of Hindi cinema, if women of the 50s and 60s were bold in making choices in the matters of heart, their later counterparts were portrayed as mere puppets in the hands of the family. One could see women of the early 20the century emerge strong in a conflict situation, and their characterisation did justice to the theme of love in films like 'Chhoti Chhoti Batein' (played by Nadira, in a live-in relationship with Motilal) Bimal Roy's 'Bandini' and Amiya Chakraborty's 'Seema', which were also successful on the box-office. The women in these films made unconventional choices —in 'Bandini' (1960), Kalyani (Nutan) decides to go with Ashok Kumar, a man much older and dying of tuberculosis rather than living with a young handsome doctor. In 'Seema'(1955) the love of the orphaned girl for the caretaker of the orphanage, who is a heart patient and old, breaks the stereotypical mould.
Strangely, as society progressed- in terms of material acquisitions, women's choices were squeezed to fit in a mould that sought sanction of the small- town family viewing. Karwa Chauth became central and wedding oriented films like 'Hum Aapke Hain Kaun' became success models of love, where a selfless woman would undergo any amount of suffering to withhold family's reputation. This woman gave social sanction and validation to any kind of injustice meted out to women, which we saw culminate into hundreds of honour killings in later years.
Main tulsi tere aangan ki
The other prototype, good- for- screen- business has been a self- sacrificing woman, who reinforces patriarchal values. She never asserts her rights. Strangely, when films were introduced in India, actresses like Nadia played tom-boyish roles in 'Hunterwali', 'Diamond Queen' and did all sorts of stunts on her own. Devika Rani, an actress of the 30s, did the longest ever kissing scene on screen and helped her first husband produce unconventional films like 'Achhoot Kanya,' about a Brahmin boy's relationship with an untouchable girl and no one burnt cinema halls. Or, films like 'Durgesh Nandini', V Shantaram's 'Dahej' showed women with a mind of their own in times when we assume society was 'backward.'
Then came the tragedy queen Meena Kumari's era, but script writers still gave some dignity to these characters, perhaps due to the influence of Bengali literature on the scripts. In Abrar Alvi's 'Sahib Bibi Aur Ghulam' Meena Kumari is a zamindar's wife, she breaks all conventions of her times to take to drinking in her attempt to be a companion to her husband. As we move to later decades we find this woman loses her spine. She is mocked at for being rustic, less educated, for being too modern and educated, she is mocked at for just being herself. Scores of films from the 70s and 80s starring Jeetendra, Anil kapoor, Shridevi and Jayaprada have dealt with 'taming of the Shrew theme', where a haughty woman is shown her place through a series of humiliations. A woman with a mind of her own still does not find enough space in Hindi cinema, hence her acceptability by the audience remains unexplored. She is always contextualised in her relationship with men.
Tejaswini
Then, she is dressed up, literally, in manly virtues and attire to gain acceptance for her aggression as a policewoman, a firebrand politician, a bandit or a sportsperson in a recent entry, thanks to 'Chak De India.' These films are modelled after Kiran Bedi or Jhansi Ki Rani prototypes, remodelling the male macho under a female garb. In a man's world a woman who acts and looks like a man has greater acceptance than a feminist. She is feared, for she can be foul- mouthed and ill-tempered, but, for a cause. 'Tejaswini,' 'Andha Kanoon,' 'Vijayshanti' and even the 'Naagin' series of films fit a different typecast where the self- suffering woman is transformed into the role of Durga to become a 'Chingari' or 'Damini,' once again evoking a mythical mould.
Ye kahan aa gaye hum
As films on organised crimes, terrorism, violence and corruption become potent vehicles for commercial success, and the hero with six pack abs acquires larger than life stature, women's roles and their clothes are reduced to irreverence on screen. The narrative of the tawaif is substituted by a 5 minute raunchy item number girl. The vamp and dancer all are rolled into one body, a biological object, not a woman, not a person. The heroine and her primary role in the film is confined to be an eye-candy.
Around the 80s, there came a time when some renowned women directors brought women centric films-- Vijaya Mehta, Sai Paranjape, Arpana Sen, and Kalpana Lajmi made some meaningful cinematic studies of women characters. Also, some directors from the parallel cinema movement offered sensitive portrayals of women protagonists. 'Bhumika', 'Umrao Jaan','Maya Memsaab', 'Arth', 'Paroma', '36 Chowranghee Lane', 'Bandit Queen', 'Chandni Bar', 'Rudaali' and 'Fire' are some of the films that explored a woman's world to offer her perspective on life. 'Paroma' and '36 Chowranghee Lane' were exceptional films for the subject matter they handled.
Some of these films earned critical acclaim but none became a blockbuster. Which proves, in the last one century the audience has not been prepared by our filmmakers to appreciate woman centric themes. No wonder, we do not have a single film based on female bonding.
Women are undergoing tremendous pressure; their role is redefined by their financial emancipation and breaking up of family structure. Yet, the concerns and issues related to their lives have escaped our mainstream cinema. There are no women comedians, it is assumed women lack sense of humour and going by their screen version, women can't be intelligent or witty. The largest film industry of the world does not fund a single project to study gender based cinema viewers. FICCI sponsors an annual study of entertainment industry, but their study remains confined to the economics of it all.
Bollywood enjoys tremendous influence on the Indian society. Its refusal to record women's role in the changing social order results in re-assertion of the regressive. Films like 'Cocktail', and 'Rab Ne Bana Di Jodi', made by so –called progressive directors who want the small town woman to remain locked in her self- negating existence by portraying on screen supremacy of Meera( over Varonica) in 'Cocktail' and Taani Gupta's decision to opt for a husband she does not love over a lover she adores (for the sake of juvenile morality, both turn out to be the same man!) in 'Rab Ne Bana Di Jodi,' says it all.