Unit owner faints at sight of loss
Khanna, September 12
The fire incident at Sanjiv Agro Solvent caused a massive loss to its owner Naval Aggarwal. Still in disbelief, 43-year-old Naval is trying to come to terms with the tragedy that reduced his factory worth crores of rupees to ashes.
Industrial safety a casualty
Ludhiana, September 12
The Khanna fire incident has exposed the lackadaisical attitude of the departments responsible to check the fire safety measures in factories where hundreds of workers work under hazardous conditions.
Most units have inferior boilers
Ludhiana, September 12
Last night's fire incident at a Khanna unit has once again brought to the fore the issue of use of substandard boilers by industrial units. Industrialists are putting to risk the lives of labourers by installing poor quality boilers. Besides, they employ unskilled and casual workers to operate boilers instead of appointing boiler operators as is mandatory under the Industries Act.
25% use black oil
Ludhiana, September 12
The incident in Khanna has brought to the fore the menace of black oil used in boilers. If those in business with decades of experience are to be believed, then 25 to 30 per cent of the total factories in Punjab, where boilers are used, use black oil/pet coke to get higher production instead of steam coke or rice husk (which have low temperature), posing a serious threat to the lives of hundreds of workers working in factories.
Two labourers die at PGI

Chandigarh, September 12
Out of the 12 victims of the Khanna factory fire who were brought to the PGIMER this morning, two succumbed to their injuries within minutes of reaching the hospital. The chances of survival for seven others who received 100 per cent burns are bleak. The remaining three have some hope of survival. Besides, three victims have been admitted to Government Medical College and Hospital (GMCH), Sector 32.
Anxious moments: Despondent fellow workers outside the trauma centre at the PGI. Tribune photo: S Chandan
Lucky duo who escaped unhurt
Khanna, September 12
Raja Babu and Arjun, both from Uttar Pradesh and workers at Sanjiv Agro Solvent plant, were thanking their fortunes since they were on day duty. The duo had joined the factory just eight days back. As they used to fall asleep during night duty, the factory manager put them on day duty.
Samaritans join rescue efforts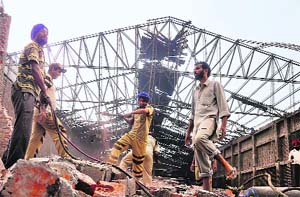 Khanna, September 12
In a timely and noble act, 110 men of Green - S - Welfare Force, run by a religious group, assisted firefighters in rescue operations at the Sanjiv Agro Solvent plant. Sukhdev Insan, who was heading the team of rescue workers, said, "Men, who came from areas including Payal, Mandi Gobindgarh, Amloh and Samrala, reached the accident site at 1 am and helped the firefighters in the rescue operations."
Rescue operations in progress at the factory site. Tribune photo: Himanshu Mahajan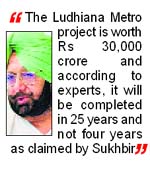 Amarinder: Govt fooling people on Metro project
Batala, September 12
Angry at not being able to hold a rally at Majitha yesterday, Pradesh Congress Committee (PCC) chief Capt Amarinder Singh today asked Deputy Chief Minister Sukhbir Badal and his brother-in-law Bikram Singh Majithia to maintain decorum in public. Addressing a workers' meeting organised by Fatehgarh Churian MLA Tripit Rajinder Singh Bajwa here, a livid Amarinder accused Majithia of getting 580 "false" cases registered against Congress workers in his assembly segment. He warned that if the cases were not withdrawn, he and his supporters would lay a siege to the main police station at Majithia.
Gram panchayat locks school gate
Sangrur, September 12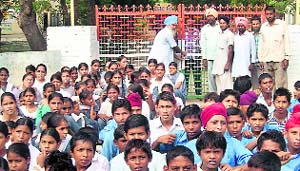 In protest against the acute shortage of teachers at Government High School, Jhaloor village, 10 km from Lehragaga, members of the village gram panchayat and agriculture workers' union locked the school gate for hours today.
Sarpanch Gurnam Singh locks the gate of Government High School in Jhaloor village in Lehragaga as students stage a dharna. A Tribune photograph
Govt issues directions on NRI seats
Chandigarh, September 12
Chief Minister Parkash Singh Badal today directed the Medical Education and Research Department to ensure that MBBS and BDS seats in the NRI quota were filled in a transparent manner in all medical and dental colleges in the state on the basis of the PMET merit under the guidelines issued by the Medical Council of India (MCI) and the Dental Council of India (DCI).


An artist giving the final touches to an idol of Lord Ganesha in Chandigarh. Ganesh Chaturthi will be celebrated on September 19. Tribune photo: S Chandan
Transfers result in chaos
Chandigarh, September 12
the Education Department has ended up creating a chaos in government schools with rampant transfer of teachers under the plea of rationalisation.
Govt may create specialists' cadre
Chandigarh, September 12
In a spot for not recruiting adequate number of doctors in government hospitals, the Punjab Government is mulling a special cadre for specialists who will be paid higher salaries and special incentives as compared to their MBBS counterparts.
Land acquisition: CBI registers FIR
Chandigarh, September 12
The Central Bureau of Investigation (CBI) has registered an FIR into acquisition of land for allegedly helping three influential families of Punjab earn approximately Rs 5.63 crore.
CERC issues show cause notice to MD
Patiala, September 12
Central Electricity Regulatory Commission (CERC) has issued a show cause notice to Anurag Agarwal, Chairman-cum-Managing Director of the Punjab State Transmission Corporation Limited (PSTCL), and RK Sharma, Chief Engineer of the Punjab State Load Despatch Centre, for contravening the provisions of grid code and not complying with the Commission's order.
Engineers advise govt to appoint experts for IT project
Patiala, September 12
The Punjab State Electricity Board (PSEB) Engineer's Association has advised the state government to appoint expert engineers to prevent its project of IT implementation from running aground.
CM: Exempt more area from PLPA
Chandigarh, September 12
Punjab chief minister Parkash Singh Badal today asked the Forest Department to exempt more area in the region from the ambit of Punjab Land Preservation Act (PLPA) as it had badly affected the overall development and economic growth of this sub-mountainous region.
Review tubewell policy, power corporation told
Chandigarh, September 12
Chief Minister Parkash Singh Badal today directed Punjab State Power Corporation Limited (PSPCL) to formulate a new policy to grant fresh tubewell connections to marginal farmers on a priority.
Ropar residents submit memo on toll issue
Ropar, September 12
In protest against the extension of 240 days to the toll plaza management at Kurali, local residents submitted a memorandum to the Ropar Deputy Commissioner today.
Russian realtors tell Sukhbir they want to invest in Punjab
Chandigarh, September 12
Representatives of Moscow's premier real estate developers CMI Development Boris Kiperman and Kirill Klimov today called on Punjab Deputy Chief Minister Sukhbir Singh Badal here and offered to invest in the infrastructure sector. They said that CMI Development, with a portfolio of $3 billion in private investments, had executed several unique projects in Moscow. They said they were interested in investing in Punjab's infrastructure and real-estate projects.
Board officials lend ear to teachers' grievances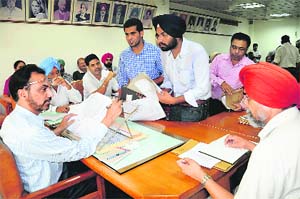 Mohali, September 12
In a move to settle the grievances of Punjab teachers, who have gone into litigations against the Education Department, Punjab Govt or the Punjab School Education Board (PSEB), the authorities today summoned 104 teachers at the PSEB office here to hear their grievances.
Husan Lal, chairman and education secretary, (left) listens to teachers' grievances at the office of Punjab School Education Board in Mohali on Wednesday. Tribune photo: Parvesh Chauhan
Mayors' conclave will be a meeting of minds
Bathinda, September 12
When mayors from across the country converge in Bathinda for the 105th meeting of the executive committee of the All India Council of Mayors (AICM) on September 15-16, it will not just be the Municipal Corporation Bathinda (MCB), the local civic body that is in its infancy, which will get the opportunity to learn from its more experienced counterparts.
Frame fresh tubewell policy, Badal tells power corp
Chandigarh, September 12
Punjab Chief Minister Parkash Singh Badal today directed Punjab State Power Corporation Limited (PSPCL) to formulate a new policy for 2012-13 to grant fresh tubewell connections to marginal and small farmers on a priority.
Cartoonist is innocent, say residents
Bathinda, September 12
Residents of Bathinda have voiced support for the cartoonist Aseem Trivedi, who was arrested in Mumbai on the charge of sedition for his alleged derogatory cartoon.
Plan to bring animals from Pak scrapped
Patiala, September 12
Cash-straped Punjab Government has failed to approve the Wildlife Department's trip to Pakistan to bring endangered animals from a zoo in Lahore.
Meet future needs, NHAI told
Chandigarh, September 12
Driving at smooth flow of traffic through the toll plaza at Solkhian village near Ropar, the Punjab and Haryana High Court has directed the National Highway Authority of India (NHAI) and the concessionaire to "explore options" for meeting future requirements.
Case transfer: HC issues notice on Captain's plea
Chandigarh, September 12
Acting on a petition by Punjab's former Chief Minister-cum-Punjab Pradesh Congress Committee Chief Capt Amarinder Singh seeking the transfer of Amritsar Improvement Trust case from Mohali to any court outside Punjab, the Punjab and Haryana High Court today issued notice.
Man murdered
Hoshiarpur, September 12
The Dasuya police has arrested Raghubir Singh of Ghogra and Roop Lal of Dhadar for allegedly murdering Ravinder Singh of Shrihpur after he refused to serve them a glass of water.
1 kg opium seized in Deon
Bathinda, September 12
Police have arrested a resident of Deon village for possessing one kilogram opium. The accused has been identified as Gursahib Singh. Police arrested the accused on the basis of a tip-off from near Deon village. A case under sections 18, 61, 85 of the NDPS Act has been registered against the accused at the Sadar police station.