This rural school in Faridkot is like no other
Pakhi Kalan (Faridkot), September 5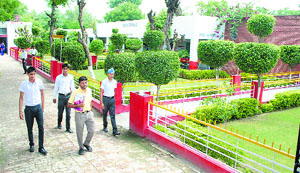 The Government Senior Secondary School, Pakhi Kalan, in Faridkot district is a school with a difference. Shedding the image of a regular government school, this school has emerged as a model institute, where children get dry and seasonal fruits as part of their midday meal, manicured lawns greet the eyes and teachers pay from their own pockets to provide facilities to the students and maintain the school building.
This Pakhi Kalan school has well-maintained lawns. A Tribune photograph
Capt: If invited, will join Sanjha Morcha protests
Sangrur, September 5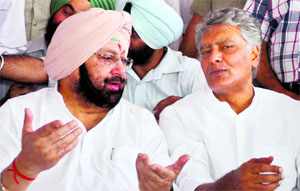 If invited, the Congress will join the district-level protests to be organised by the Sanjha Morcha on September 21 against the recent taxes in Punjab. Talking to the media at the residence of Dhuri Congress MLA Arvind Khanna here today, president of the Pradesh Congress Committee (PCC) Capt Amarinder Singh said the Congress had no hesitation in joining the protests against the "anti-people" polices of the SAD-BJP Government.
Pradesh Congress president Capt Amarinder Singh and CLP Leader Sunil Jakhar
at a rally in Rampura Phul in Bathinda. A Tribune photograph






The Congress-led UPA Government is clearly anti-Punjab. There is no other reason to explain why the state had been denied drought relief, despite being the biggest contributor of grain to the central pool, said Deputy Chief Minister Sukhbir Singh Badal here today.




6-yr-old dies, 16 hospitalised
Patiala, September 5
A six-year-old boy died and 16 other children were hospitalised in Rampur Partan village in Shutrana assembly segment after suffering from diarrhoea here today.

Schoolgirl dies in mysterious circumstances
Moga, September 5
Pal Kaur, 18, died under mysterious circumstances at Lande village in Moga district yesterday. Her body was hastily cremated by her family members.

NCW chief pulls up IGP
Jalandhar, September 5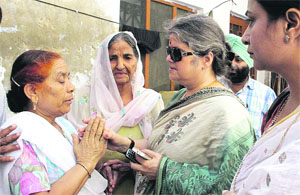 Besides Shivali, five other women in the country were subjected to public humiliation by the police in various incidents across the country in recent months. The National Commission for Women (NCW) has been probing all such incidents, said Mamata Sharma, chairperson of the commission. The NCW chief and Shamina Shafiq, member of the commission, were here today in connection with the Shivali suicide case.
NCW chief Mamata Sharma (right) with Shivali's family members in Jalandhar. Photo: Sarabjit Singh
Notice to CM on Memorial
Chandigarh, September 5
A local court today issued dasti notices to Punjab Chief Minister Parkash Singh Badal, Deputy Chief Minister Sukhbir Badal and the Punjab Chief Secretary on a petition seeking directions to stop preparations for a blueprint for Bluestar Memorial in Amritsar.
Paraudi welcomes Manto's daughters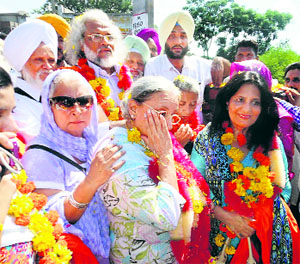 Paraudi (Samrala), September 5
It was a dream come true for famous writer Saadat Hasan Manto's daughters when they arrived at his birthplace — Paraudi village — from Pakistan today. Village sarpanch Sarabjit Kaur along with the womenfolk of the village greeted them with flowers and garlands. They along with four scholars from Pakistan spent some time at their ancestral house and later participated in a function organised by the Lekhak Manch, Samrala, under its president Daljit Shahi.
Writer Saadat Hasan Manto's daughters are welcomed to their ancestral Paraudi village near Samrala. A Tribune photograph
Rationalisation policy aimed at downsizing: Teachers
Chandigarh, September 5
The state is downsizing staff in the name of rationalisation which will have far reaching impact on studies in government schools, alleged Balkar Valtoha, state president of the Government Schoolteachers Union, when contacted for a comment on the serving conditions in government schools.
Medical teachers demand timely promotions
Patiala, September 5
Medical and dental teachers in the state-run colleges have threatened to protest against the government if it does not accept their pending demand of effecting time-bound promotions within a month.
Filthy bus stand makes commuting a nightmare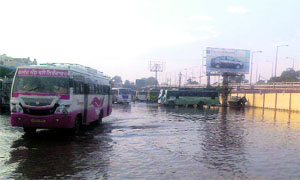 Patiala, September 5
Filth strewn around, temporary encroachments on its compound, puddles everywhere, Patiala bus stand these days does not paint a pretty picture. The proposal to shift the bus stand to the outskirts of the city has been hanging fire for the past many years now.
Patiala Bus Stand flooded with rainwater. A Tribune photo
Bikaner-Pathankot train service to start from today
Sangrur, September 5
'Holiday Express', a new train service between Bikaner and Pathankot will start on September 6. The train will start its journey at 9 pm from Bikaner and reach Pathankot at 12 pm the on September 7.
Jackpot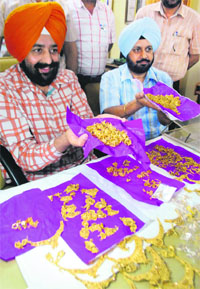 Commandant, IRB, Mandeep Sidhu showing the 2.4 kg of gold recovered from one Rampal, a resident of Meerut, in Patiala on Wednesday. Tribune photo: Rajesh Sachar
2 eateries fined for using poor quality milk
Ropar, September 5
The Ropar Additional Deputy Commissioner has imposed a fine of Rs 1 lakh under the Food Safety and Standards Act 2006, each on two eating joints in the district for allegedly using substandard milk.
GMADA to plant 2500 trees on Kurali-Siswan route
Chandigarh, September 5
Just more than six months after a petition was filed in public interest alleging large-scale felling of tree for the widening of the road from Chandigarh to the "T" junction on the Kurali-Siswan stretch, Greater Mohali Area Development Authority (GMADA) has undertaken to plant more than 2500 trees on the road berms.
Garbage collectors call off strike after 3 days
Bathinda, September 5
The garbage collectors enrolled with the private company, JITF Waste Management Limited, today called off their strike after three days following intervention by the officials of the municipal corporation.
HC hands over custody of children to Canadian couple
Chandigarh, September 5
The Punjab and Haryana High Court has handed over the custody of the two children to both the parents, and allowed them to move back to Canada. The orders by Justice Paramjeet Singh came just about a month after the High Court had asked the estranged Canadian couple to stay together for a week, along with their two minor children, at a hotel in Chandigarh.
Insurance firm told to refund Rs 25 lakh to NRI
Chandigarh, September 5
Punjab State Commission has directed an insurance company Bharti AXA Life to reimburse a non-resident Indian, hailing from Mohali, Rs 25 lakh. A part of the amount, the company had "fraudulently" taken from the complainant for a policy he had not bought.
ASI caught taking Rs 5,000 bribe
Sangrur, September 5
Nazar Singh, an Assistant Sub-Inspector (ASI) posted at the Chhajali police station, near Sunam, was today arrested by the Vigilance Bureau for allegedly accepting a bribe of Rs 5,000.
Boy killed by mother's lover
Sangrur, September 5
The Malerkotla police dug up the skeleton of a four-year-old boy from a burial ground in Haridwar today in the presence of a duty magistrate. The boy was allegedly murdered by his mother's lover Sandeep Kumar in the presence of a third person identified as Parminder Singh.
Woman PO held for fraud
Moga, September 5
The local police has arrested a woman travel agent, who has acted in Punjabi tele-films, on charges of duping a Ferozepur resident.
Man shot dead in Bathinda market
Bathinda, September 5
A man was killed and another got seriously injured after gunshots were exchanged in the busy Mehna Chowk market today. The police said a dispute over property between two brothers-in-law turned ugly when Simarjit Singh Maur was shot by Gurinder Singh Bindu, an accomplice of victim's brother-in-law Rana Bhupinder Singh Chahal, at a gun house.