Alarmed, SAD to launch counter-attack
Chandigarh, September 6
The Shiromani Akali Dal (SAD) has decided to counter the Congress attack on the government. Insiders said the party high command had directed its district units to start preparing for political rallies in the countryside.
Capt's offer
Manpreet to meet Left leaders
Chandigarh, September 6
Sanjha Morcha leaders will meet later this week to consider Pradesh Congress chief Amarinder Singh's offer for a joint protest on September 21. Talking to the media at Sangrur yesterday, Amarinder had said Congress leaders would join the Morcha's September 21 protest, if invited to do so.
HC censures Mandi Board
Chandigarh, September 6
In an embarrassment to the ruling alliance in Punjab, the Punjab and Haryana High Court set aside the no-confidence motion passed against a market committee chairman, allegedly due to differences with "some leader of the ruling party". Justice Ranjit Singh has also censured the Punjab Mandi Board for its conduct.
Obituary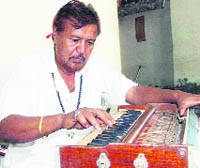 Hakam shunned commercial trappings
Ludhiana, September 6
A singer who refused to put a price on his art, Hakam Sufi had in him a teacher's perseverance and an artiste's insouciance. Not the best combination for the times when art is regarded a packaged commodity, says the singer's younger brother Nachhatar Singh.



Singer Hakam Sufi. A Tribune file photograph

Complaints against power corp flood consumer forums
Chandigarh, September 6
As if pathetic power supply in the state is not enough, the power corporation fails to deliver when it comes to allotting new connections, rectifying wrong billing, changing malfunctioning meters and unjustified disconnections, besides several other works.
Vigilance clearance for retirees made simpler
Chandigarh, September 6
The government has made Vigilance clearance for retiring employees or those seeking promotions simpler.
Dalit's murder: SC commission seeks report
Kapurthala, September 6
Punjab Scheduled Caste Commission chairman Rajesh Bagha has sought a detailed report from Kapurthala SSP about the action taken report in the murder case of a Dalit, Joginder Singh.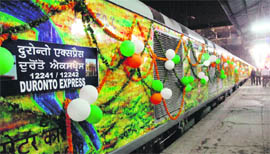 Duronto Express re-launch on Sept 11
Amritsar, September 6
A year after the much awaited Duronto Express between Amritsar and Chandigarh was launched, the Railways is all set to re-launch it on September 11 as Amritsar-Chandigarh Superfast Express, which will halt at Jalandhar and Ludhiana so as to make it financially viable.
Few complaints from Punjab, says new NCM member


Chandigarh, September 6
Minorities are not marginalised in this part of the region, Punjab included. Dr Ajaib Singh, in an interview with The Tribune, said Punjab, Haryana and Chandigarh had seen comparatively a small number of complaints, "primarily owing to communal harmony in the region."
Dr Ajaib Singh

Zirakpur to get facelift, Lalru to be industrial hub
Mohali, September 6
Zirakpur, a town on the outskirts of Chandigarh, is all set to get a major facelift while a nearby village Lalru is to be developed as an industrial hub.
50 teachers chargesheeted
Mohali, September 6
The Punjab Rural Development and Panchayats Department (PRDPD) today issued charge sheets to 50 primary school teachers, who were chronic absentees.
SGPC signs pact with Cambridge University
Chandigarh, September 6
The SGPC and Cambridge University have forged a tie-up for PhD research scholarship. An announcement in this regard was made by Avtar Singh Makkar, SGPC president, at a press conference here today. Sir Leszek Borysiewiczh, Vice Chancellor of University of Cambridge, was also present.



Cambridge University VC Sir Leszek Borysiewiczh (left) and SGPC chief Avtar Singh Makkar in Chandigarh. Tribune photo: Manoj Mahajan

State farmers in need of pied piper
Patiala, September 6
To save their fields from rodents, farmers in several parts of the state are looking for a pied piper. Rats attack all crops except cotton. They often dig burrows in sugarcane fields.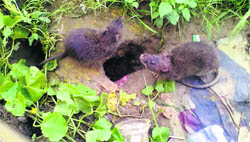 Rajindra Hospital plagued with rats
Patiala, September 6
Rats have become a common sighting in Government Rajindra Hospital here. They are freely moving around throughout the campus including the OPD, ENT Department, Operation Theatre and the labour room.

Rats at the Government Rajindra Hospital. A Tribune photo