UN: Taliban raised $400 million from donations, extortion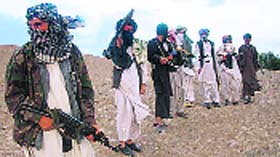 United Nations, September 12
The Taliban raised about $400 million last year through donations, taxes on Afghanistan's poppy cultivation and extortion from narcotics dealers and construction companies, a UN report has said.
A team of UN Sanctions experts said in its report to the UN Security Council that the Taliban raised $400 million in the year that ended in March 2012.
Of this money, about $275 million went to the Taliban leadership, while $125 million was collected, spent or misappropriated at the local level.
The main source of revenue for the militant group has been donations as well as extortion money collected from drug traffickers and the billions pumped into Afghanistan for development projects.
"The team understands Taliban funding as follows: revenue raised from taxing the local economy serves primarily to support local operations and is only in a few cases channelled upwards," the report said.
"Revenue extorted from nationwide enterprises such as narcotics producers and traffickers, construction and trucking companies, mobile telephone operators, mining companies and aid and development projects goes to the Taliban Financial Commission which answers to the Taliban leadership," the report said, adding that donations are a "major" source of funding for the militia leaders.
The Taliban also collects money from taxes, including a 2.5 per cent tax on wealth and a 10 per cent tax on harvest, mostly on poppy cultivation. The Taliban also taxes water and electricity supplies and other services in certain areas, acting like local administrators. — PTI
Minting Money
Of $400 million, about $275 million went to the Taliban leadership, while $125 million was collected, spent or misappropriated at the local level
The main source of revenue for the militant group has been donations as well as extortion money collected from drug traffickers and the billions pumped into Afghanistan for development projects
The Taliban also collects money from taxes, including a 2.5 per cent tax on wealth and a 10 per cent tax on harvest, mostly on poppy cultivation